Empowered Eating: Recipe for Dukkah Spice Blend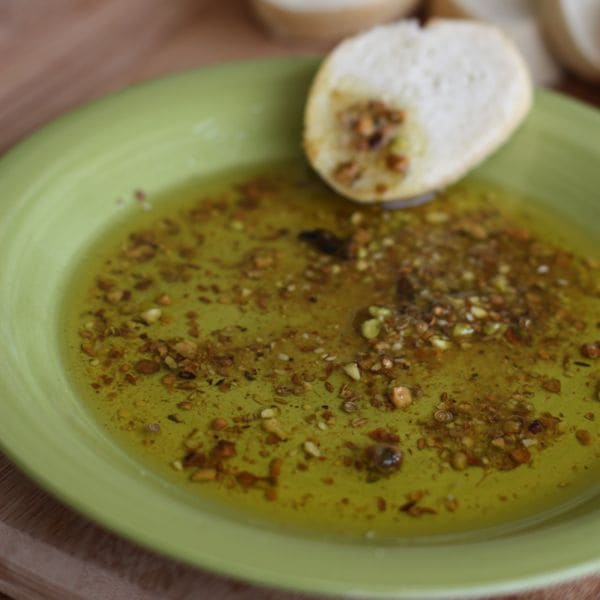 Earlier this month, I had the opportunity to take a look at McCormick's Global Flavor Forecast for 2013. With no surprise, the trend that immediately caught my eye was Empowered Eating. Basically, McCormick recognizes that more and more people are starting to take control of their health and what they are eating to support good health – this includes enhancing food that is already good for you to elevated flavors through spices and flavors.
I am all over this trend for so many reasons.
One of the recipes that McCormick featured under their Empowered Eating profile is a spice blend called Dukkah. When I saw this recipe, I immediately knew I was going to make it and probably love it and use it often. I was right.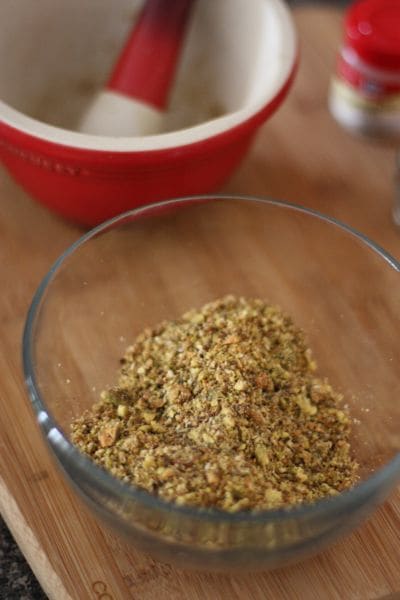 What is dukkah? (I had no idea either.) Dukkah is a Middle Eastern aromatic spice blend made from a combination of nuts, seeds and whole spices. It can be eaten as shown here, added in olive oil along with bread for dipping – or as a spice rub to enhance fish and meats or to sprinkle over vegetables. After making a batch of dukkah earlier this week, I'm saying yes to all of the above. I personally can not wait to enjoy a piece of dukkah crusted fish very soon (cooked similar to this Almond Crusted Tilapia that I love). Not a bad way to incorporate healthier eating into the new year is it?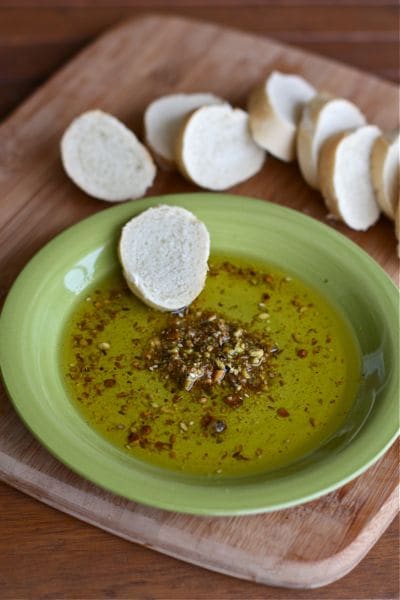 I prepared a batch of this dukkah in just a few minutes. All you need is a few spices, sesame seeds and your favorite nut (hazelnuts are traditionally found in this recipe, but I wanted to use pistachios – next time almonds?). After toasting up all the components, I crushed and blended them together in small batches using a mortar and pestle. If you don't have a mortar and pestle, the end of a large wooden spoon and a sturdy bowl would work well. You could also always use a clean coffee grinder (set aside for just spices), or run a rolling pin over everything tucked into a large ziplock bag.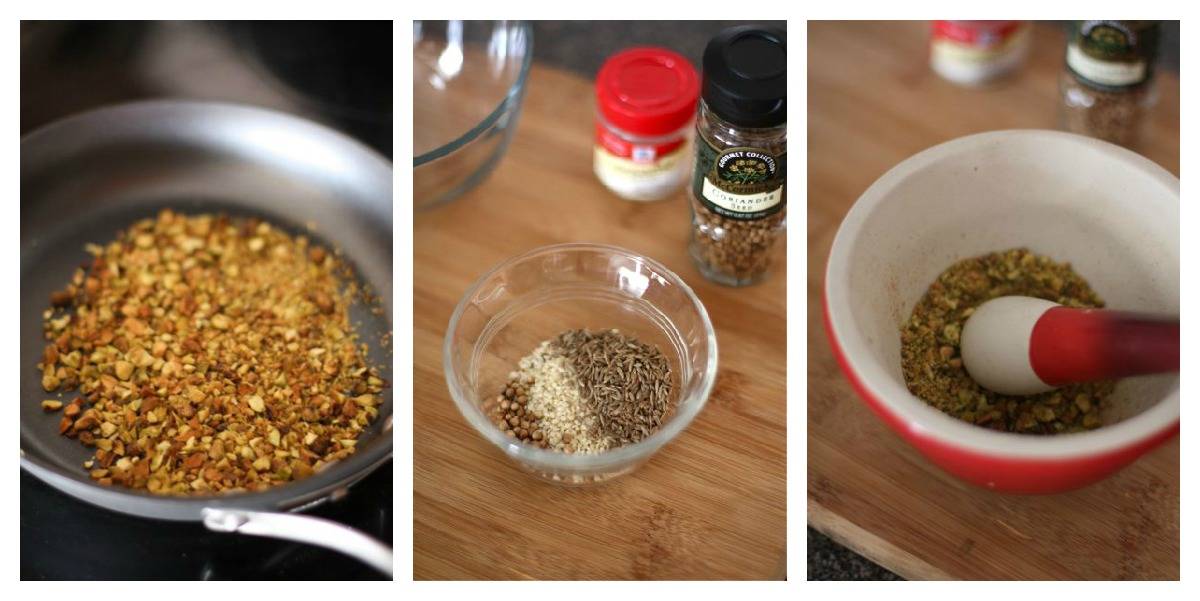 I served this to my family as a snack along some crusty baguette I had on hand, but this obviously wasn't the most "healthy" way of eating dukkah. If you are entertaining over the weekend or for New Year's, consider wowing your guests with a unique dipping oil like this one, maybe along side some soft pita bread or crusty baguette like I did. After the holidays are over start experimenting with dukkah by using it as a spice rub for lean protein or tossing it with some sauteed vegetables. I have mine stored in a small mason jar near my stove top (along with my salt, pepper and oils) ready to be used.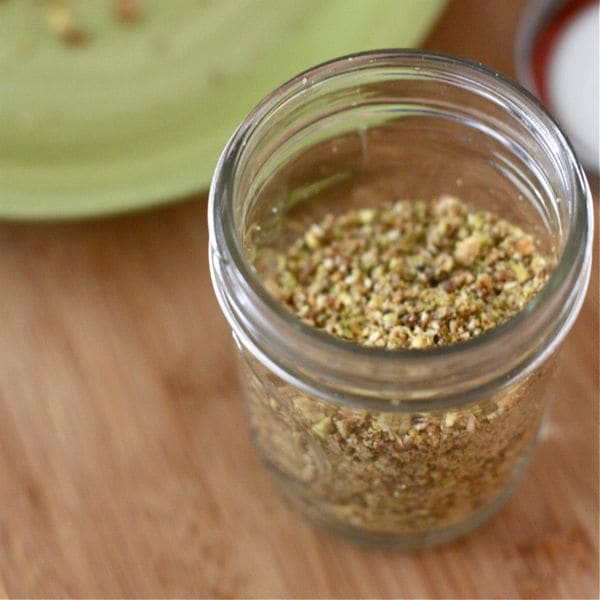 Dukkah Spice Blend
Yield: Makes about 2/3 cup or 10 (1-tablespoon) servings.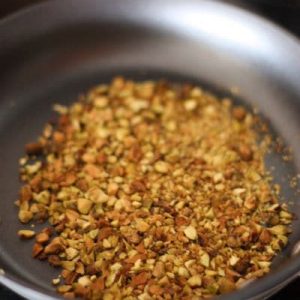 Ingredients:
1/2 cup coarsely chopped hazelnuts or a combination of nuts, such as hazelnuts, pistachios,
almonds, cashews, pine nuts or macadamia nuts
1 tablespoon McCormick® Gourmet Collection Coriander Seed
1 tablespoon McCormick® Sesame Seed
1 1/2 teaspoons McCormick® Cumin Seed
1/4 teaspoon McCormick® Ground Black Pepper
1/2 teaspoon salt
Directions:
Heat medium skillet on medium heat. Add nuts; cook and stir 2 to 3 minutes or until fragrant and toasted. Immediately pour out of hot pan to avoid over-toasting. Set aside. Toast coriander, sesame and cumin seeds in same skillet on medium heat 2 minutes or until fragrant and toasted. Immediately pour out of hot pan.
Place 1/2 of the toasted nuts in clean coffee grinder. Process until finely ground and crumbly. (Do not allow mixture to become a paste.) Transfer to small bowl. Repeat with remaining nuts then seed mixture. Add pepper and salt to seed and nut mixture; mix until well blended. Store in an airtight container in cool, dry place up to 1 month.
Dukkah, an aromatic Middle Eastern spice blend, is typically sprinkled on olive oil-dipped pita bread. Try dukkah on vegetables, pasta, rice or as a spice rub on seafood and meats.
(Disclosure: I have partnered up with McCormick & Company for this post. My thoughts and opinions on this blog are always my own.)
Are you following me on Instagram, Twitter, Facebook and Pinterest? If you'd like to subscribe to Aggie's Kitchen and have each post delivered straight to your e-mail box, then please add your email here. Happy cooking!
There are affiliate links in this post. I make small earnings through any purchases made through these links. Thank you for supporting Aggie's Kitchen!