Roasted Asparagus with Balsamic, Gorgonzola and Walnuts
Add this Roasted Asparagus with Balsamic, Gorgonzola and Walnuts to your spring menus!
Click here to Pin this Recipe!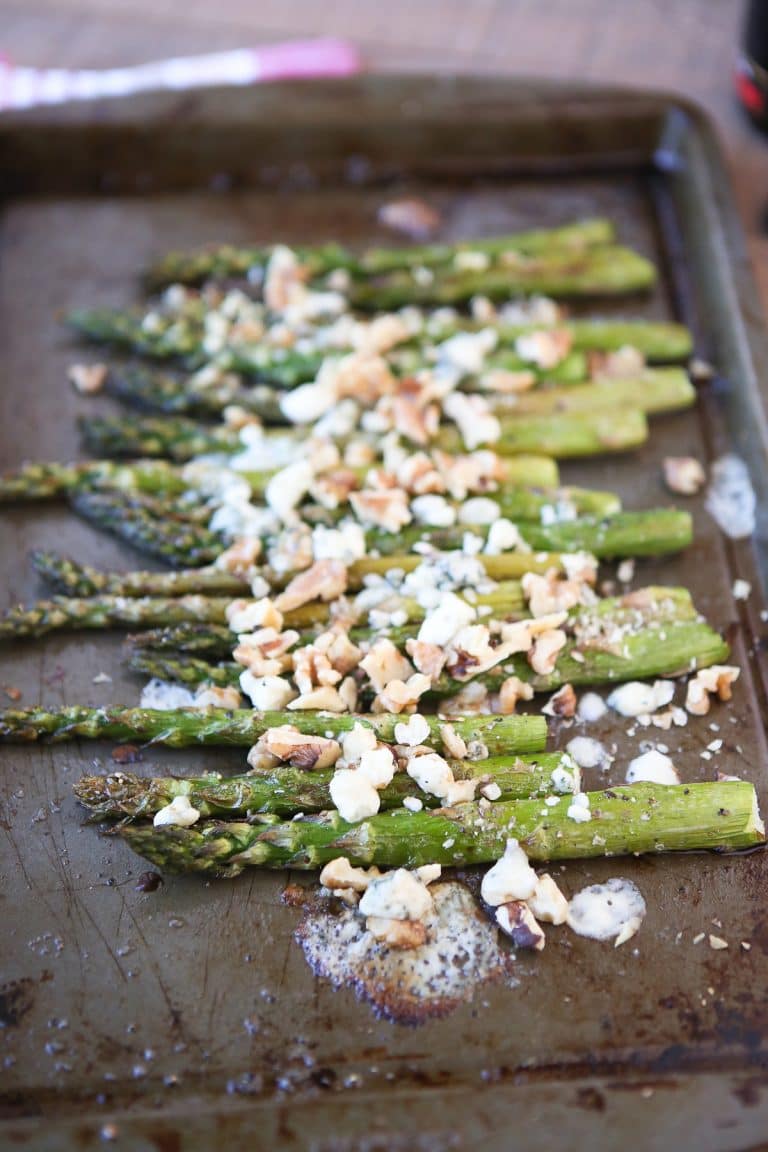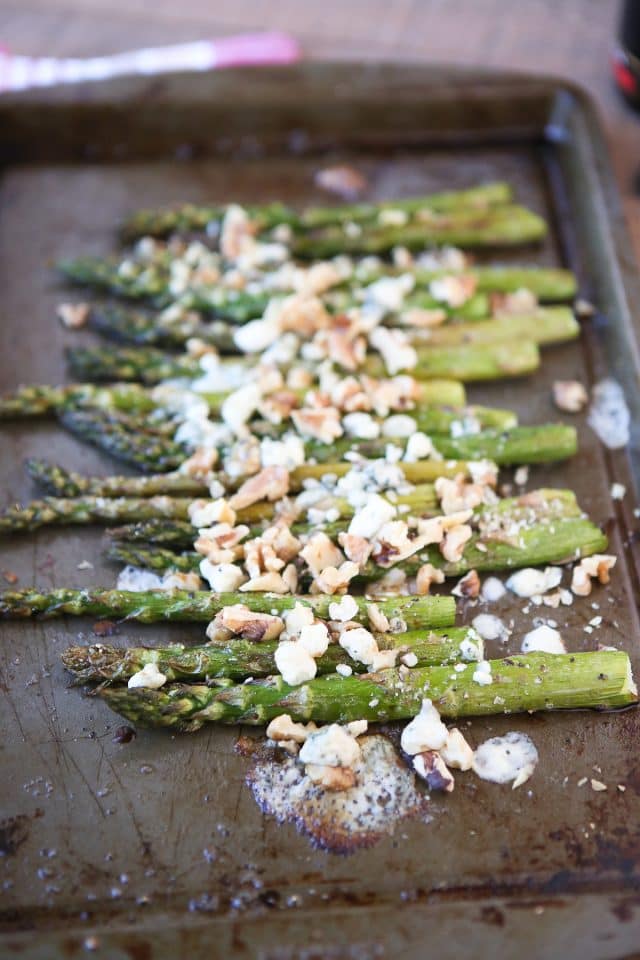 If you received my newsletter on Friday then you know I'm totally loving asparagus right now. It's hard not to pick some up every time I walk past a display of it at the grocery store lately. Like most vegetables, I typically like to simply roast it, but I couldn't help but add some of my favorite flavors to elevate it a bit – balsamic, gorgonzola and walnuts were meant to be together and you really can never go wrong with that combo.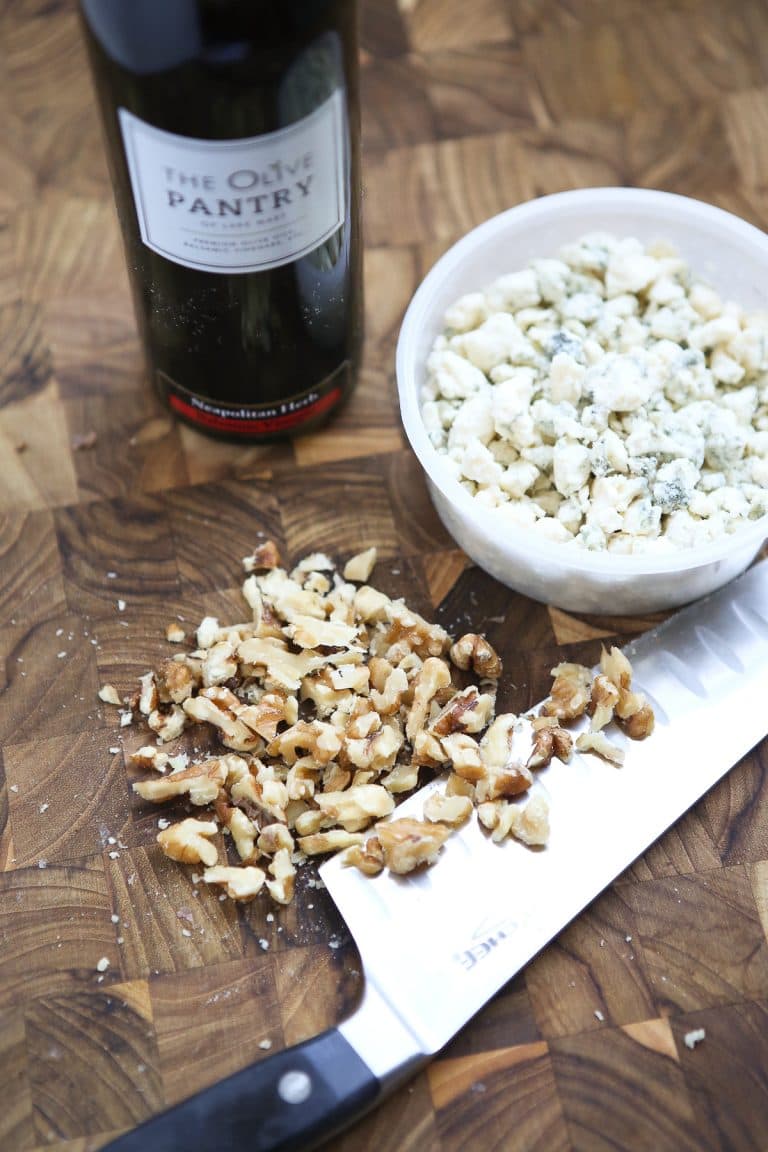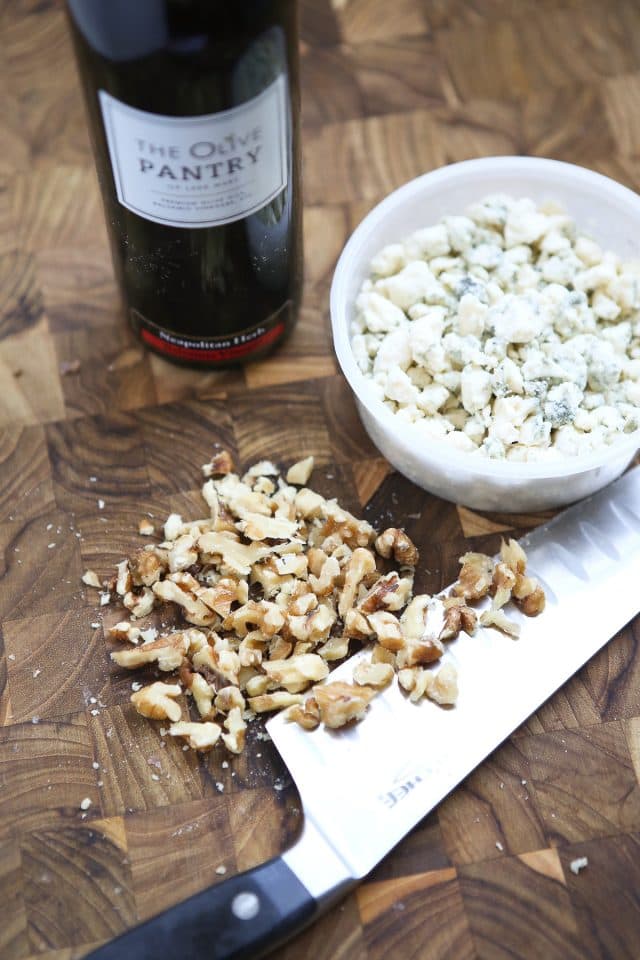 I don't know about you, but now that spring is in full swing, I'm craving grilled foods, bright vegetables and light grain salads. I spent Friday reviving my container herb garden on my patio (I'll share pics soon) and just that got me in the mood – I just love this time of year and can't wait to start taking advantage of our not so hot weather (yet) and grilling out as much as possible. Quick side dishes like this Roasted Asparagus with Balsamic, Gorgonzola and Walnuts would be perfect on a plate with grilled steak or chicken wouldn't it?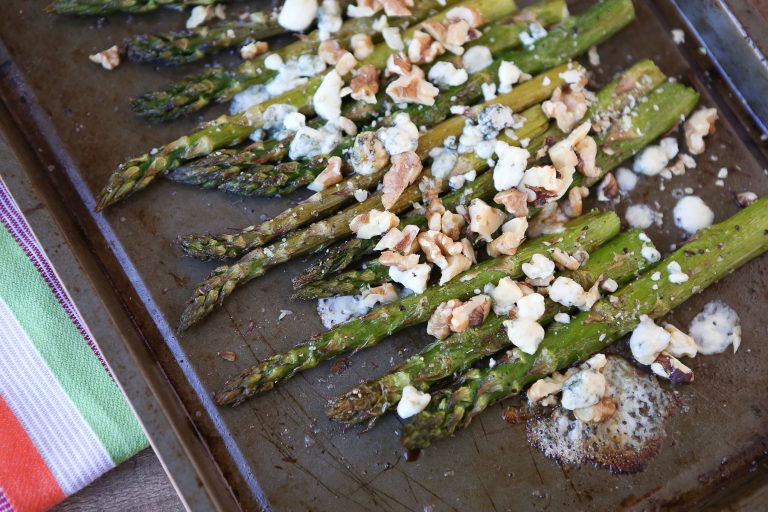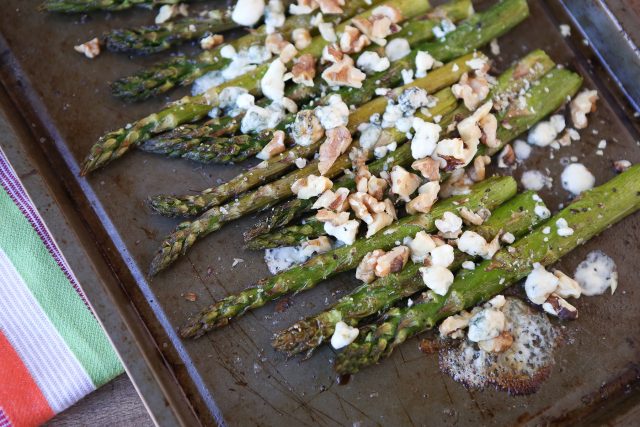 This month, I'm so excited to be joining in with a big handful of other healthy, seasonal bloggers to share this recipe along with theirs.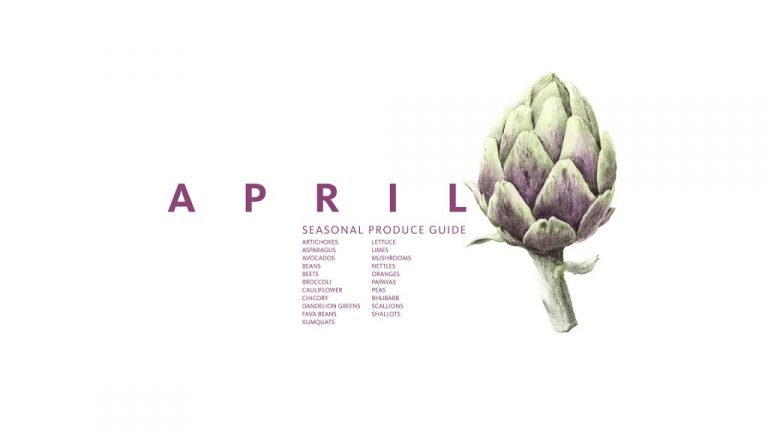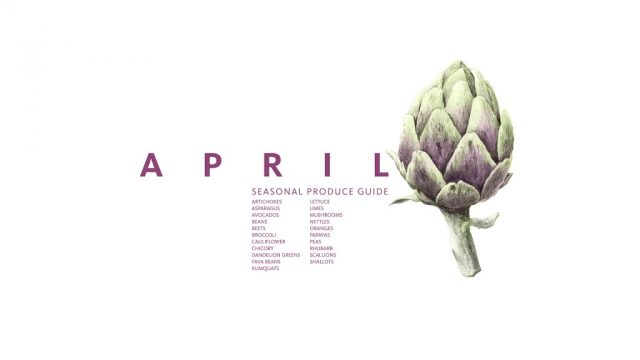 To help get you in the spring mood even more, I'm sharing with you an amazing collection of recipes inspired by spring produce! Find the official April Eat Seasonal Guide here, then browse through my friends' recipes listed below. Follow #eatseasonal on Instagram for even more goodness and ideas on how to incorporate more seasonal produce into your world.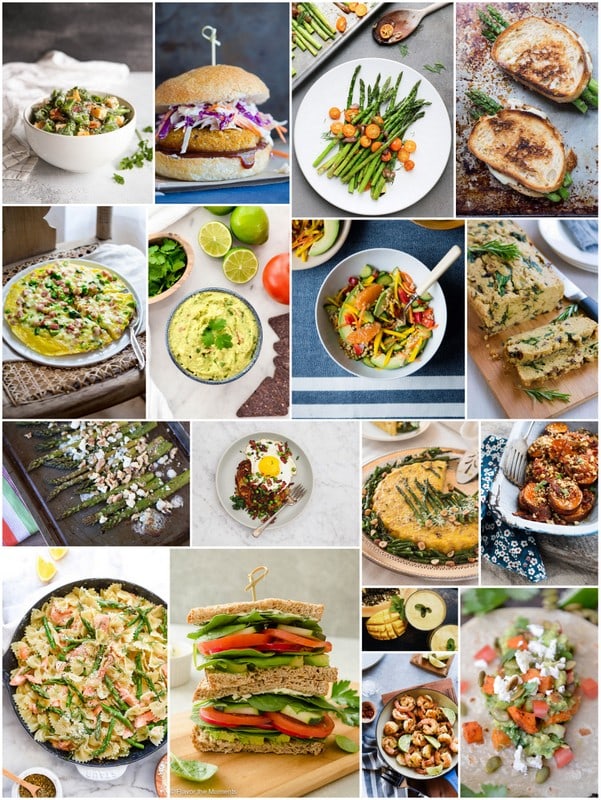 Sugar Snap Pea and Bacon Salad by Completely Delicious
BBQ Cauliflower & Chickpea Veggie Burgers by She Likes Food
Roasted Asparagus with Sautéed Shallots and Kumquats by Floating Kitchen
Asparagus Grilled Cheese by Vintage Mixer
Frittata with Ham and Asparagus by Healthy Seasonal Recipes
Easy Homemade Guacamole by Joy Food Sunshine
Sorghum Vegetable Salad with Cumin-Lime Vinaigrette by Cafe Johnsonia
Mushroom Rosemary Olive Oil Bread by Cookin' Canuck
Roasted Asparagus with Balsamic, Gorgonzola and Walnuts by Aggie's Kitchen
Polenta Cauliflower Torta with Roasted Asparagus by Letty's Kitchen
Herbed Potato Rösti with Peas, Shallots, and Bacon by Food for My Family
Maple-Glazed Sweet Potatoes with Walnut-Bacon Crumble by Simple Bites
Creamy Pasta with Salmon and Asparagus by Foodie Crush
Ultimate Veggie Sandwich with Lemon Herb Cream Cheese by Flavor the Moments
Spring Mint & Papaya Batido by Suitcase Foodist
Skillet Shrimp with Lime and Green Curry Compound Butter by Kitchen Confidante
Loaded Guacamole Tacos by Mountain Mama Cooks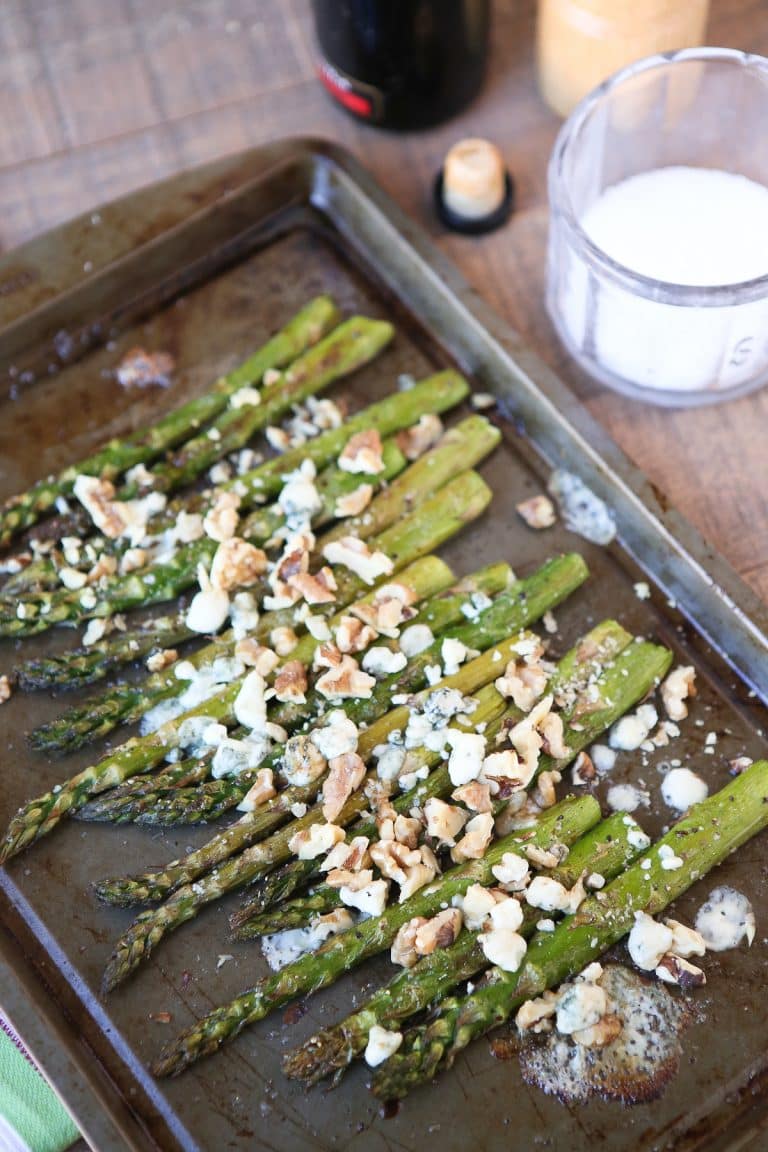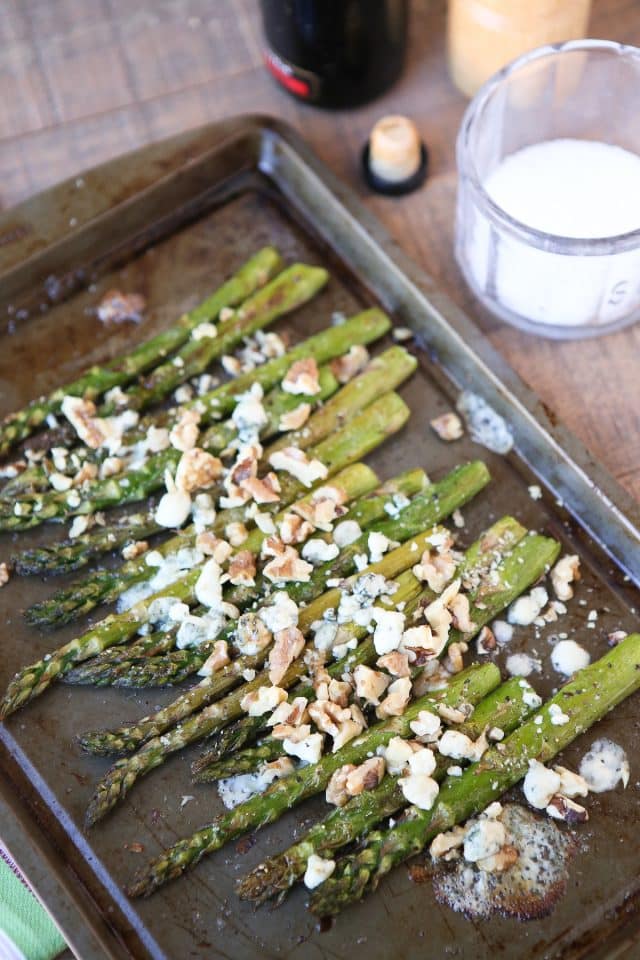 Roasted Asparagus with Balsamic, Gorgonzola and Walnuts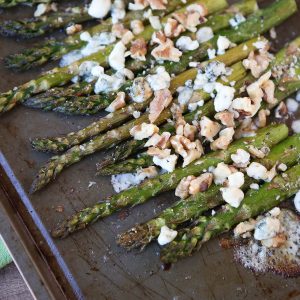 Ingredients:
1 bunch asparagus, trimmed and rinsed
1 tablespoon olive oil
coarse salt and fresh ground pepper
1 tablespoon good balsamic vinegar
1 oz (about 2 tablespoons) crumbled gorgonzola  cheese
1/8 cup chopped walnuts
Directions:
Preheat oven to 450 degrees. Place asparagus on a baking sheet. Drizzle olive oil over asparagus, then using your hands give them a quick toss to spread the oil. Sprinkle salt and pepper.
Cook for about 12 minutes or until slightly browned.
Take out baking sheet and drizzle balsamic vinegar over asparagus. Top with gorgonzola and walnuts then place back into oven. Set oven to broiler and broil for 2-4 minutes (watch carefully!) until cheese starts to bubble. Serve immediately.
Are you following me on Instagram, Twitter, Facebook and Pinterest? If you'd like to subscribe to Aggie's Kitchen and have each post delivered straight to your e-mail box, then please add your email here. Happy cooking!
There are affiliate links in this post. I make small earnings through any purchases made through these links. Thank you for supporting Aggie's Kitchen!