Nutty Quinoa, Spinach and Cranberry Salad
A healthy Nutty Quinoa Spinach and Cranberry Salad. It is easy to make and store in the fridge for an easy go-to meal or lunch option.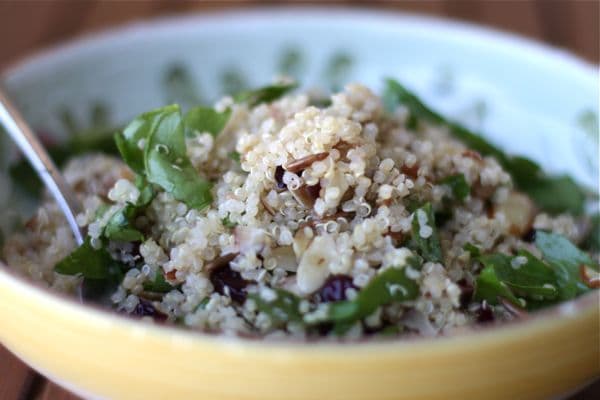 Have you recovered from your post-Halloween hangover yet? Honestly, I can only handle so much candy. I don't normally have a sweet tooth, but once I open the door to having "just one piece" I pretty much lose all my self control. It gets ugly people. Ugly.
Something needed to be done.
Here's where this lovely, healthy quinoa salad comes in. I forced myself to make a batch of quinoa yesterday morning and using what I had in the fridge and pantry turned one of my favorite pasta salads into a quinoa salad. I skipped the cheese and made the dressing more simply and snacked on this salad pretty much all throughout the day. I have just enough leftover for my lunch today and that makes me a happy girl.
And let me tell you, I'm feeling a whole lot better than I was yesterday morning. And the candy is hidden and locked up. (Don't worry, I'm not too much of a party pooper…my kids are enjoying their daily ration, for now) 🙂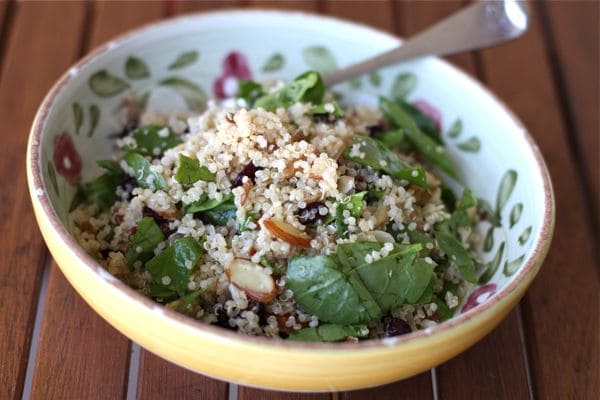 PS…I shared Cranberry Salad with my daughter and she LOVED it. Asked me to make her some for school lunch next week. Yes ma'am. 😉
Nutty Quinoa, Spinach and Cranberry Salad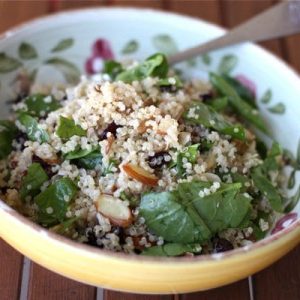 Ingredients:
1 cup quinoa, pre-rinsed
2 cups water
1/2 cup sliced almonds
1/4 cup toasted sunflower seeds
1/2 cup dried cranberries
2 cups fresh spinach, torn or sliced thinly
Dressing:
4 tablespoons apple cider vinegar
4 tablespoons olive oil
1 teaspoon honey
salt and pepper to taste
Directions:
Cook quinoa first according to directions. Set aside to cool.
Transfer cooked quinoa to a bowl. Add almonds, sunflower seeds, cranberries and half the dressing. Place in refrigerator for at least one hour to cool completely and so quinoa can absorb the dressing.
When ready to serve salad, add spinach and rest of dressing to quinoa and nut mixture. Gently toss to combine. Season with coarse salt and freshly ground pepper to taste.
If I'm storing a salad like this in the fridge to eat over a few meals (as opposed to serving all at once), I like to freshen my individual serving up with a couple of splashes of vinegar and a light drizzle of oil before eating.
Are you following me on Instagram, Twitter, Facebook and Pinterest? If you'd like to subscribe to Aggie's Kitchen and have each post delivered straight to your e-mail box, then please add your email here. Happy cooking!
There are affiliate links in this post. I make small earnings through any purchases made through these links. Thank you for supporting Aggie's Kitchen!