30 Minute Meal: Bush's Two-Bean Vegetarian Mexican Lasagna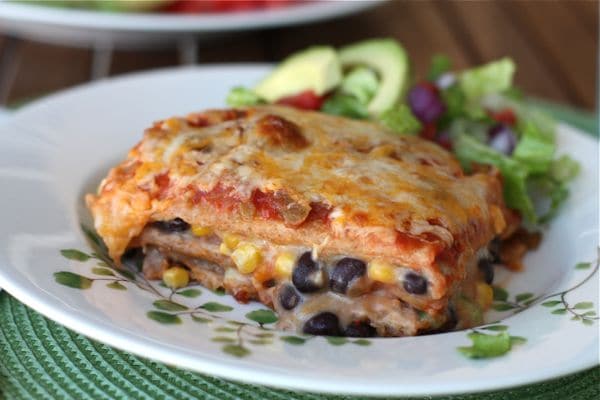 Quick and easy seem to be a busy home cook's favorite kind of recipe these days, especially with school schedules in full swing and the busy holiday season literally lurking just around the corner. For the sake of my own sanity, and to avoid eating out during the week, I need at least a couple of go-to quick and easy meals in my back pocket, and I'm happy to report this Two-Bean Vegetarian Mexican Lasagna is now one of them.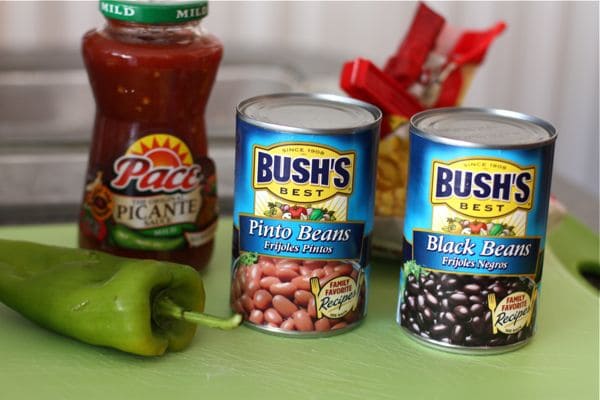 My family doesn't realize it, but we eat mostly meatless meals – several times a week. A huge perk of most meatless recipes is that they come together extremely quick and easy since you are usually skipping an entire step of the cooking process. Beans and whole grains are ingredients I rely on heavily for protein when I'm cooking meatless, so it's safe to say that you can always find them in my pantry.
With the help of my friend and chef Connie Guttersen – whom I've gotten to know well over the years while working together with Bush's Beans – I put this simple Vegetarian Mexican Lasagna together for my family and to my happy surprise, in just 30 minutes. I've always enjoyed Connie's health-conscious recipes, so I was excited to be able to brainstorm with her on this recipe. Our focus was to keep things simple by using everyday items most of have on hand in the pantry and freezer, including Bush's beans, salsa, frozen corn and tortillas.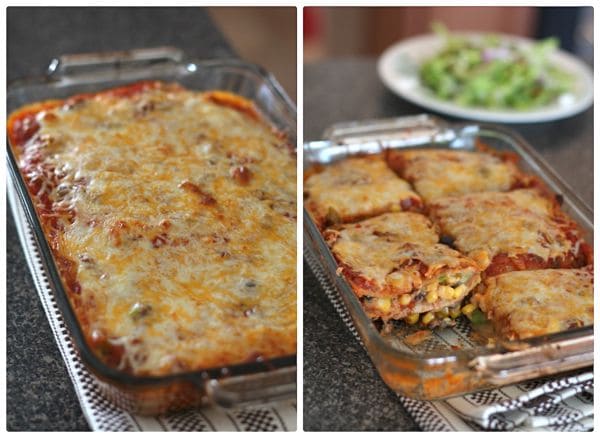 During my time getting to know Connie, I've learned that although she's a chef, cookbook author and dietician, she's also a lot like me – a mom who needs to feed her busy family. I asked Connie to share more about how she gets meals on her family's table:
As a busy mom, what is your biggest challenge with feeding your family?

Getting motivated and creative to come up with new and interesting meals that are beyond the same 6 I always make. I sometimes feel overwhelmed with just the thought of preparing a home-cooked meal that I tend to not think out of the box…I think today's families are really busy, which means we are busier as moms too.
Thinking about ways to provide healthy meals without compromising flavors and favorites that everyone likes.

What are some of your favorite go-to quick meals to put together when you are short on time but need to put dinner on the table?

Favorite go to meals begin with my family's favorites flavors and ingredients.  Latin and Mediterranean flavor basics are always a hit. Our favorite meals are seasonal –  summer is all about the grill and composed salads with interesting ingredients to make it the main meal.  These include beans, artichoke hearts, whole grains like quinoa, interesting greens, and flavor packed vinaigrettes. Mediterranean flavors work great in the fall for pasta dishes. Twenty minutes or less, whether it is pesto or a red tomato sauce, I will add beans, red chili flakes, and fresh herbs to make a meal – topping it off with Parmesan cheese is always a hit. Tacos with different salsas, relishes, and fillings are a big hit and so easy to prepare – especially if they include a variety of beans and salsa.

What are some ingredients you always have in your refrigerator, freezer or pantry to help you put together healthy, quick meals?

Pantry:

canned BUSH's Beans
quinoa
pasta
different rice varieties
broth canned tomatoes
canned artichoke hearts
Extra Virgin Olive Oil
Variety of vinegars
canned adobo peppers
nuts
spices

Refrigerator:

herbs
lemons
salsa
pesto
jar of roasted peppers
Parmesan cheese
inexpensive cooking wine
garlic, onions

Freezer:

frozen proteins like shrimp, chicken tenders
veggies like spinach, corn, and edamame are great to add to soups
I don't know about you, but I always find it helpful and inspirational to find out how other moms "do it".

This "lasagna" comes together in just a few steps. And the best part? You could actually prep it the night before or early in the day and just pop in the oven at dinner time to make it that much easier on yourself. If you do that, I suggest waiting to add the last of the salsa and cheese until you are ready to bake. Either way, all you need is about 30 minutes to put it all together and next thing you know you'll be giving yourself a good ole pat on the back. That's always a good feeling in my book.

Bush's Two-Bean Vegetarian Mexican Lasagna
Yield: 6 servings
Prep Time:10 minutes
Cook Time:20 minutes
Total Time:30 minutes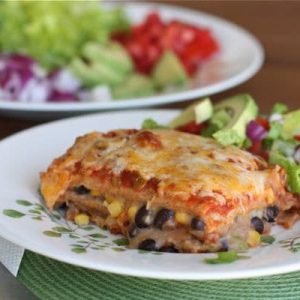 Ingredients:
6 whole grain tortillas, fajita size
1 16 oz jar of salsa (I used Pace Original)
2 cups frozen corn, defrosted
1 can Bush's Black Beans, rinsed and drained
1 can Bush's Pinto Beans, rinsed and drained
1 cubanelle, chopped
2 cups shredded Mexican blend cheese
Directions:
Preheat your oven to 425 degrees.
Take your frozen corn and place in colander. Run under water for 1 minute to defrost. Open your cans while corn is defrosting.
Set aside defrosted corn and use same colander to rinse and drain pinto beans. Place pinto beans into a food processor. Bring colander back to sink and rinse and drain black beans. Place black beans aside until ready to use.
In the food processor add 2 tablespoons of salsa to pinto beans. Pulse food processor 2 or 3 times until pinto beans are slightly pureed. Set aside until ready to construct lasagna.
Set up your cooking area with all your prepped ingredients - 8x11 glass baking dish, tortillas, rinsed and drained beans, defrosted corn and chopped cubanelle.
Pour 1/4 cup salsa to bottom of baking dish. Layer 2 tortillas (slightly overlapping each other) over salsa. Using a spoon, spread 1/2 pinto bean puree over the tortillas, then top with 1/2 the amount corn, 1/2 the amount black beans, 1/2 the amount chopped cubanelle pepper and 1/3 amount of cheese. Repeat layer ending the layer with two additional tortillas as the top layer.
Add the remaining salsa over the entire top layer and casserole. Spread remaining cheese over top of lasagna. Bake in 425 degree oven for 20 minutes, until bubbly.
Let lasagna rest for at least 5 minutes before cutting into pieces for best results.
I love to serve Mexican Lasagna "taco style" by offering a plate full of "fixings" for everyone to add to their plate: shredded lettuce, chopped tomatoes, chopped green or red onion, diced or sliced avocado, fresh lime wedges. This gets everyone another serving of veggies without serving a "salad".
(I am in a paid partnership with Bush's Beans. All opinions are my own)
Are you following me on Instagram, Twitter, Facebook and Pinterest? If you'd like to subscribe to Aggie's Kitchen and have each post delivered straight to your e-mail box, then please add your email here. Happy cooking!
There are affiliate links in this post. I make small earnings through any purchases made through these links. Thank you for supporting Aggie's Kitchen!