Feel Good Food: Kale, Mushroom and Bean Soup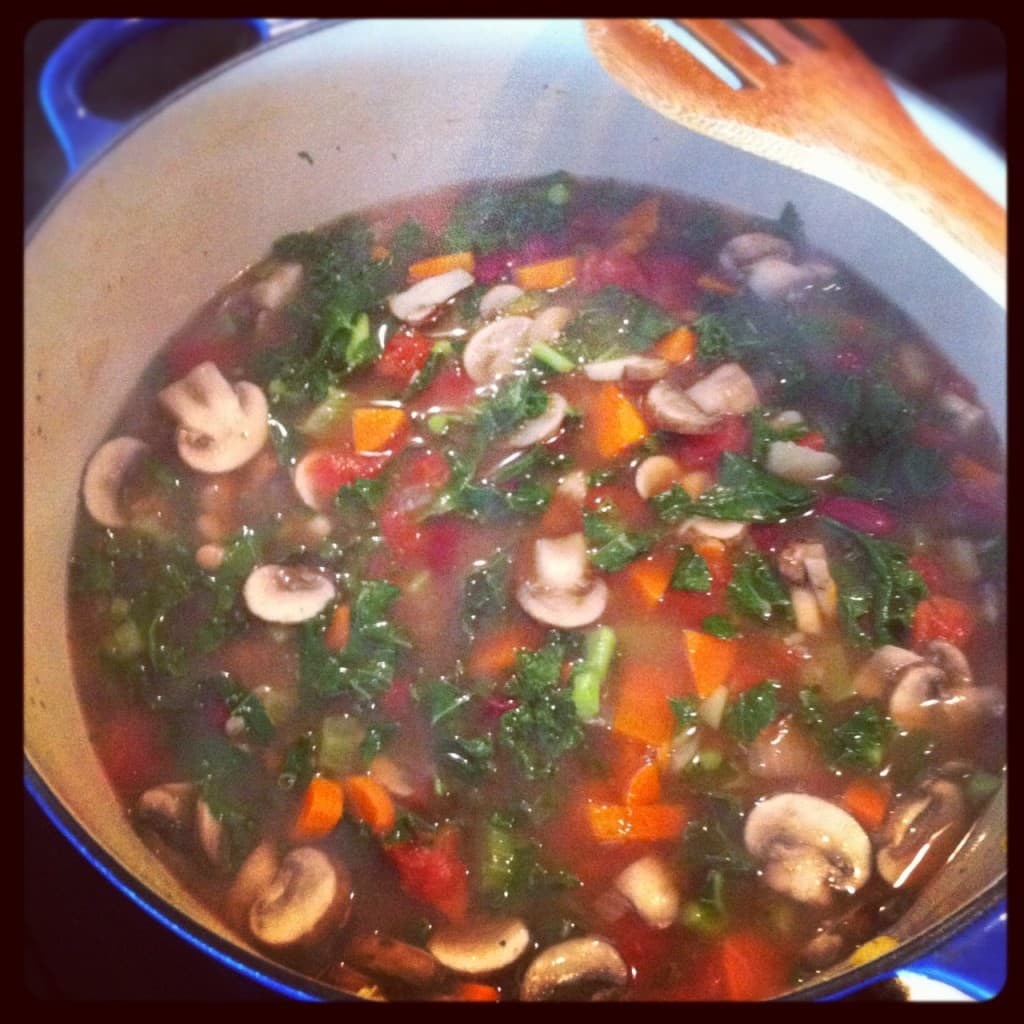 Last week, my son and I were feeling a little under the weather. After talking with friends and other people around school, it didn't sound like we were the only ones either. 'Tis the season…
When I'm not feeling my best, I tend to either eat really junky or really well. I usually regret when I go the junky route (and feel worse!) so I forced myself to pull out what I had in my fridge and pantry last week and pull together this Feel Good soup. This soup warmed up my bones and made my belly happy. I ate 3 big bowls of it in one day and immediately started to feel better. I wish I could tell you my kids enjoyed this along with me, but they are not in a soup loving phase right now – working on that. But, my husband helped himself to some and went back for seconds.
I served the soup with a heaping scoop of my favorite rice blend that I pick up at Costco – good stuff. Also, the soup base that I love to use when making soups is Better Than Bouillon Organic Reduced Sodium Chicken Base that I find at Costco as well, find a review with more soup recipe from Kayln of Kalyn's Kitchen here.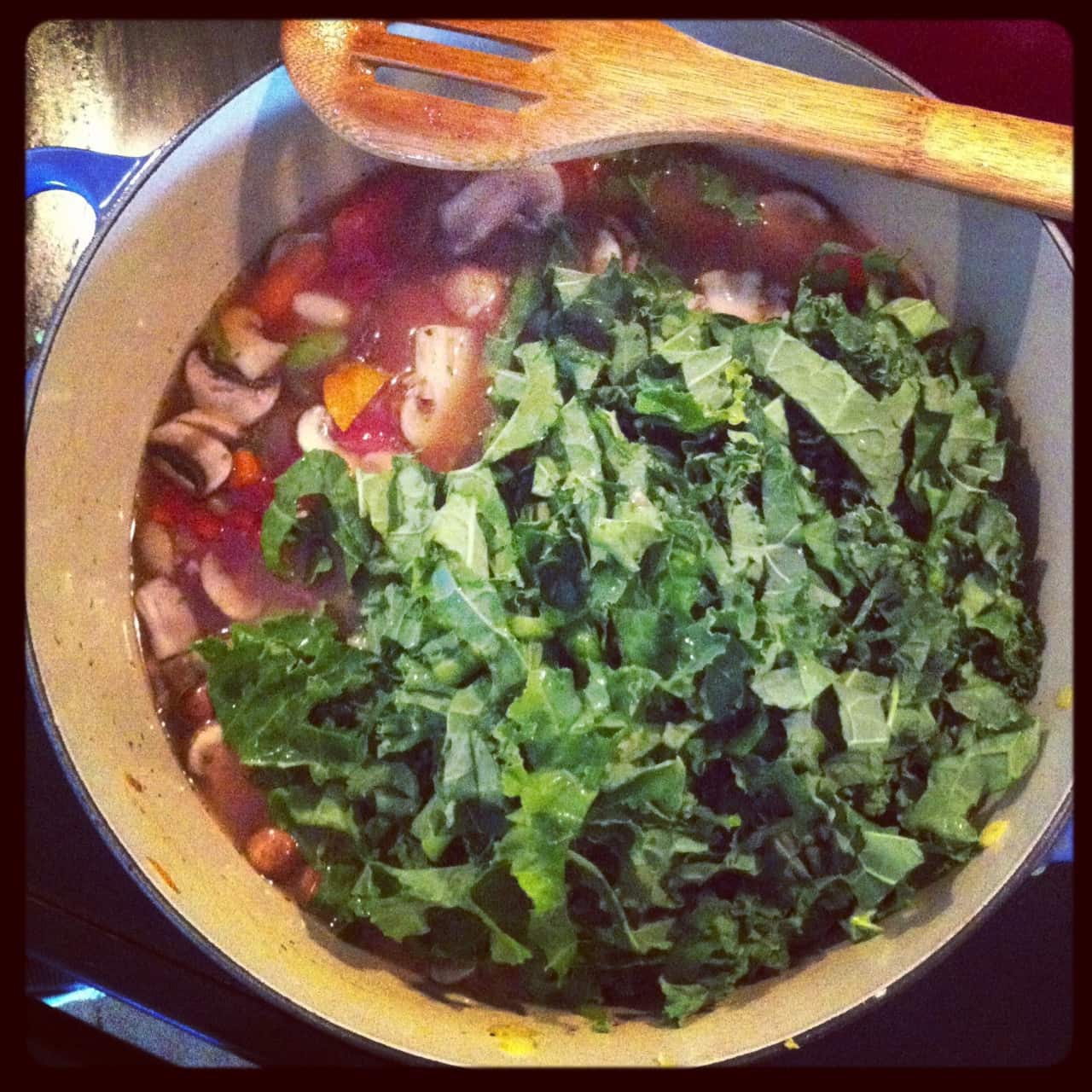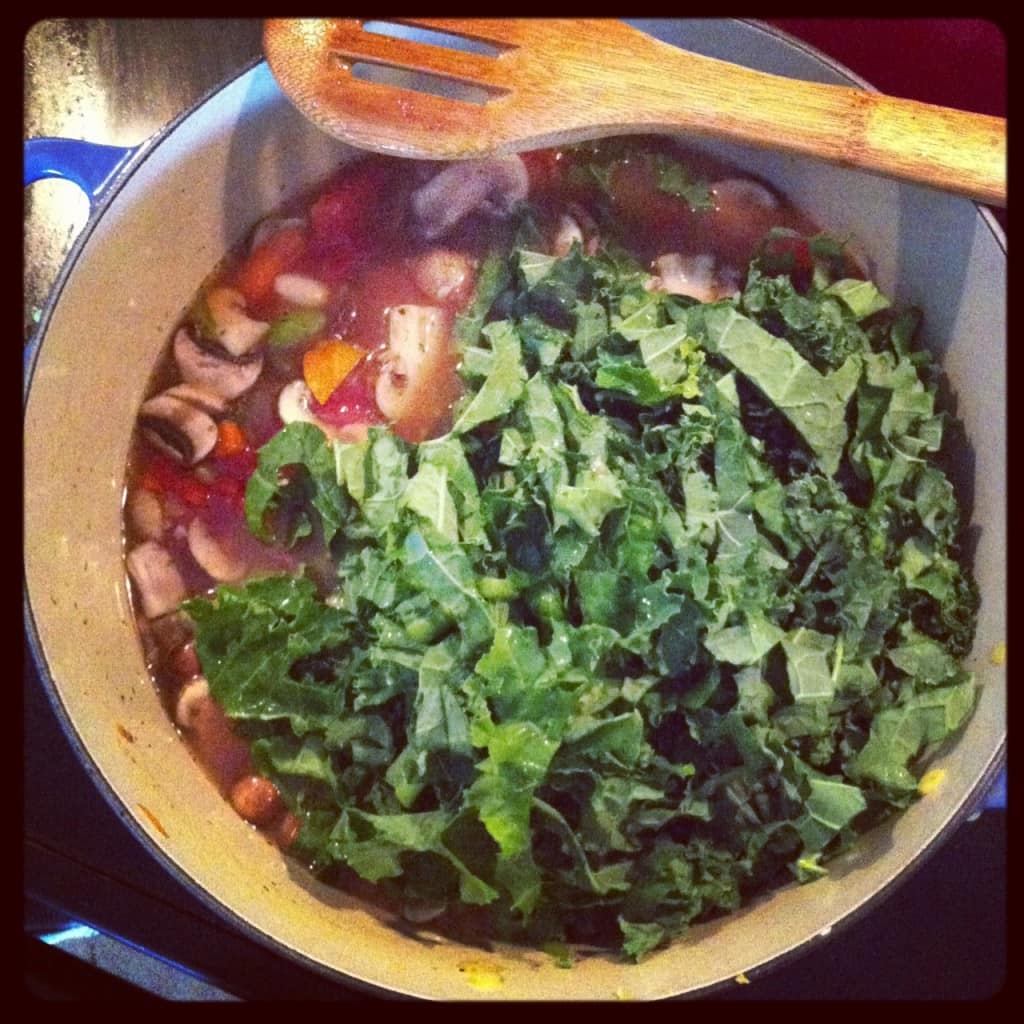 So much nutrition happening in a pot of this soup, you really can't help but feel good after eating it.
Have a great week and hope everyone in the path of Hurricane Sandy stays safe!!
Kale, Mushroom and Bean Soup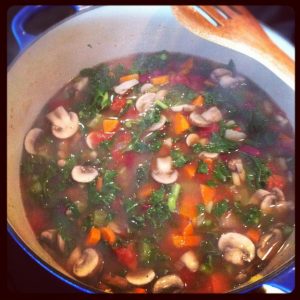 Ingredients:
2 tablespoons olive oil
1 onion, chopped
2 garlic cloves, minced
2 carrots, chopped
2 celery, chopped
8 oz baby bellas, sliced
1 can diced tomatoes
1 teaspoon dried oregano
1 can Bush's Kidney Beans, rinsed and drained
1 can Bush's Northern Beans, rinsed and drained
1 tablespoon chicken or vegetable bouillon base
3 cans water (I used the tomato and bean cans to capture leftover flavors)
Head of kale, thinly sliced
salt and pepper, to taste
Directions:
In a large pot, gently heat olive oil over medium heat. Add onion and garlic and cook until fragrant, about 1-2 minutes. Add carrots and celery and cook until slightly softened, about 5 minutes. Add mushrooms and cook a few minutes until slightly softened. Add tomatoes, oregano, beans, bouillon base and water to pot. Bring to a slow boil and add kale. Season with a good pinch of salt and pepper and let simmer for about 25 minutes until all vegetables are cooked through. Taste for seasoning and adjust to your liking.
Serve in a large bowl with wild rice or quinoa and grated parmesan cheese for a hearty, but light, meal.
Are you following me on Instagram, Twitter, Facebook and Pinterest? If you'd like to subscribe to Aggie's Kitchen and have each post delivered straight to your e-mail box, then please add your email here. Happy cooking!
There are affiliate links in this post. I make small earnings through any purchases made through these links. Thank you for supporting Aggie's Kitchen!