Pear and Granola Salad with Greek Yogurt Poppyseed Dressing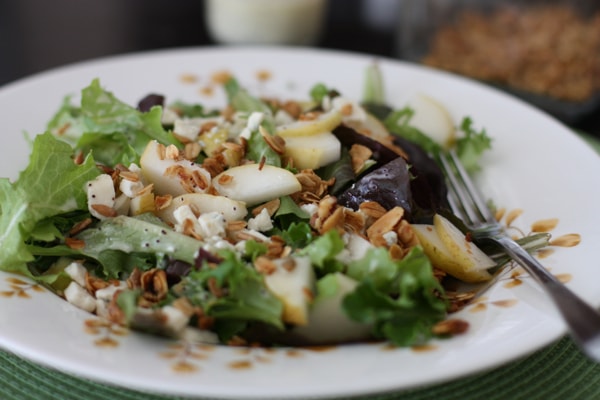 Remember Jenna's granola I shared with you earlier this week? Well, it's gone (time to make more!). I threw the last of it on this salad the other day for lunch and let me tell you, granola on salad is where it's at.
I was having a major craving for pear and gorgonzola something the other day. That something turned into a salad (surprise surprise). I had the pears, the gorgonzola, and the greens but I was missing those honey sweet crunchy nuts that I felt absolutely belonged on top of a salad like that.
At the same time I was experiencing this intense craving, I happen to get Sommer's comment on my granola blog post that said something sort of like, "I could honestly put granola on top of EVERYTHING!!"
Ding ding ding. There ya have it.
Granola on salad. And this Greek Yogurt Poppyseed Dressing pulled it all together perfectly.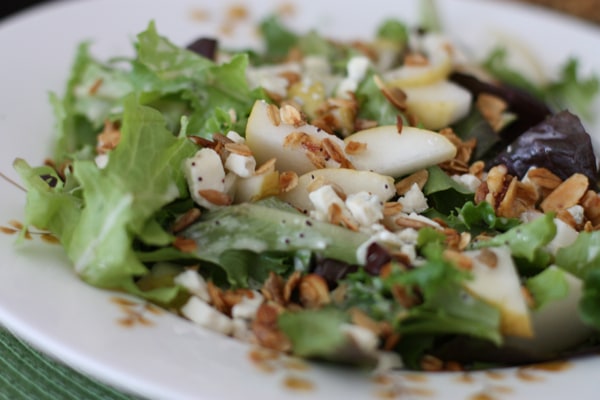 Print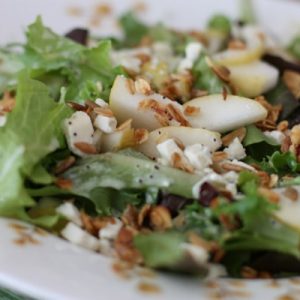 Pear and Granola Salad with Greek Yogurt Poppyseed Dressing
Author:
Category: Salad
---
Ingredients
2 tablespoons olive oil
2 tablespoons white wine vinegar
1 tablespoons plain Greek yogurt
1 teaspoon poppy seeds
1 teaspoon honey
pinch salt and fresh ground pepper
---
Instructions
Combine all ingredients in a small jar or sealed container. Shake well until all ingredients are combined and creamy. Store leftover dressing in the refrigerator for up to 3 days.
Don't forget to enter to win a Harry & David gift basket! Giveaway ends Tuesday October 30, don't miss out!
Are you following me on Instagram, Twitter, Facebook and Pinterest? If you'd like to subscribe to Aggie's Kitchen and have each post delivered straight to your e-mail box, then please add your email here. Happy cooking!
There are affiliate links in this post. I make small earnings through any purchases made through these links. Thank you for supporting Aggie's Kitchen!