Lunch For One: Roasted Zucchini and Onion Frittata Wrap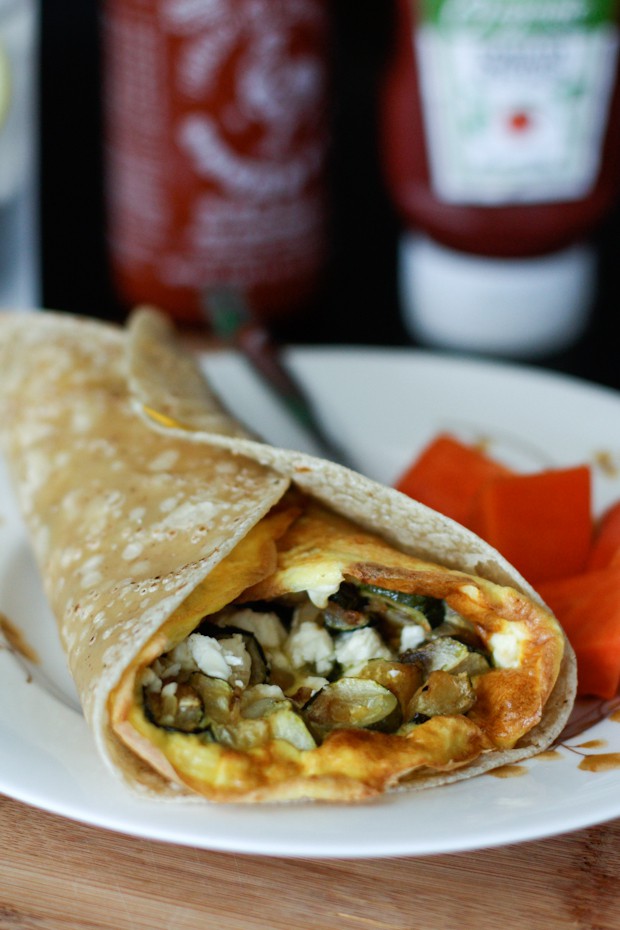 More often than not, I find myself with a small container of leftover roasted vegetables in my fridge. I don't love eating leftover roasted vegetables on their own, but I do love adding them to other foods – especially frittatas.
This Roasted Zucchini and Onion Frittata Wrap came together in literally just a few minutes. I found myself extremely hungry at lunchtime one day (no surprise) and eggs seem to be my go-to lately. As I look at the picture of the wrap, I have to laugh because it looks HUGE. I was definitely a stuffed pregnant lady after I ate this so I will say this could easily become 2 wraps instead of one. All you would have to do is cut it down the middle after it's all cooked up, and put each half on a tortilla. Or if you are finding that you have a monstrous appetite one day, then go ahead and eat it all up yourself, no judging here that's for sure!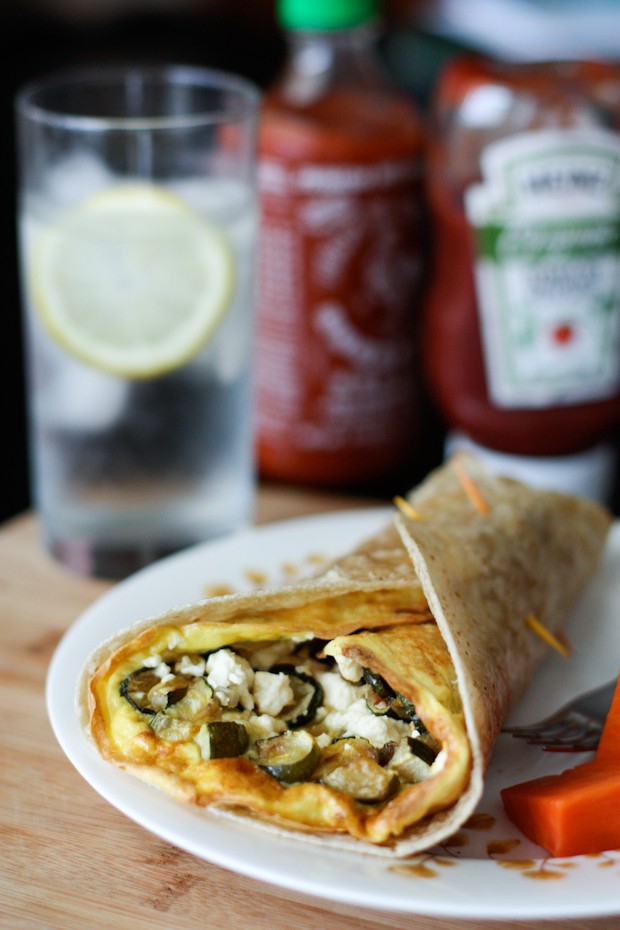 And of course, a little ketchup or sriracha only makes it better. 😉
What I love about this frittata wrap is that it would also make a fantastic "breakfast for dinner" option as well.
Roasted Zucchini and Onion Frittata Wrap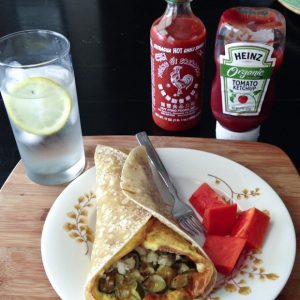 Ingredients:
1/2 teaspoon grapeseed oil, or butter (or other oil of choice)
2 eggs, whisked
2 tablespoons leftover roasted zucchini and onion (any roasted vegetables would work here!)
1 oz crumbled feta cheese
1 tortilla (I used Food For Life Brown Rice Tortilla and loved it!)
salt and pepper
Directions:
Preheat your broiler.
In a nonstick omelet pan, heat oil over medium heat. Add your whisked eggs to pan and let set for a few seconds. Add your roasted vegetables to eggs and begin to carefully move your pan around so that your eggs spread to the outer edges of pan. Use a thin spatula to pull edge of eggs toward middle of pan while you tilt the pan so that the loose eggs fill the space. Set down on the burner and let bottom set for 1-2 minutes.
Sprinkle your feta over egg and vegetable mixture and place under broiler. Broil for 2-3 minutes, or until browned and bubbly. Watch carefully because it browns up quick.
When frittata is browned and cooked through (it will puff up a bit too), carefully take out of the oven using an oven mitt. Slide frittata out of pan and onto your wrap. Sprinkle with salt and pepper to taste and fold into an open ended wrap. Enjoy!
You can easily turn these frittatas into wraps too!
Greek Pepper and Onion Frittata
Baby Peas and Cheese Frittata | Family Fresh Cooking
Spinach, Artichoke and Sun-Dried Tomato Frittata | Bake Your Day


Follow Aggie's Kitchen's board Sandwiches on Pinterest.
Are you following me on Instagram, Twitter, Facebook and Pinterest? If you'd like to subscribe to Aggie's Kitchen and have each post delivered straight to your e-mail box, then please add your email here. Happy cooking!
There are affiliate links in this post. I make small earnings through any purchases made through these links. Thank you for supporting Aggie's Kitchen!