Salad Of The Week: Mixed Greens, Avocado and Radishes with Roasted Almond Oil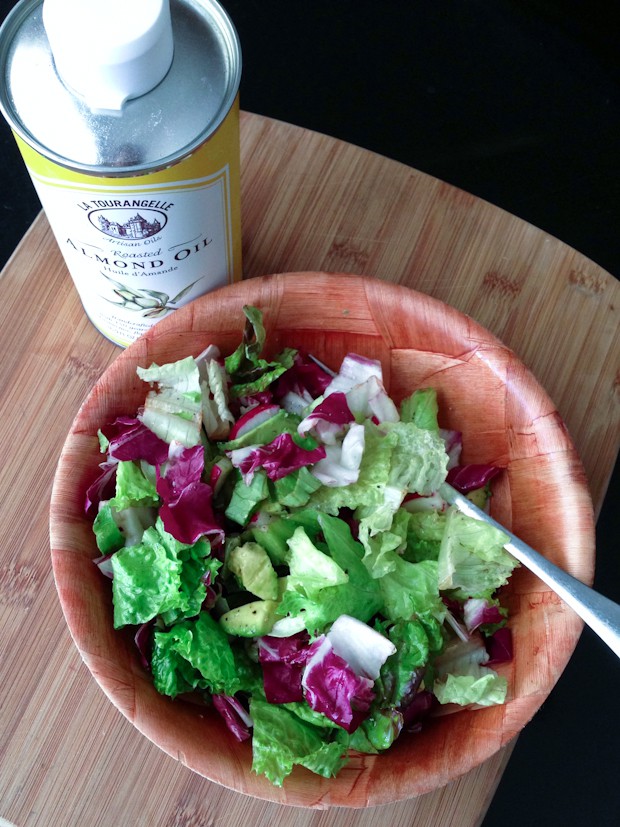 This morning I'm playing total catch up. I spent the weekend up the road with my family and a bunch of blogger friends at Walt Disney World attending Food Blog Forum for the third year in a row (here's last year's recap). To say we had a great time would be an understatement. From Friday until late Sunday, I got to play in the parks with my family as well as connect with and get to know better other food bloggers that I have known virtually for years, as well as ones I met for the first time this weekend. My mind is processing it all this morning, absorbing all the notes I wrote while in sessions Saturday, as well as reliving all the moments I was able to have with people I talk with almost daily but only see in person maybe once a year, if that. It's mind boggling sometimes. But as always, after a conference like this, I'm home feeling refreshed, revived and so thankful for what I do, write and share here on my blog. It's truly evolved and grown over the years, starting as a fun creative hobby and now giving me the opportunity to work at home part-time while my kids are still young, exactly how I've always wanted it. Sometimes in the busy-ness of it all, it's good and necessary to stop and really appreciate it all the way it should be appreciated. On that note, I have to say, I'm always so grateful for all of you who pop over here to read my words and see what I'm cooking in my kitchen. My goal with this blog has always been to share my love of g00d food with others, and to hopefully inspire someone to cook a meal for their family or try something new or different – in the same way I'm always inspired by others with the same passion. Needless to say, when I hear from a reader (or friend!) who's made something from this blog and enjoyed it, well…that just puts a huge smile on my face and completely makes my day.
Today's little salad is not necessarily a recipe. I always struggle with the feeling of having to share real "recipes" here, but in reality, most of the time I'm throwing together stuff on a whim – and if it works and I think it's absolutely delicious, well, then I want to tell you about it, real "recipe" or not.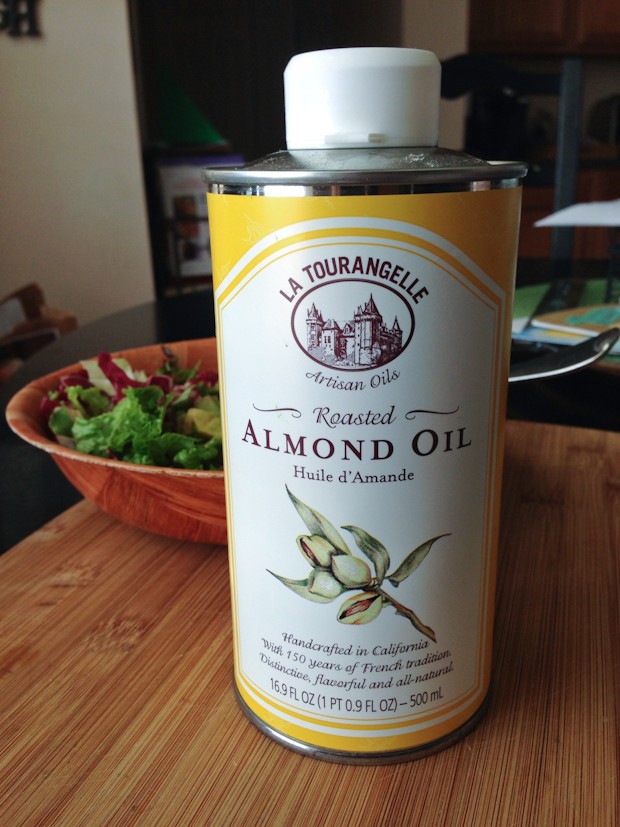 It's hard to really say who the star of this salad is. This mixed greens salad mix I have been making is definitely key but the avocado and crunchy spring radishes really make a statement too. What pulls this combination together though, in a way that makes you want to have the same salad the next day, is the oil I'm using. I picked up this Roasted Almond Oil one day while shopping at Home Goods (they have such a great foodie section, don't they?) and I have to be honest, for a while it just sat on my counter unused. I finally decided to give it a taste one day, and I was completely blown away by the truly delicious roasted almond flavor. I've been drizzling it on my salads ever since – no vinegar, just a light drizzle of this fragrant oil along with a pinch of coarse salt and pepper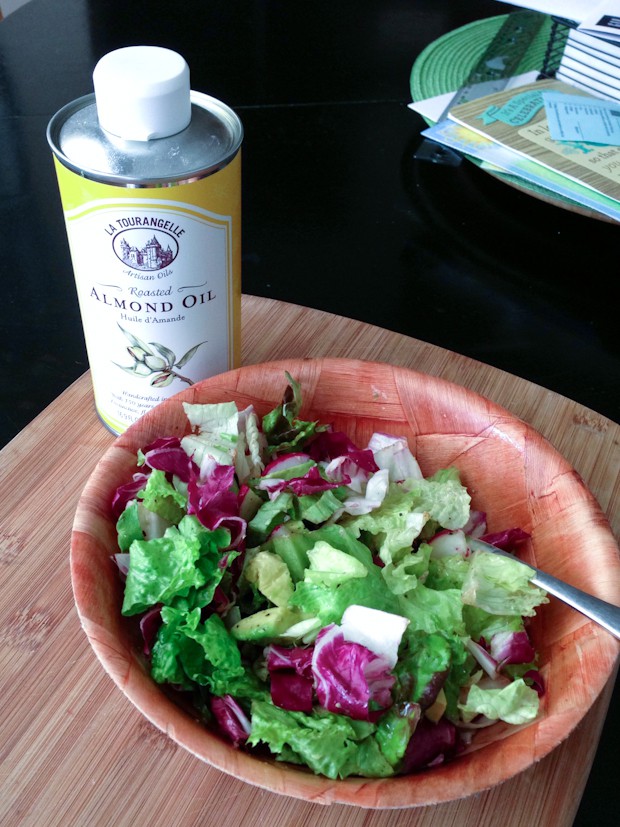 I haven't used the oil it for anything else really, but when I do I'll be sure to let you know. I imagine it would be a wonderful finishing oil to freshly steamed or roasted green beans or to use in cooking a light fish dinner. I would be pretty happy dipping a chunk of bread in it too. 😉
Mixed Greens, Avocado and Radishes with Roasted Almond Oil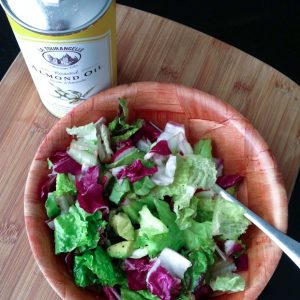 Ingredients:
Directions:
Combine greens and radishes in a salad bowl. Top with avocado. Drizzle your oil over salad and sprinkle salt and pepper to taste. Serve immediately and enjoy!
Don't forget to enter my Keurig giveaway that ends tomorrow!
Are you following me on Instagram, Twitter, Facebook and Pinterest? If you'd like to subscribe to Aggie's Kitchen and have each post delivered straight to your e-mail box, then please add your email here. Happy cooking!
There are affiliate links in this post. I make small earnings through any purchases made through these links. Thank you for supporting Aggie's Kitchen!