Lemon Pepper Hummus Vegetable Plate (Plus SABRA HUMMUS COUPON)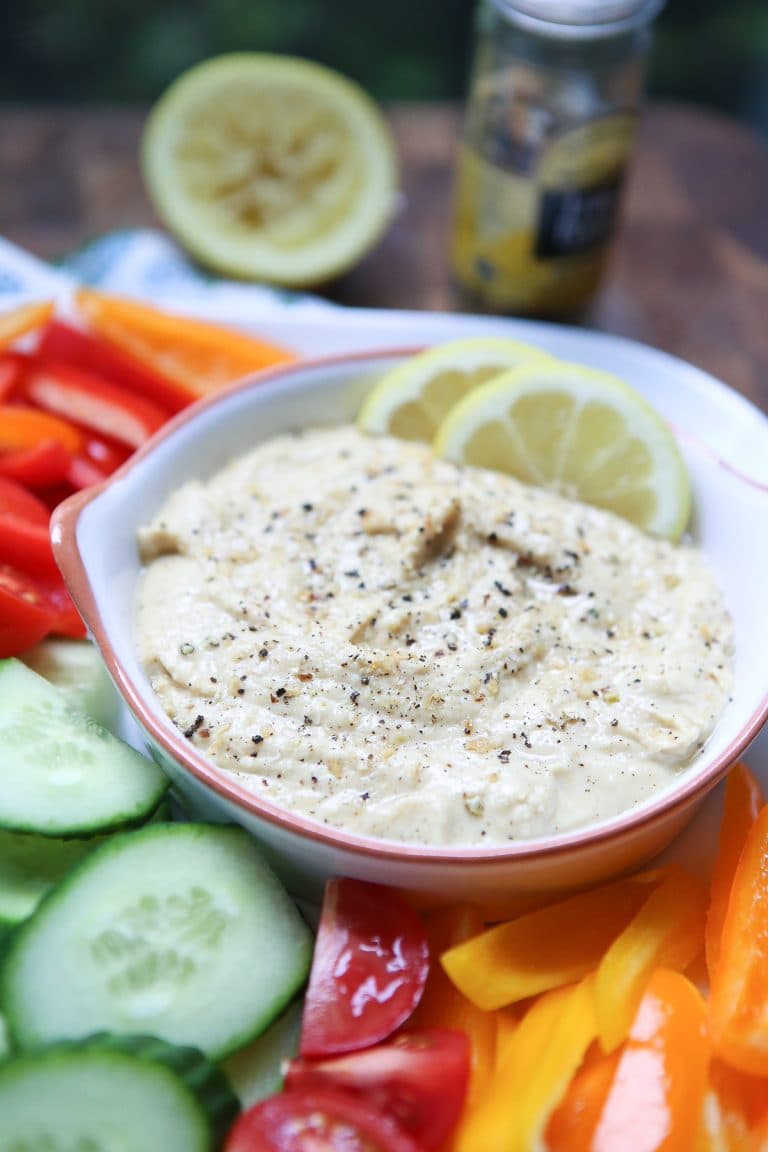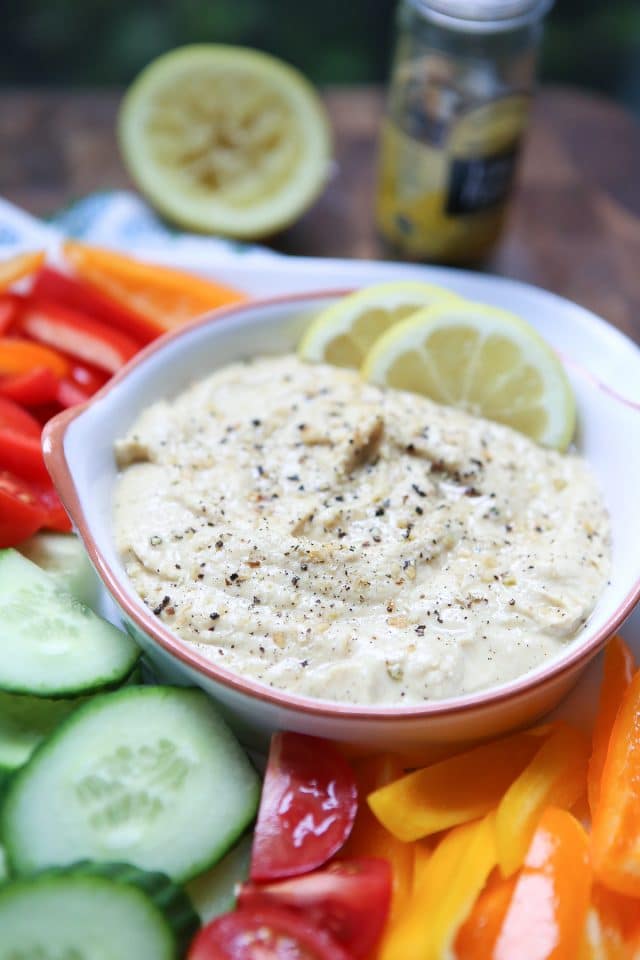 This post was sponsored by Sabra.
Hey, do you know what today is? National Hummus Day! Let's celebrate with some … hummus, of course (and a coupon – get your couon here – available today only!).
I don't know about you but when I'm asked to bring an appetizer, or if I'm having people over for a get-together, a veggie plate is a no-brainer when it comes to figuring out what food I'm going to put out to snack on. A veggie plate with hummus, that is. (I love how Sabra refers to this as the #UnofficialMeal, it really is!). Sometimes I make my own, but most of the time I grab my favorite Sabra flavor or spruce up my own version using their classic – like I did today with this Lemon Pepper Hummus.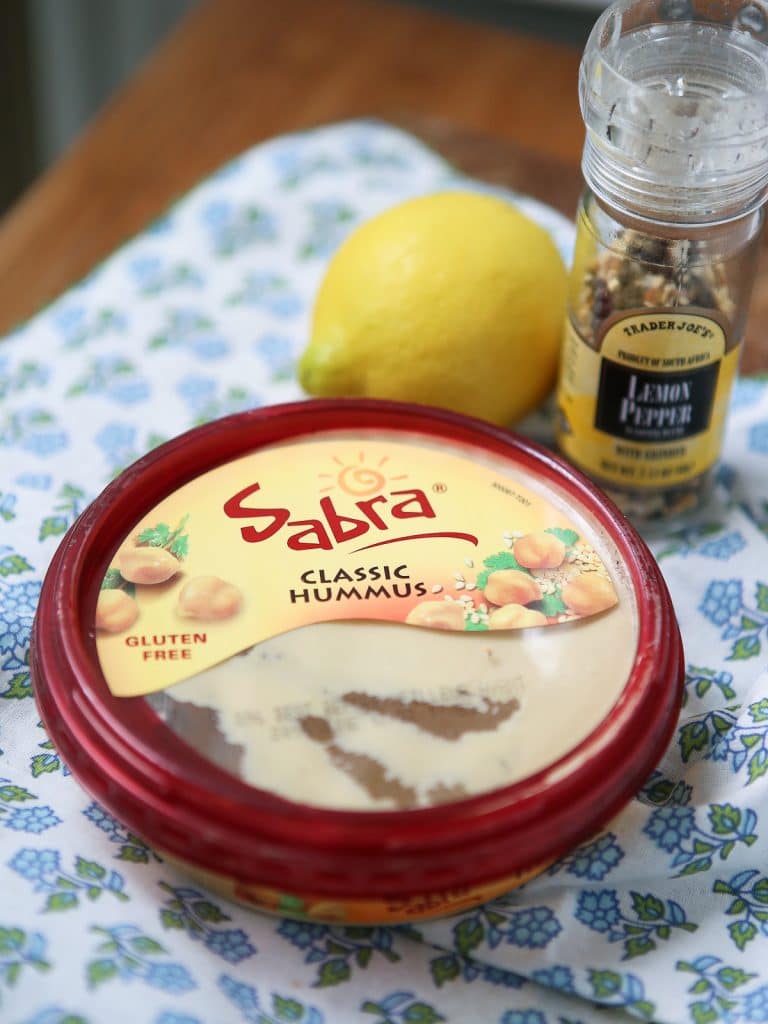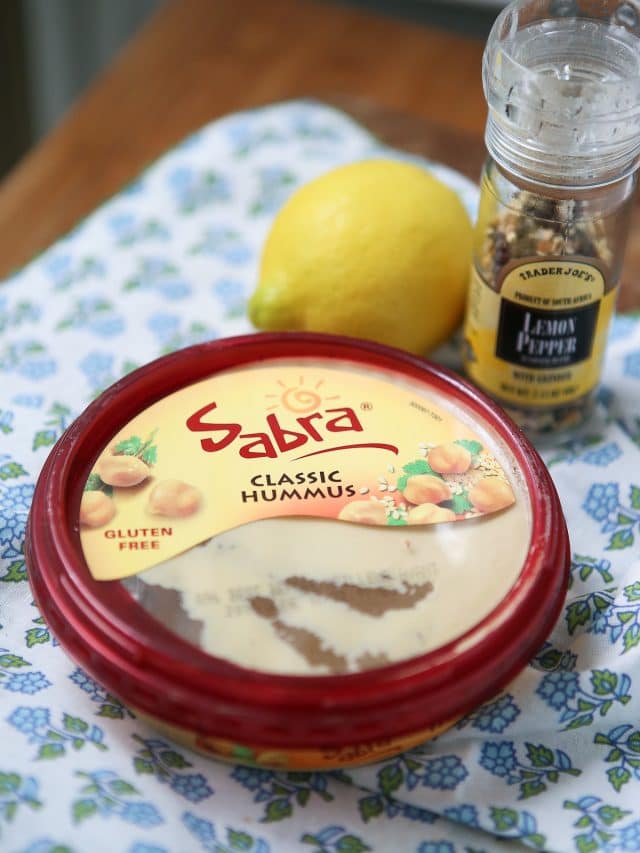 My daughter and I are pretty much obsessed with the the Lemon Twist Hummus – obsessed. Other than the Supremely Spicy, it's most definitely my favorite. So fresh and bright, lemon has that affect on pretty much everything doesn't it? We decided to add our own fresh twist to a container of Sabra's classic hummus by adding fresh squeezed lemon and a generous amount of coarse Lemon Pepper. (Speaking of obsessions, I've been obsessed with lemon pepper for years, adding it to salads, veggies, dips and tuna – pretty much everything you can think of – good stuff! Trader Joe's has a great one that is in it's own pepper grinder – grab it next time you are there.).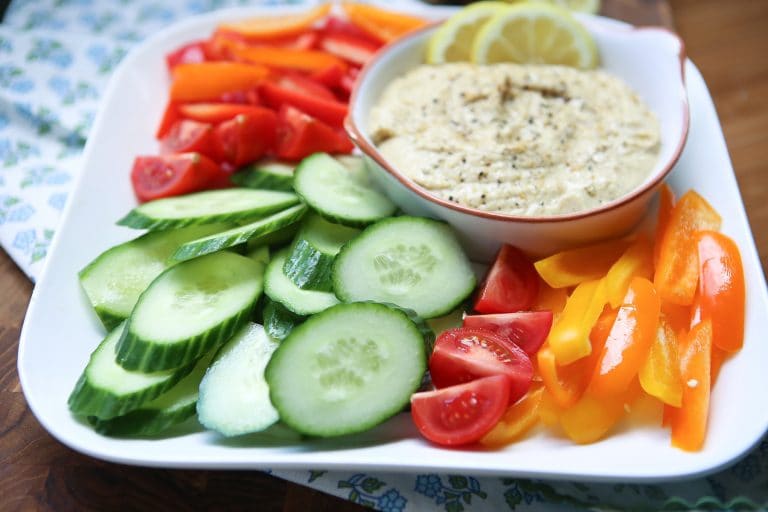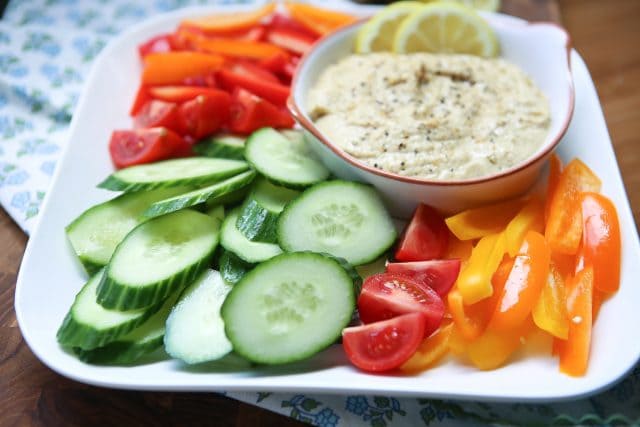 We are gearing toward the end of the school year and of course summer so lots of Unofficial Meals are on the horizon. If you are a lemon lover like my daughter and I then you'll have to give this version a whirl.
Don't forget to join in on the fun of all things hummus today by tagging #NationalHummusDay and #UnofficialMeal on your Facebook, Twitter and Instagram!
Happy snacking!
Lemon Pepper Hummus Vegetable Plate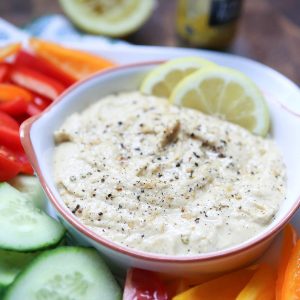 Ingredients:
1 10 oz container of Sabra Classic Hummus
1/2 lemon
coarse lemon pepper, to taste
1 seedless cucumber, sliced
2 red, yellow or orange bell peppers, sliced into strips
handful of small tomatoes, halved or quartered
Directions:
Transfer your hummus into a serving bowl (or keep in it's original container). Squeeze lemon over hummus. Sprinkle a generous amount of lemon pepper over hummus (and vegetables if you prefer).
Follow Aggie's Kitchen's board Appetizers, Snacks & Party Food! on Pinterest.
Disclosure: This recipe and post was developed in partnership with Sabra. I received compensation for my time. Thank you for supporting the brands that support Aggie's Kitchen!
Are you following me on Instagram, Twitter, Facebook and Pinterest? If you'd like to subscribe to Aggie's Kitchen and have each post delivered straight to your e-mail box, then please add your email here. Happy cooking!
There are affiliate links in this post. I make small earnings through any purchases made through these links. Thank you for supporting Aggie's Kitchen!