Layered Greek Hummus Dip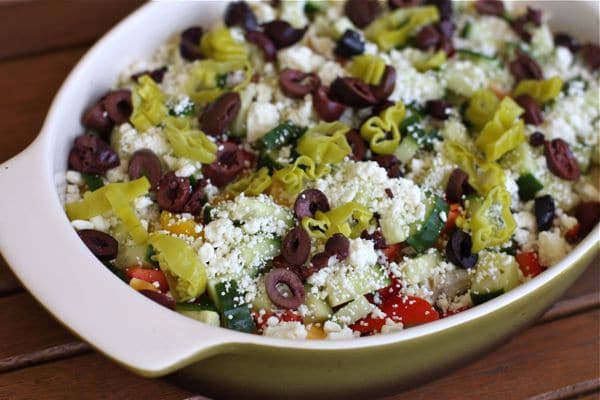 I've made this Layered Greek Hummus Dip two weekends in a row for family get-togethers and let's just say both times the clean-the-plate-club was in full effect. People hovered, people oohed and aahed, I even witnessed some pita chip jabbing.
I think it's safe to say, this dip was a hit.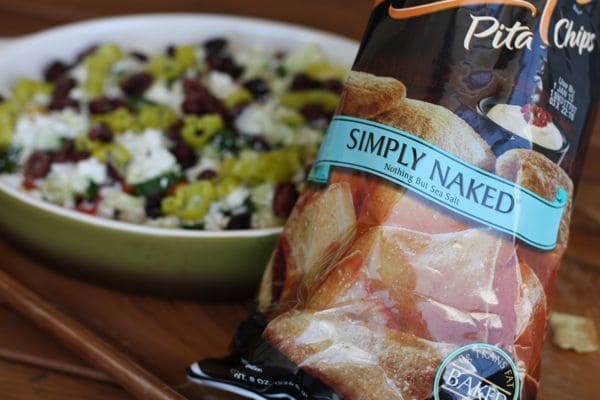 Personally anything served with pita chips is not typically safe around me. This dip definitely falls into that category. If you wanted, you could make these homemade Baked Pita Chips for a healthier chip option.
It's a great dip to put together if you are short on time and have to bring something to a get together last minute. It's also great for snacking on a casual Saturday night in. I'm pretty much in love with this dish and I have a feeling you will be too.
Print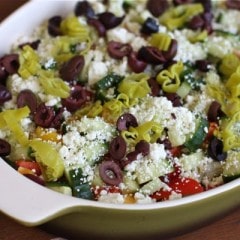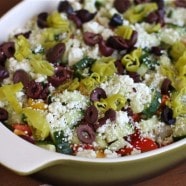 Layered Greek Hummus Dip
Author:
Category: Appetizer
Cuisine: Mediterranean
---
Ingredients
2 cups prepared hummus (I used Sabra Classic Hummus in Family Size)
1/2 lemon
1 12 oz jar of quartered and marinated artichoke hearts, roughly chopped in large pieces
1 bell pepper, chopped (I used 1/2 of a red bell and 1/2 of a yellow bell pepper for color)
1/3 – 1/2 seedless cucumber, chopped
4 oz crumbled feta cheese
big handful of pitted kalamata olives, rough chopped
3 – 4 pepperoncini peppers, rough chopped
---
Instructions
Layer prepared hummus on the bottom of your serving dish. (I used a dish that measured approximately 8×8). Squeeze lemon over the hummus.
Add layers of artichokes, chopped pepper, cucumber, feta, olives and pepperoncini over hummus. Cover and chill in the refrigerator if not serving immediately.
Serve with pita chips and enjoy!
Thank you to Babble.com for including Aggie's Kitchen on their Top 100 Mom Food Blogs for 2012…ranking #2 Overall, #1 Best Recipes, and a few others – totally honored, thank YOU! (while you're at it, check out all the other fantastic food blogs featured!)
Are you following me on Instagram, Twitter, Facebook and Pinterest? If you'd like to subscribe to Aggie's Kitchen and have each post delivered straight to your e-mail box, then please add your email here. Happy cooking!
There are affiliate links in this post. I make small earnings through any purchases made through these links. Thank you for supporting Aggie's Kitchen!