Family Vacation: Sanibel Island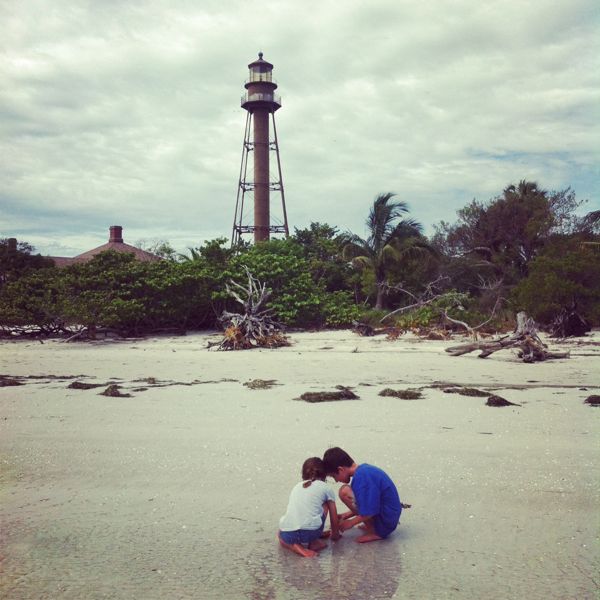 It's hard to believe that its been almost 3 weeks since we got back from our vacation to Sanibel. I've been wanting to post up some pics from our time there, so here we go (finally).
This was our 3rd time visiting the island and each time we've stayed in a different place. I would have to say that the condo we stayed at this time around was my favorite. We rented a unit at Loggerhead Cay through a site called VRBO and to be honest, the unit we found was a complete gem. The owners keep it up extremely well, we found it so comfortable and clean and stocked well for the unexpected (flashlights that were needed during a storm, tennis rackets, beach and pool toys, cabinets and drawers full of movies, books and board games, a stocked wine rack).
I just loved this…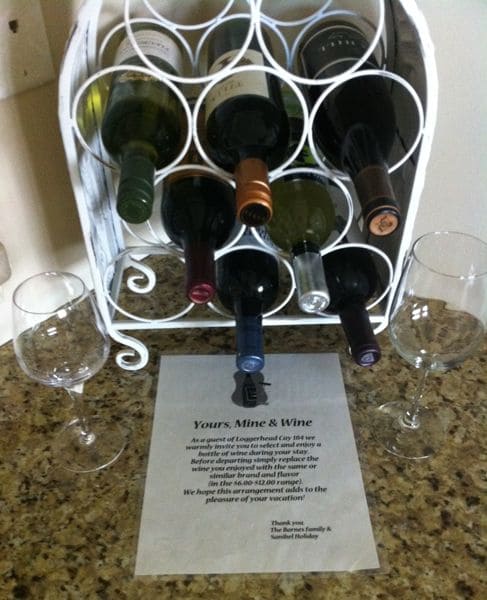 The location was fantastic…both the location of the condo complex and the unit itself. We were on a quieter side of the island, close enough to ride our bikes to the lighthouse, restaurants, to the store to pick up hot dog buns or to just explore (and look at houses which was what I enjoyed). The unit was also just a short walk to the beach and looked right over the pool. Oh, and I have to mention the pool – it was huge. I actually got up the first morning and swam laps before it got crowded.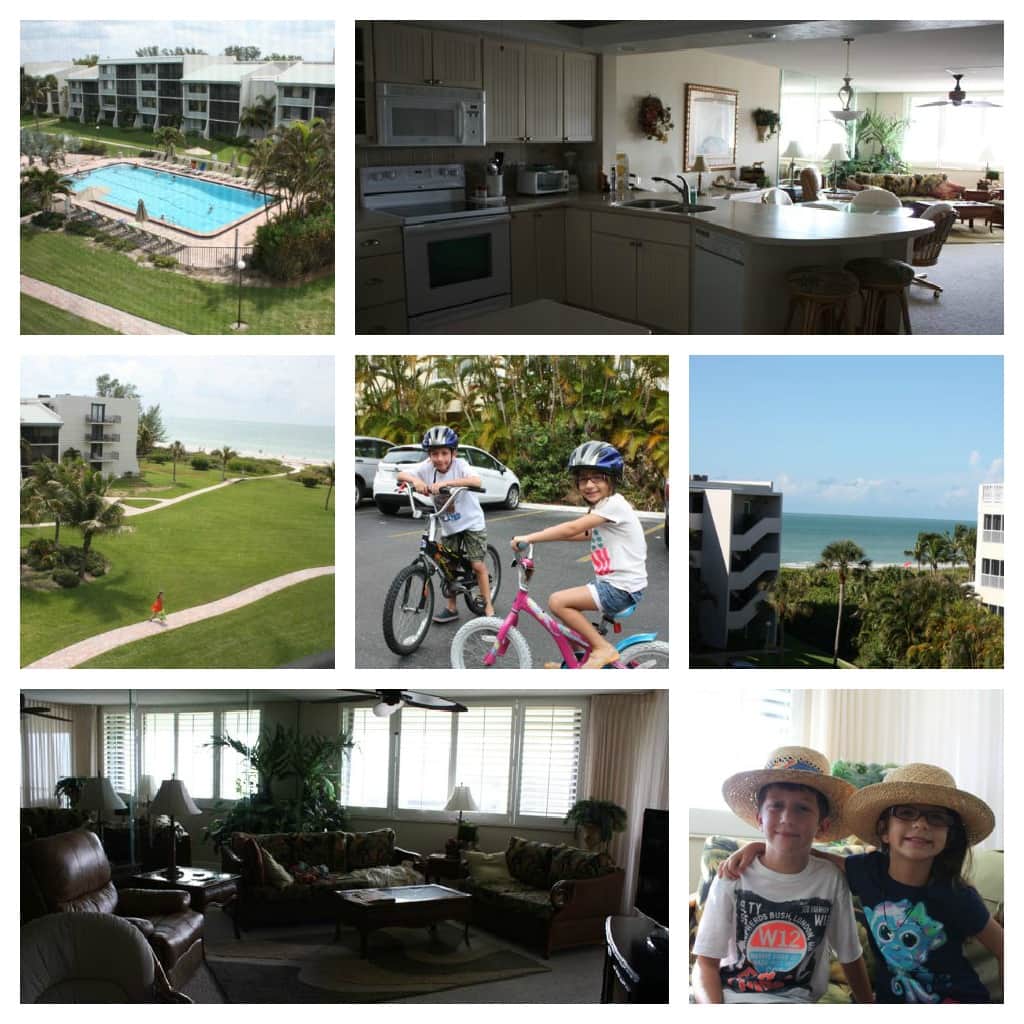 We planned to eat most of our meals (breakfast and lunch) in our unit so we brought some food with us and also took a few trips over to the local grocery store (one of two on the island I believe) to pick up a few fresh items. We visited Jerry's last time we were here with the kids and got a kick of the tropical birds in big cages scattered throughout the shopping center. My son Sammy got one to actually say "Hello" which was fun. I wouldn't recommend doing all of your food shopping on the island due to obvious "island prices". Bring as much as you can from home if you are driving, or hit the Publix over on the mainland before you come over the bridge. Jerry's was great for stocking up on sandwich fixin's, breads, beer and wine and anything else you need last minute.
At dinner we wanted to hit a few restaurants, some we had been to before, some new.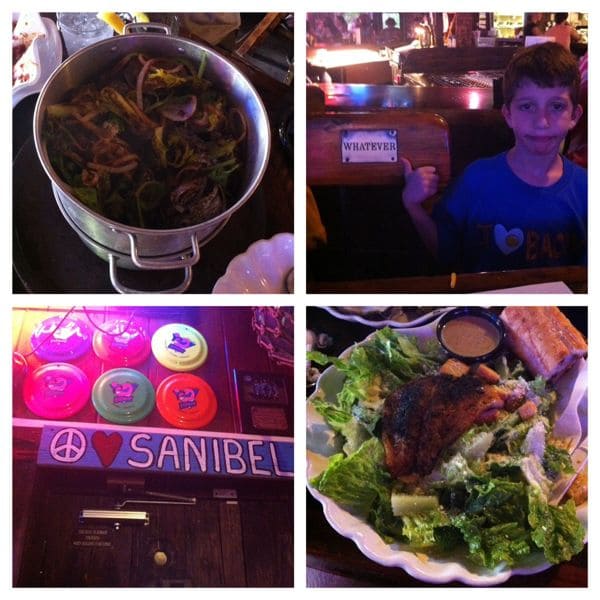 Lazy Flamingo – We've hit Lazy Flamingo each time we've visited the island. It's "pub grub" I guess you can call it – wooden tables and benches, a raw bar, lots of beer, fried food and fresh fish. I have ordered the same thing each time and will probably always do so – a pot of steamed oysters and a blackened grouper ceasar salad (my husband gets the grouper sandwich). I love love love their salad (a simple crisp ceasar with dressing on the side) and the piece of garlic bread that comes with it. It's a fun place to eat, very family friendly with some of the nicest waitresses we encountered during our trip. They took good care of us and were wonderful with our kids, which is always a good thing. The kids' meals were nothing special (at least the macaroni and cheese was definitely not) but they get served in a frisbee which my kids' remembered from last time so it was fun to get another one this time around. The restaurant was close to our condo so we took a family bike ride to dinner – and after riding out a big storm at the Dairy Queen next door rode home in the light rain laughing (one of those memories I'll never forget).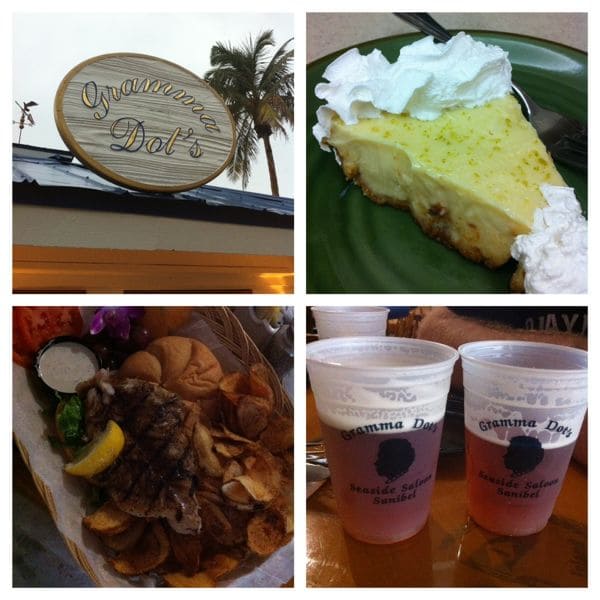 Gramma Dot's – This was a new place for us and recommended by a friend of ours that just happened to be on the island the week before us (at the same condo even, crazy coincidence). It's right on the water, in a marina so the view of all the nice big boats was nice. Although it was dinnertime, we were able to order off the lunch menu (less $, portion was the same minus a side dish) and everything we tried was great. Kids ate the fish fingers and chicken strips, I had a mesquite grilled grouper sandwich and my husband ate a fried oyster po' boy. We shared an order of coconut shrimp. The sandwiches were served with homemade potato chips that I could eat every single day of my life, they were so good. We went home with a slice of key lime pie which was perfectly tart with a touch of sweet.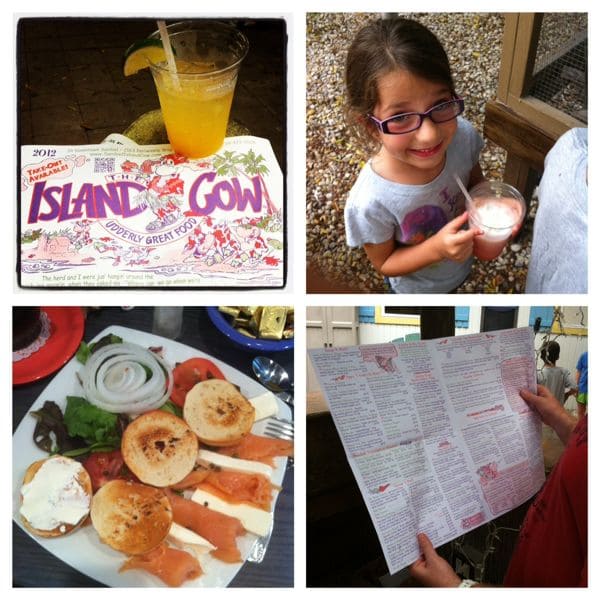 The Island Cow – Another new place for us, but definitely not new for the island. This place is very well known in the area and you can just tell by the line always waiting to eat there. We actually ate here twice, once for dinner and once for breakfast. The menu is HUGE, almost overwhelming, there is definitely something for everyone. We had about a 30 minute wait for dinner which went by quickly on their back patio with a couple of drinks, a couple of parrots (or parakeets?), and a ring on a string toss game that thoroughly entertained the kids. I sipped on Mango Sangria (YUM) in a colorful adirondack chair while I studied the menu. Some of our favorite eats at The Island Cow that we enjoyed: fried pickles, crunchy grouper tacos, crab cake and egg breakfast, smoked salmon breakfast (shown in picture above), and the complimentary muffins that came with your meal.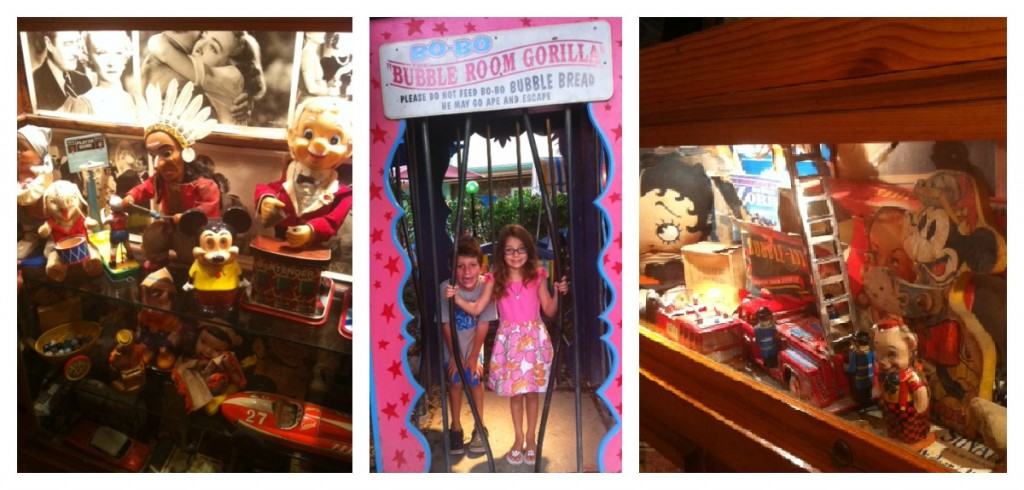 A couple of other restaurants we visited:
The Bubble Room – the scenic drive to Captiva (where Bubble Room is located) is like none other and we always look forward to it. A visit to this restaurant has become a tradition for us. The Bubble Room is known for it's interesting nostalgic (mostly Christmas) decor that is fun to look at while you are waiting on your meal. My husband and I both ordered the Eddie Fisherman which was pecan crusted grouper cooked in parchment, it was delicious. All meals are served with a good salad (which I was in serious need of by this time) and glorious Bubble Bread (garlic bread on steroids and completely cancels out the salad). I was actually impressed with the kids' meals here, they both got generous portions of buttered bow tie noodles with sauteed carrots and tater tots on the side. It was one of the best off the "kid's menu" I had seen during our trip…after a few days of seeing what my kids were ordering while out was making this mom a little nutso if you know what I mean.
Doc Ford's – we ate here on our last night of vacation and really enjoyed it. We had a good meal and I went home with a book (apparently Doc Ford is a popular character in a series of stories written by Randy Wayne White who lives on the island). My husband ordered the Half Roasted Chicken with Cuban Chimichurri Sauce that was excellent and I had the Banana Leaf Snapper and loved it. We shared an order of Yucatan Shrimp that was so deliciously spicy that I have to figure out how to recreate it at home.
There were so many more restaurants we didn't get to try. Next time.
After all this eatin', now do you understand why I came home and made this?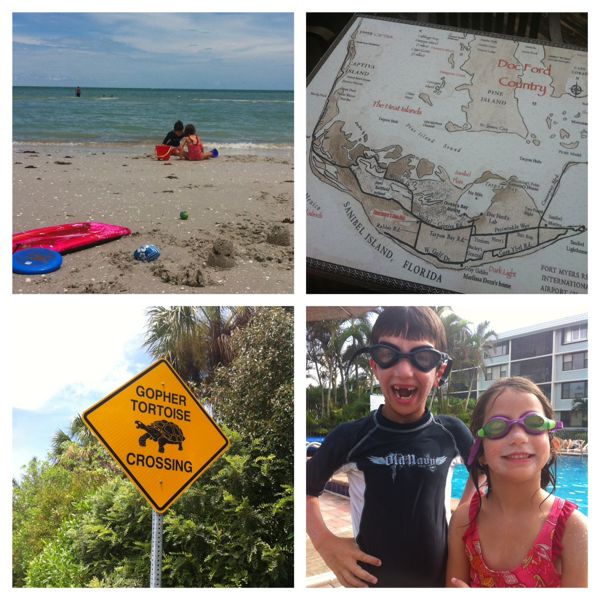 Other fun stuff to do on the island: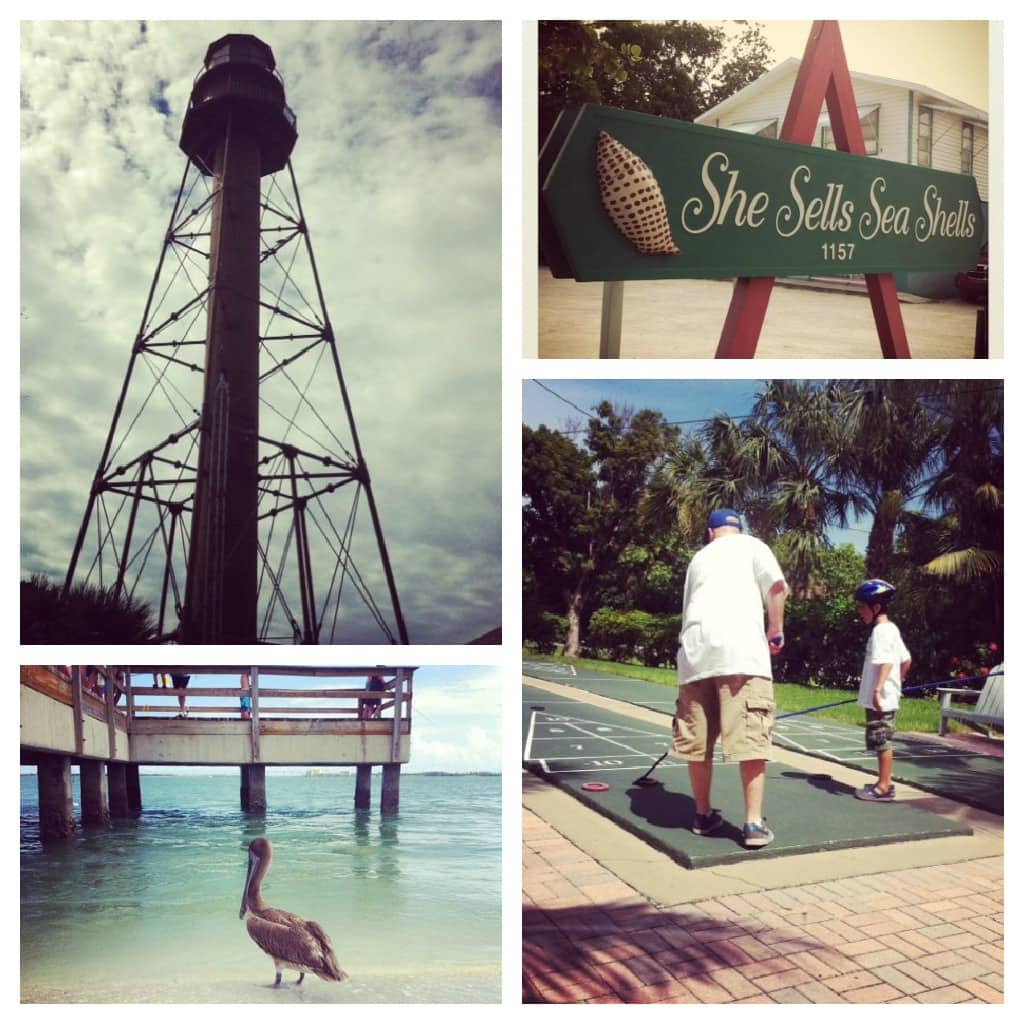 Sanibel is a nature lover's paradise, which is why I'm in heaven every time I visit. Once you're on the island it doesn't take much to unplug, unwind and just feel the laid back vibe around you. We have only visited during off-season when it's quiet, but I hear the island is hustling and bustling and honestly quite crowded during peak season (I'm more of an "off-season" gal). The sunsets are spectacular and celebrated and mornings on the beach are blissful with fresh salt air, birds feeding and live shells and crab scurrying their way back to the water while the tide goes back out. It's definitely the perfect place for a family to veg out in my opinion. Lots of good eatin', swimming, sleeping and reading…oh yea.
My crew: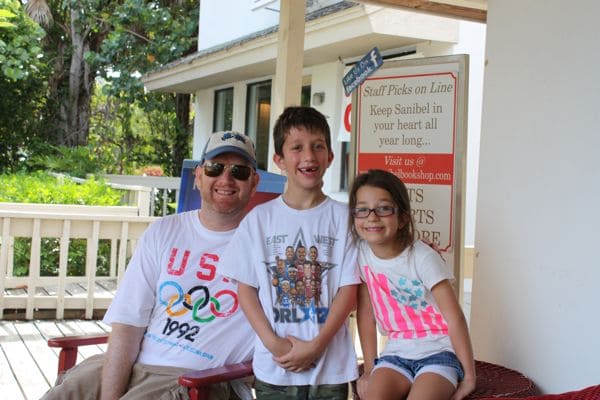 I will miss this view more than you know. Until next time…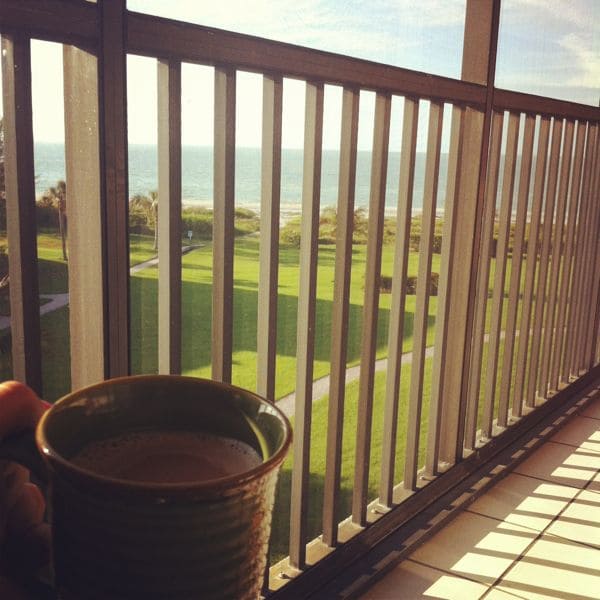 Are you following me on Instagram, Twitter, Facebook and Pinterest? If you'd like to subscribe to Aggie's Kitchen and have each post delivered straight to your e-mail box, then please add your email here. Happy cooking!
There are affiliate links in this post. I make small earnings through any purchases made through these links. Thank you for supporting Aggie's Kitchen!