Summer Ceviche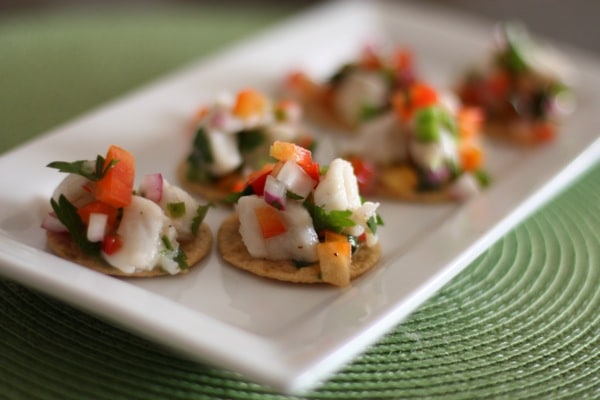 Whenever anyone asks me what my favorite kitchen tool or gadget is, my reply is always a sharp knife. A sharp knife is essential to any kitchen as far as I'm concerned, and after experiencing an injury to my hand last year because of a not-so-great encounter with a dull knife and an onion, I now know first-hand how important it is to make sure your knives are good and sharp before you use them.
Needless to say, when I found out that my latest Kitchen Play assignment was with none other than the leading American-based knife company, CUTCO Cutlery, I was ecstatic. CUTCO and their products are fairly new to me – I was recently introduced to them at the Food & Wine Festival at Epcot this past October, and after spending some time with them at their booth I was very intrigued. Not only am I loving the quality of their knives (I was sent a Santoku knife as well as a Trimmer – both great universal knives for your kitchen), I am super impressed with their Forever Guarantee as well as their sharpening services. You really can't beat that standard of service from a company in my opinion.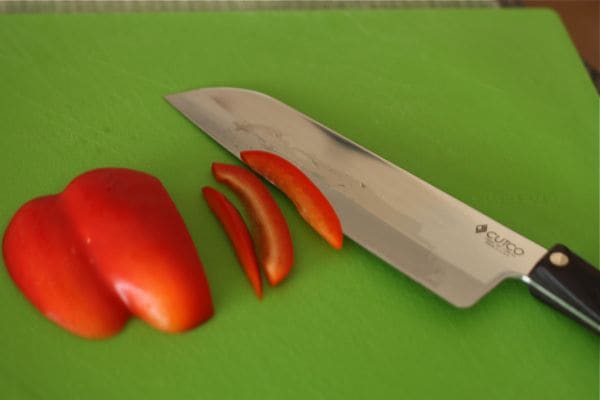 When I learned that my contribution to the Kitchen Play Progressive Party was the Amuse Bouche course, I knew right away that I wanted to make a ceviche. Ceviche screams summer to me with all the citrus involved in the cooking process and all the finely chopped fresh vegetables that turn it into a flavorful seafood salad that can be served in so many ways.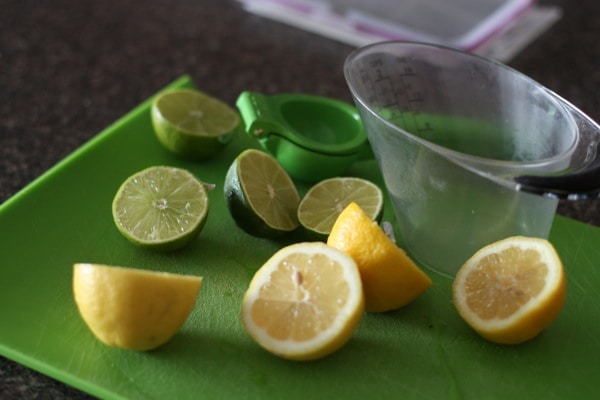 I don't know about you, but I find cutting and chopping ingredients for recipes somewhat therapeutic so when my knife arrived I immediately put it to good use. This was my first time making ceviche at home. With the help of the nice lady at my local fish market I picked out a freshly caught piece of flounder and cut it into a small dice using my new CUTCO knife. The veggies and fresh parsley came next and were added in during the final stages of the recipe. The finished ceviche was simply served on rice crackers as a refreshing way to start our dinner.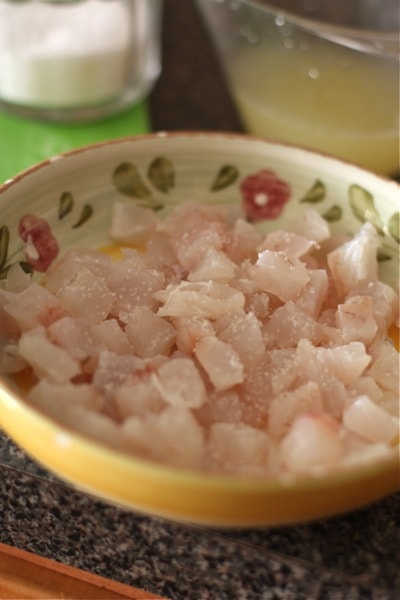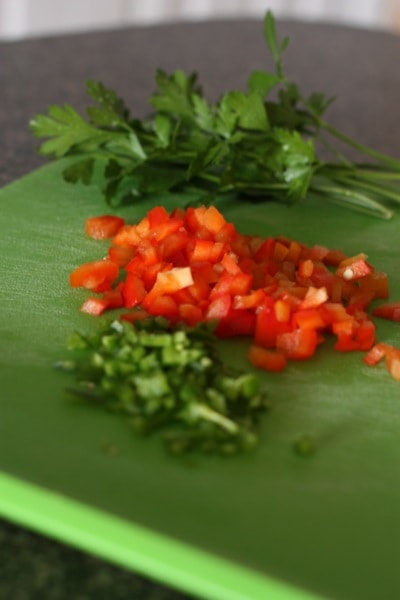 If you've ever eaten ceviche out and have thought of making it at home, I can't encourage you enough to just go ahead and try it. It was one of the most simple dishes I've put together and the most delicious and refreshing, which is exactly what summer dining is all about.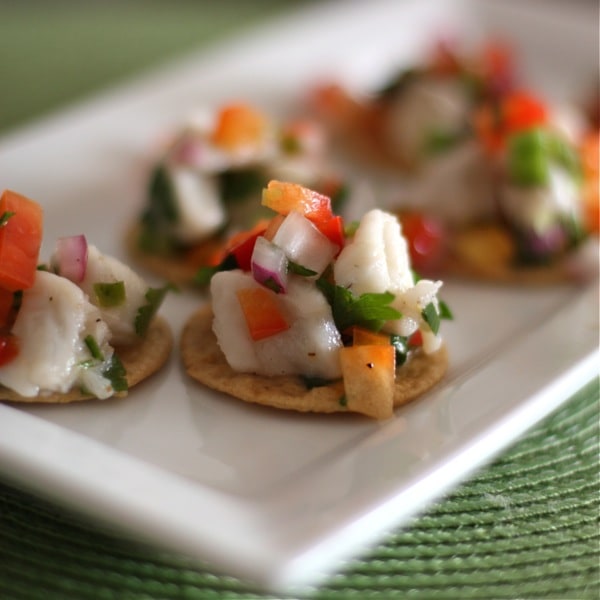 Print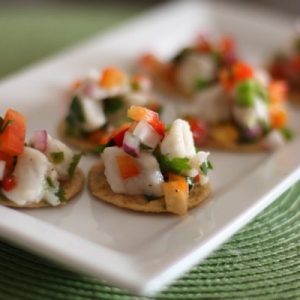 Summer Ceviche
Author:
Category: Fish
---
Ingredients
3/4 lb fresh flounder filet (or any fresh, firm white fish), cut small in 1/2 inch cubes
1/2 red onion, small dice
1/2 cup fresh lemon juice (about 2–3 lemons)
1/4 cup fresh lime juice (about 3–4 limes)
big pinch coarse salt and freshly ground pepper
1/2 red pepper, diced small
1 jalapeno, diced small
bunch fresh parsley, roughly chopped
juice from one lime
drizzle of olive oil
pinch coarse salt and pepper
small round rice crackers, for serving
---
Instructions
To prepare the ceviche: combine cut pieces of fish and red onion into a large shallow bowl, sprinkle with salt and pepper. Cover fish pieces completely lemon and lime juices and gently toss to combine. Wrap in plastic and place in the refrigerator for up to 2 1/2 hours (stirring halfway through) until fish is white and "cooked" through.
To prepare the salad: using a slotted spoon, transfer fish and red onion to new bowl (without the juices). Add red pepper, jalapeno and parsley and dress with lime juice, olive oil, salt and pepper. Gently stir to combine. Set out your crackers on your serving platter and spoon a small amount of ceviche on each cracker. Serve immediately.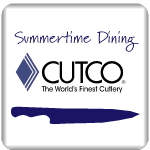 To celebrate summertime dining, CUTCO Cutlery is also sponsoring a delicious giveaway at Kitchen PLAY. Simply recreate one or more recipes from this month's Progressive Party, post about the experience on your blog and provide a link to your post on Kitchen PLAY to enter. All qualifying bloggers in each course will be entered to win a CUTCO Salad Mates gift set, which includes a Paring Knife and Trimmer (six prizes total, valued at $113 each). Prizes will be shipped directly to each winner. Please review the complete contest rules before entering.
(Disclosure: I was compensated and was provided 2 knives for participating in this Kitchen Play Progressive Party featuring CUTCO.)
Are you following me on Instagram, Twitter, Facebook and Pinterest? If you'd like to subscribe to Aggie's Kitchen and have each post delivered straight to your e-mail box, then please add your email here. Happy cooking!
There are affiliate links in this post. I make small earnings through any purchases made through these links. Thank you for supporting Aggie's Kitchen!