Italian Wheat Berry Salad
This Italian Wheat Berry Salad is simple, fresh and full of delicious flavor, protein and fiber. Perfect for picnics or barbecues!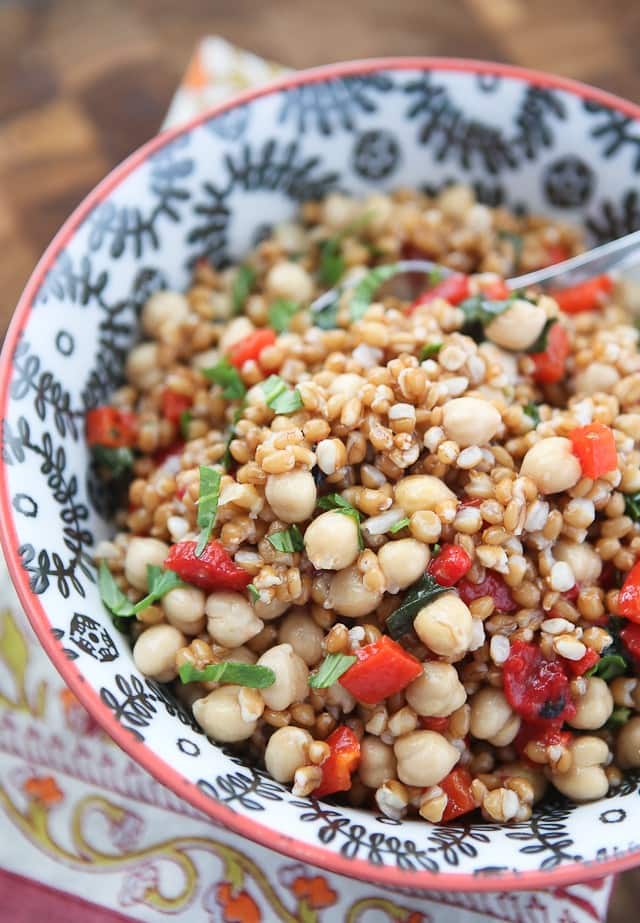 One thing I am really trying to do lately is to have a container of "something" for me to grab for a quick lunch. Last week I was really craving a grain salad so I grabbed some wheat berries out of the pantry and cooked them up, with no real idea of what I was going to do with them. I was craving a salad like this one, but I didn't really have the right fruit and such. So instead I turned these wheat berries into an Italian Wheat Berry Salad by adding roasted red peppers, garbanzo beans, fresh basil, olive oil and a squeeze of lemon. Super simple, fresh and delicious!
When it was time to eat the salad though, I threw it over a bunch of arugula and added crumbled goat cheese on it for fun. If I had feta that would have been my first choice, but the goat cheese was delicious with this bright, nutty salad. It's definitely a keeper and one to serve at picnics or barbecues now that spring is around the corner.
If you've never tried wheat berries, they are a fun new grain to add to your pantry. When cooked, they are firm and nutty and add great texture to dishes like this salad. I fell in love with them after trying them in a salad from The Fresh Market deli, and then in this Wheat Berry and Grape Arugula Salad.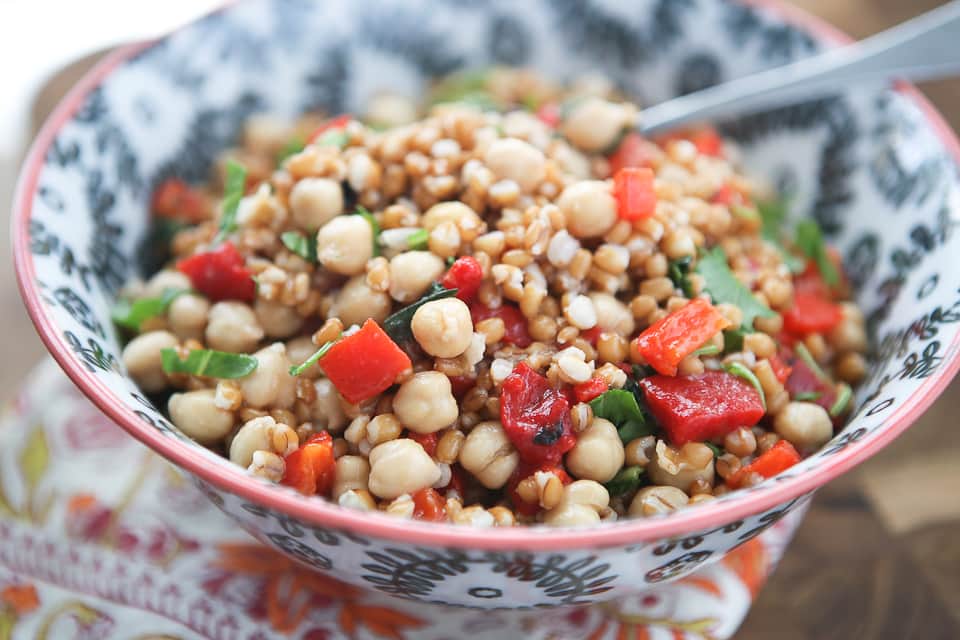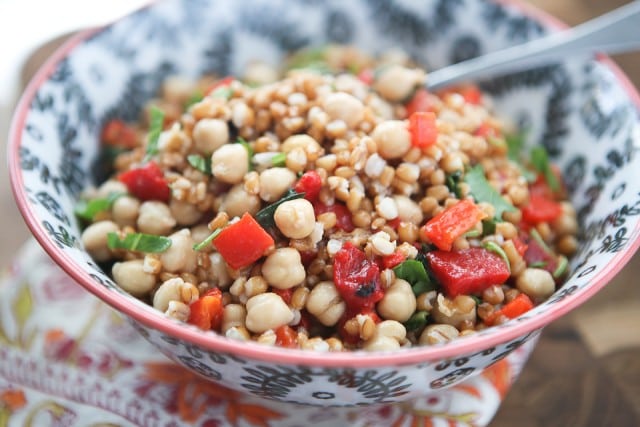 Enjoy and hope you have a great week!
Italian Wheat Berry Salad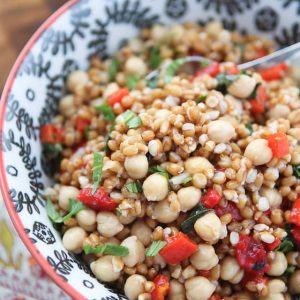 Ingredients:
2 cups cooked wheat berries (I like these from Bob's Red Mill)
3 roasted red peppers, diced
1 can Bush's Garbanzo Beans, drained and rinsed
1 small bunch of fresh basil, julienned
salt and pepper to taste
juice from one lemon
1 tablespoon red wine vinegar
2 tablespoon olive oil
1/2 teaspoon dried oregano
Directions:
Combine wheat berries with roasted peppers, garbanzo beans and basil. Season with salt and pepper. Dress with lemon, red wine vinegar, olive oil and dried oregano. Toss to combine and let refrigerate for an hour before serving. Taste for salt and pepper and adjust.
Serving suggestion: Serve over arugula and topped with crumbled feta or goat cheese.
Love whole grain salads like I do? Check out these 12 Healthy Whole Grain Salad Recipes including farro, quinoa, wheat berries and brown rice!
Follow Aggie's Kitchen's board Salads on Pinterest.
Are you following me on Instagram, Twitter, Facebook and Pinterest? If you'd like to subscribe to Aggie's Kitchen and have each post delivered straight to your e-mail box, then please add your email here. Happy cooking!
There are affiliate links in this post. I make small earnings through any purchases made through these links. Thank you for supporting Aggie's Kitchen!