Grilled Chicken: On a Plate, In a Sandwich, On a Salad
Grilled chicken…a summer staple won't you say?
I just recently started eating chicken more often again, and grilling it is definitely my method of choice. As I was trying to pull together new ideas of serving it (because we all know plain old chicken breast can get a bit…hmmm, shall we say – redundant?) I figured I'd compile a nice list of recipes for you all here as well.
What I love about grilled chicken is that if you plan ahead and throw some extra on the grill, your leftovers can become a totally new meal, usually in the form of a salad or sandwich for me (in pasta would be good too!).
Enjoy this round up of deliciousness, hope you find yourself a little inspired to add grilled chicken to your menu….and happy grilling!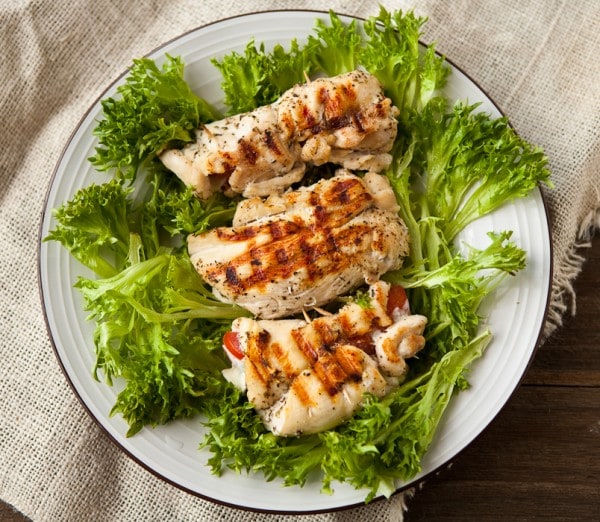 Grilled and Stuffed Chicken Caprese from Eclectic Recipes
On a Plate:
Soy Marinated Grilled Chicken Thighs
Thai Satay with Peanut Dipping Sauce from Spicy Perspective
Coconut Milk Chicken Thighs from Reluctant Entertainer
BBQ Bacon Swiss Grilled Chicken from Eclectic Recipes on Tablespoon
Mojito Marinated Grilled Chicken Breasts from Recipe Girl
Grilled Lemon & Rosemary Chicken Thighs from Cookin' Canuck
Grilled Adobo Chicken from Andrea Meyers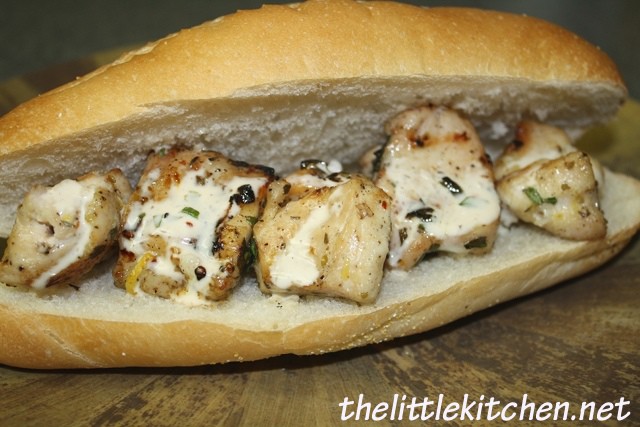 Chicken Spiedies from The Little Kitchen
In a Sandwich:
Chicken Panini with Arugula, Provolone and Chipotle Mayonnaise from Skinnytaste
Grilled Chicken and Mexican Rice Wraps from Katie's Cucina
Guy Fieri's Red Rocker Margarita Chicken from The Little Kitchen
Grilled Teriyaki Chicken and Pineapple Sandwich from Closet Cooking
Greek Chicken Gyros from Food for my Family
Chipotle Grilled Chicken with Avocado Sandwich from Simply Recipes
Roasted Garlic Mustard and Rosemary Grilled Chicken Sandwiches from Miss in the Kitchen
Red Chile Chicken Panini from Panini Happy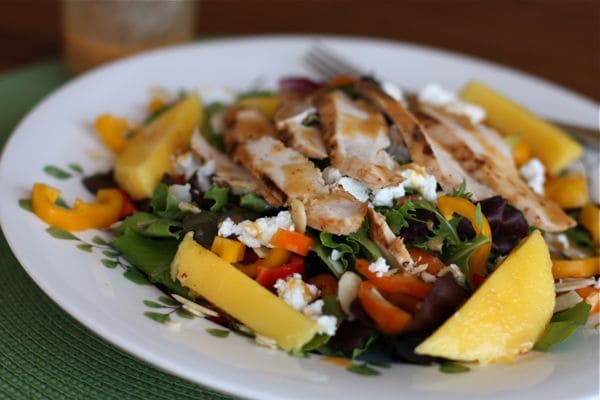 Grilled Chicken Summer Salad with Mango
On a Salad:
California Grilled Chicken Avocado and Mango Salad from Skinnytaste
Chinese Grilled Chicken Salad from Recipe Girl
Key West Grilled Chicken Salad from Amanda's Cookin'
Grilled Chicken Salad with Strawberry Vinaigrette from Family Fresh Cooking
Grilled Chicken and Gorgonzola Salad from Add A Pinch
Grilled Chicken with Parsley Salad and Sun Dried Tomatoes from Jeanette's Healthy Living
Blue Cheese, Cranberry and Pecan with Grilled Chicken and Honey Mustard Dressing from Cinnamon Spice & Everything Nice
Check out these Pinterest boards for more grillin' inspiration:
Great Grilled Food from Naptime Chef
Summer Grilling from Real Simple
Are you firing up the grill this weekend?
Are you following me on Instagram, Twitter, Facebook and Pinterest? If you'd like to subscribe to Aggie's Kitchen and have each post delivered straight to your e-mail box, then please add your email here. Happy cooking!
There are affiliate links in this post. I make small earnings through any purchases made through these links. Thank you for supporting Aggie's Kitchen!