Grilled Zucchini Frittata with Goat Cheese and Cherry Tomatoes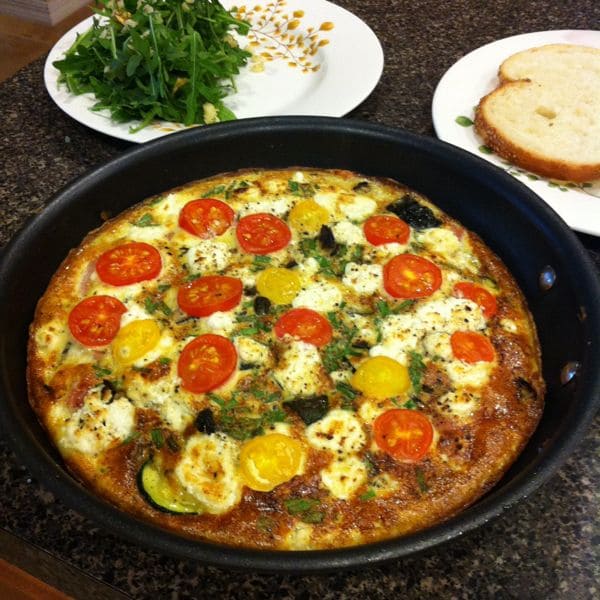 This is a prime example of 'Meal Plan Fail' in my house. The Plan was to have chicken burgers (these from Costco) on the grill with salads. Well, when I told the kids we were having cheeseburgers, they said – but you just told Dad CHICKEN burgers on the phone!!!….Wahhhhh, we don't want CHICKEN burgers!
Goodness gracious.
Since I had absolutely no energy to argue (they have eaten these exact burgers before), nor did I personally even want a chicken burger, I squashed that plan real quick. I wanted a frittata. And the kids were totally content with scrambled, eggs, toast and fruit.
So, Menu Plan Fail turned into this…
On stove top, before going into oven: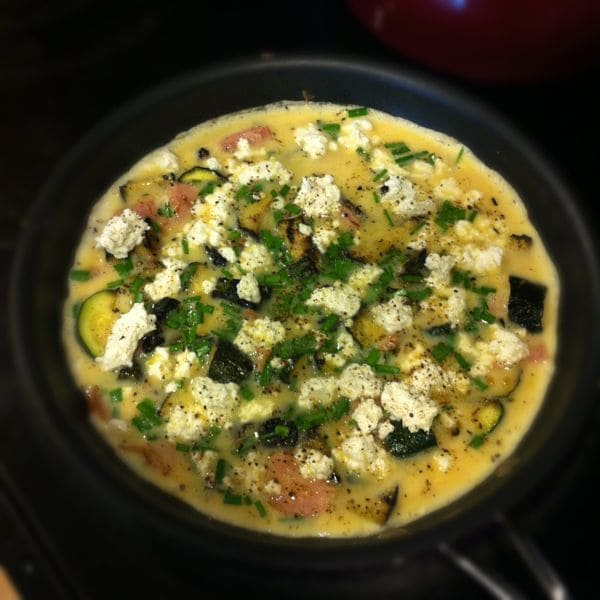 For Her (frittata with baby arugula, minced garlic and a drizzle of olive oil, salt and pepper):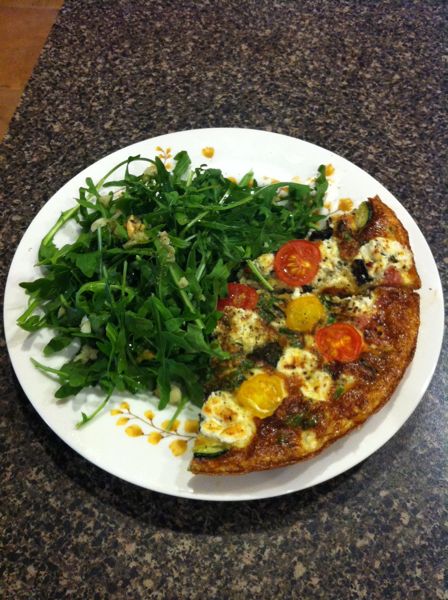 and For Him (frittata sandwich):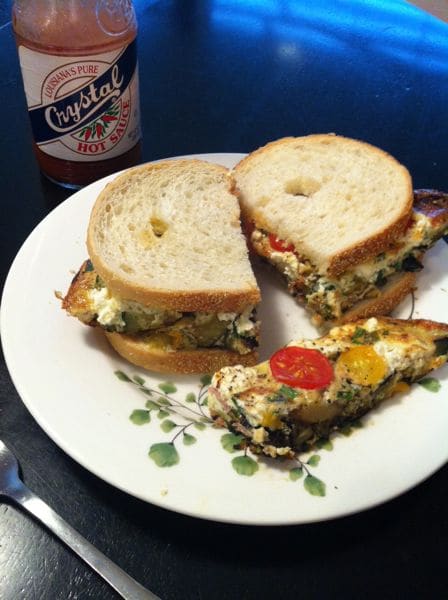 Best dinner ever. All smiles here.
Grilled Zucchini Frittata with Goat Cheese and Cherry Tomatoes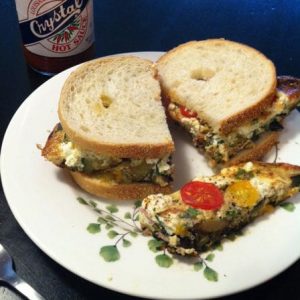 Ingredients:
2 eggs
1/2 cup egg whites
splash milk
2 tablespoon chopped fresh chives
4 slices deli ham (we had Boar's Head Rosemary Parmesan in the fridge), chopped
leftover grilled zucchini, chopped (I had about 1 whole zucchini's worth - Never grilled zucchini? check out this simple recipe)
2 oz crumbled goat cheese
about a handful of cherry tomatoes, sliced
salt and pepper, to taste
red pepper flakes, for serving, optional
Directions:
Preheat your broiler.
In a bowl, whisk together eggs, milk and chives very well until light and fluffy (you'll have some bubbles on top).
Heat a non stick, oven safe skillet (8") over medium heat. Spray with cooking spray or a drizzle of olive oil. Add your chopped zucchini and ham and cook for 1-2 minutes until warmed through. Add your whisked egg mixture and let set for a few minutes over medium heat.
Crumble goat cheese over your eggs while they are setting and cook for a few minutes longer. After about 5-6 minutes total on stove top, add sliced tomatoes to top of eggs, sprinkle with salt and pepper and place under broiler. Cook under broiler for 4-5 minutes until top of egg mixture is completely cooked through and starts to brown and get bubbly.
Using a mitt (very important!!) take skillet out of oven and let frittata cool for a few minutes. Slide frittata onto cutting board and slice into quarters.
This frittata fed two hungry people.
Garden Update:
After days of rain, tomates are happening! So are jalapenos and lots and lots of herbs. Loving it!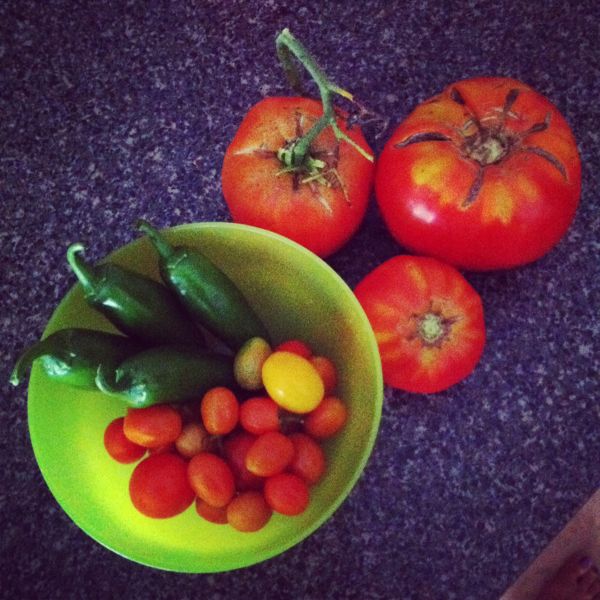 All photos in this post brought to you by my iPhone, some with the help of Instagram, some not.
On a side note – thank you to Huffington Post for featuring me as one of their 10 Pinterest Users We're Loving This Week. Totally flattered that someone thinks my time wasting but oh-so-fun hobby is worthy of a mention! 🙂
Are you following me on Instagram, Twitter, Facebook and Pinterest? If you'd like to subscribe to Aggie's Kitchen and have each post delivered straight to your e-mail box, then please add your email here. Happy cooking!
There are affiliate links in this post. I make small earnings through any purchases made through these links. Thank you for supporting Aggie's Kitchen!