Grilled Chicken Summer Salad with Mango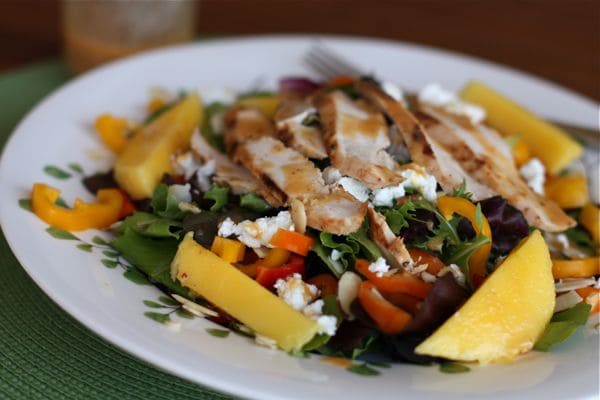 Today's salad is another Instagram inspired meal (like this one). I caught a glimpse of this Tropical Shrimp Salad from an Instagram friend The Foodie Physician one evening and instantly fell in love. Now, it's pretty obvious that my salad isn't exactly like Sonali's. I basically used her marinade and dressing recipes with what I had on hand and this grilled chicken salad was born.
The minute shrimp, avocado and mango are in my house at the same time, her salad is happening, that's a promise. But in the meantime…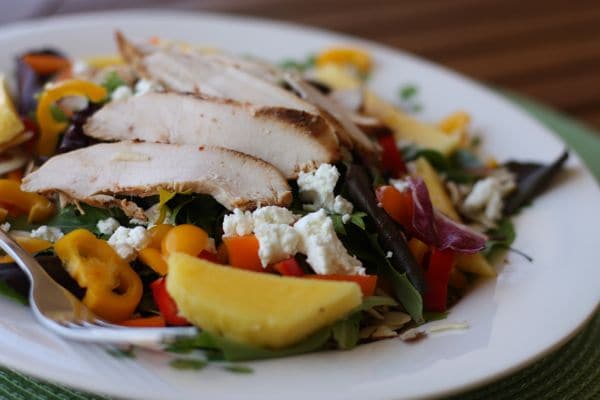 I so love colorful food. What's not to love, especially knowing that eating the colors of the rainbow is nothing but good for you in so many ways? This Grilled Chicken Summer Salad with Mango recipe was enjoyed by my husband and I for two nights in a row for dinner. (The kids ate the grilled chicken breast on it's own with a deconstructed salad of sorts.) If you have chicken leftover, turn this salad into a sandwich or pita the next day!
This salad is full of goodness, people. Enjoy!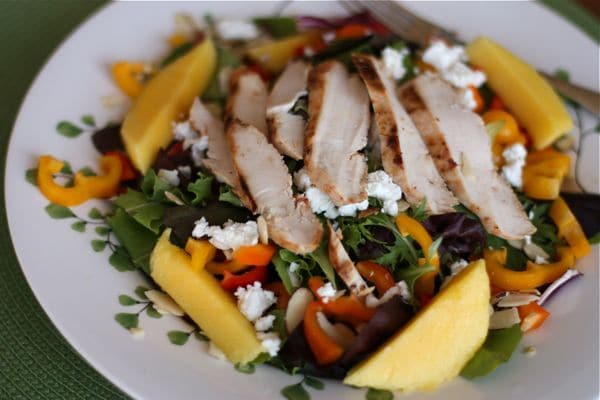 Print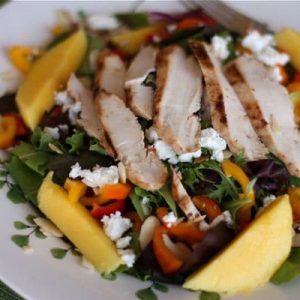 Grilled Chicken Summer Salad with Mango
Author:
Category: Salad
Method: Grill
---
Ingredients
For salad (adjust quantities to your liking):
mixed spring greens
sliced red, orange, and/or yellow sweet peppers
sliced mango
crumbled goat cheese
sliced almonds
For chicken marinade:
1 tablespoon vegetable or canola oil
1/2 teaspoon ground cumin
2 teaspoons minced chipotles in adobo
3 garlic cloves, minced
1 lb chicken breast
big pinch salt and pepper
For dressing:
2 teaspoons Dijon mustard
1 teaspoon minced chipotles in adobo (or you could just use sauce from can)
2 teaspoons agave (or honey)
juice from 1 lime
3 tablespoons light olive, canola or vegetable oil
big pinch salt and pepper
---
Instructions
To marinade chicken, add chicken along with ingredients for marinade into a large resealable plastic bag. Massage marinade into chicken breasts gently until the chicken is completely covered in marinade. Chill for about 30 minutes.
When ready to grill, place chicken breasts onto heated grill over medium heat. Cook for about 7 minutes or until chicken comes off the grill easily and you can see grill marks. Flip over and cook for another 7 minutes (depending on thickness this can differ for each piece of chicken). Take chicken off grill and let rest (to test for doneness use a meat thermometer to check temperature or use the touch test, which is what I do). Don't be afraid to 'slightly' undercook your chicken, it will continue to cook while it rests so timing is key.
While your chicken is grilling up assemble your salads and make your dressing. To make dressing, add all ingredients into a small mason jar (or air tight plastic container) and shake vigorously until well blended. Set aside.
Slice your chicken at an angle and serve over plate of greens, mango, peppers, goat cheese and almonds. Drizzle dressing over salad and enjoy.
---
Follow Aggie's Kitchen's board Salads on Pinterest.
Are you following me on Instagram, Twitter, Facebook and Pinterest? If you'd like to subscribe to Aggie's Kitchen and have each post delivered straight to your e-mail box, then please add your email here. Happy cooking!
There are affiliate links in this post. I make small earnings through any purchases made through these links. Thank you for supporting Aggie's Kitchen!