Fruity Kefir Smoothie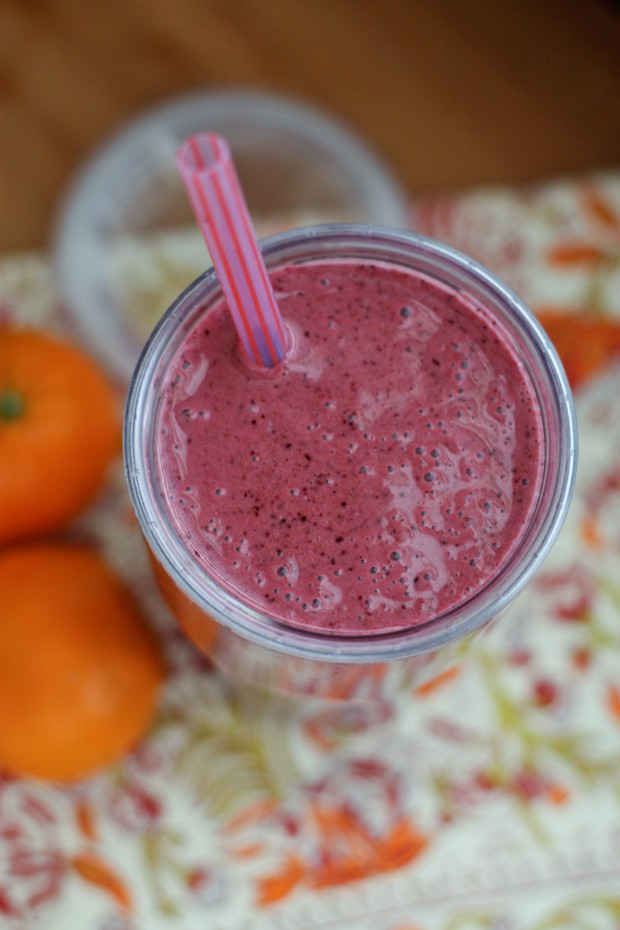 Once upon a time I was 30+weeks pregnant and said to myself more than a few times — I can't wait to lose this pregnancy weight! It's going to be fun, like a game! I've done this before, it won't be hard! I'm going to walk with the baby in the stroller so much the weight is just going to melt off! I'm going to get fit in no time!
Clearly, I was a bit mental at the time. What in the world. Crazy pants.
Now here I am 20+ weeks post partum and I can not even believe how out of shape I am. I'm so low energy and just feel bleh all the time. Pair that up with not sleeping well most nights, I pretty much feel like a mess lately. Oh and it's full on spring in Florida right now and let's just say black yoga pants just aren't cutting it anymore. Something has to be done here.
So I'm committed. I'm committed to exercising in some capacity every day (even if it is just a quick stroller walk with my baby). I need to be selfish with my workouts, it's very important "me time". I got back in the gym last week. I also got myself jogging a bit over the weekend (that felt GOOD!). Things have to change and it's starting first with my attitude —
I need to be telling myself things like:
Just do it!
No more excuses!
and on the days I'm feeling down… What are you going to do about it? (this one is key)
So far it's working.
I got this. But dang, it's hard!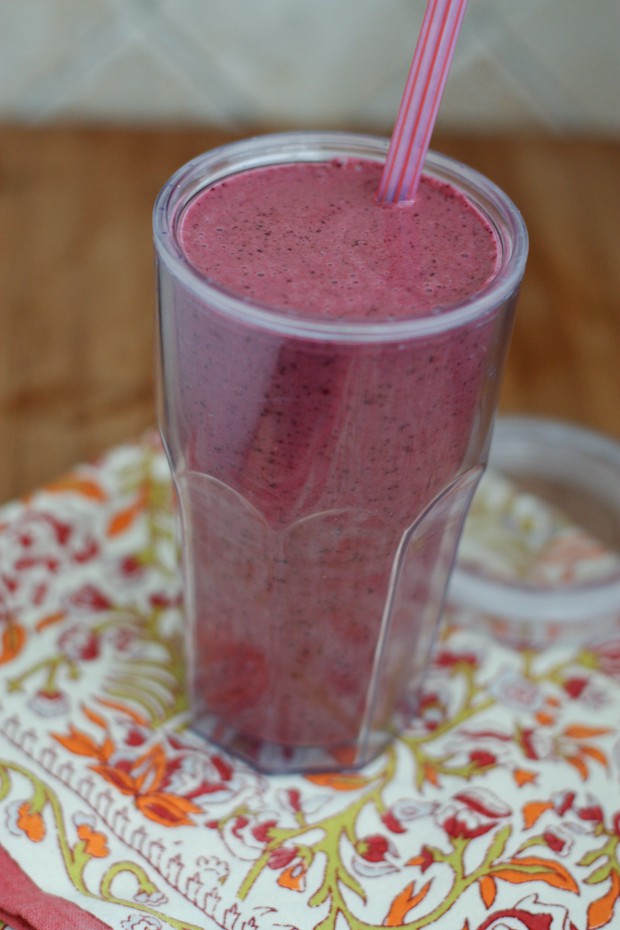 I've been making this kefir smoothie in the afternoons lately for my car ride to pick up the kids from school. It gives me exactly what I need to hold me over until dinner and I like to believe it gives me a little energy boost too. Micah's not a huge fan of the blender so I have been avoiding making smoothies for a few months. Now when I turn the blender on I have to put on a really happy funny face to distract him from that "loud scary noise". You gotta do what you gotta do right?
If you're not familiar with kefir, it's very similar to yogurt and can be found in the dairy aisle most likely near the milks. I discovered it a couple years ago when I was on the 17 Day Diet (…for 14 days). It's a probiotic, has a good amount of protein and calcium, and is a great option for an afternoon snack. I personally like it's natural tartness but feel free to add a little honey or sweetener of choice if that's your thing.
Happy Monday!
Fruity Kefir Smoothie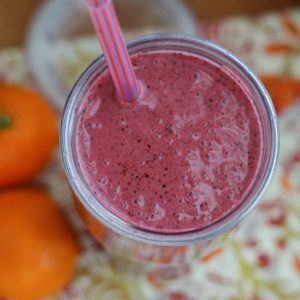 Ingredients:
1 cup plain kefir
1/2 banana (preferably frozen)
1/2 cup frozen blueberries
1 navel orange, cut in segments
Directions:
In a blender, combine all ingredients and blend until smooth. Serve immediately.
Notes:
Optional add ins: handful of fresh spinach and / or tablespoon natural peanut butter
Follow Aggie's Kitchen's board Smoothie & Fresh Juice Love on Pinterest.
Are you following me on Instagram, Twitter, Facebook and Pinterest? If you'd like to subscribe to Aggie's Kitchen and have each post delivered straight to your e-mail box, then please add your email here. Happy cooking!
There are affiliate links in this post. I make small earnings through any purchases made through these links. Thank you for supporting Aggie's Kitchen!