10 Things In My Fridge : The Lemon Bowl
Today, my friend Liz from The Lemon Bowl is here opening up the doors to her fridge for us to take a peek. What immediately struck me about Liz's refrigerator is how similar the contents are to mine! Our fridges could be twins!! Liz is all about fresh, healthy and delicious food and you can see that clearly with the recipes she shares on her blog. Thanks for being here today Liz, and thanks for always inspiring me to eat better! 🙂
Get to know Liz better! You can follow her on her blog The Lemon Bowl, Facebook, Twitter and Pinterest.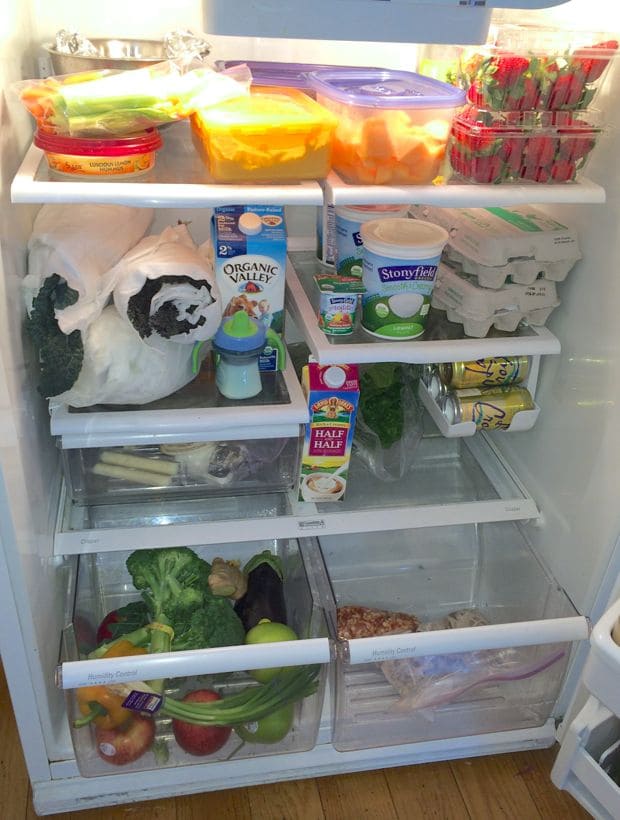 1. Ready-To-Eat Fruits and Vegetables: On the weekend after my husband does our grocery shopping, I like to wash and chop produce so that it is ready to grab and eat all week long. My son loves carrots and hummus plus it helps buy me time while I'm cooking dinner.
2.Yogurt: We are a huge yogurt family. Growing up, my mom always served plain yogurt as a condiment on savory dishes such as chili or as a cucumber sauce over meat and fish. My husband always packs Greek yogurt for work, my older son loves whole milk vanilla stirred into oatmeal and I always add it to my morning smoothie. Yogurt is also a great tenderizer in meat marinades like Beef or Chicken Shawarma or Tandoori Chicken.
3. Asian Condiments: I am a huge fan of Asian inspired food. From homemade pho soup to brown fried rice and everything in between, I always keep a fully stocked Asian pantry. As you can see, I like to keep Sriracha, fish sauce, sambal oelek, curry paste and hoisin in the fridge at all times in case mood strikes!
4. Corn Tortillas: I was born in Tucson, just a short drive from Mexico, so I have been eating authentic Mexican food my entire life. We like our tacos prepared simply with grilled meat, fresh cilantro and minced onion on a corn tortilla. And if I can get my hands on a ripe avocado, that makes an appearance as well.
5. Eggs: We eat eggs in one form or another every single day. They are an affordable, nutritious and delicious source of protein but more importantly, they only take a minute or so to prepare which is key with a 3 month old and a 2 year old at home!
6. Dark Leafy Greens: See those crazy greens sticking out of paper towel? Those are my leafy greens! Whenever I buy kale, Swiss chard or other leafy greens I wash them right away so that they are prepped and ready to eat. I actually made a video tutorial to share my step-by-step guide to washing and storing leafy greens . By having them ready to go, you are much more likely to eat them which helps reduce food waste and prevents you from finding a random bunch of kale in the back of the fridge 3 weeks too late. 😉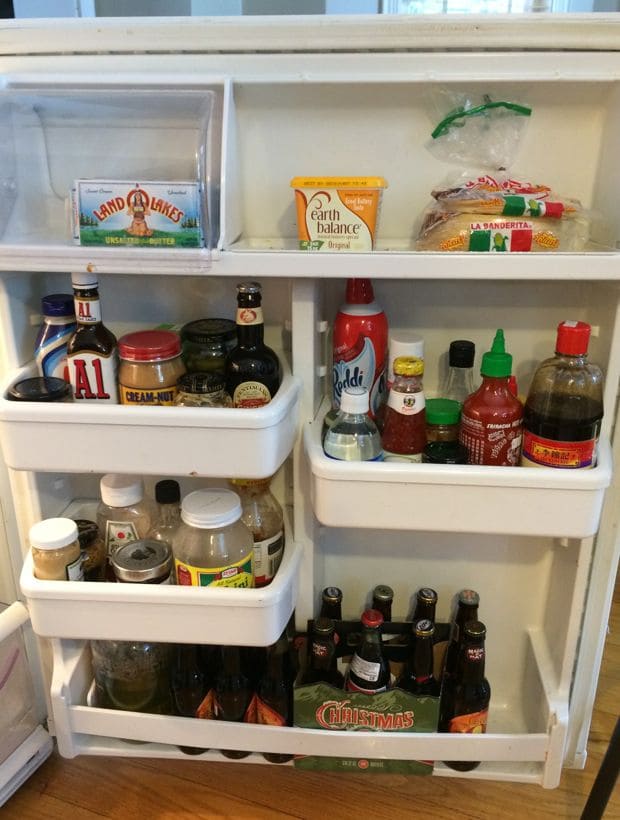 7. Sparkling Water & Adult Beverages: We don't drink juice or pop because I am a firm believer in not drinking my calories. Sparkling water is our drink of choice as well as plenty of dark roast coffee. When we do feel like indulging in adult beverages, we love prosecco, pinot grigio, malbec or craft beer.
8. Cheese Glorious Cheese: I'm a little embarrassed to admit how many types of cheese are in my cheese drawer at the moment: sharp cheddar, Parmigiano reggiano, goat, string and shredded parmesan. My son loves snacking on string cheese and the others are mainly for me. I love a strong, sharp cheese because I can get away with using less of it.
9. Guilty Pleasures: I am a firm believer in the 80/20 rule: I try to eat clean 80% of the time and indulge the other 20%. Case in point? You will almost always find Miracle Whip in my fridge (childhood favorite) and my husband insists on having Reddi Whip.
10. Hummus Two Ways: We almost always have a package of store bought hummus as well as a homemade dip of some sort. This week I made edamame hummus but other weeks it might be roasted red pepper or traditional hummus. My family is Middle Eastern so I've been eating hummus practically since birth and learned how to make it from the master (my Great Aunt Vieve.) It's healthy, full of protein and the ideal quick snack. It also happens to taste delicious made into a patty with quinoa and tahini sauce.
Did you miss a fridge? More 10 Things In My Fridge Posts:
Are you following me on Instagram, Twitter, Facebook and Pinterest? If you'd like to subscribe to Aggie's Kitchen and have each post delivered straight to your e-mail box, then please add your email here. Happy cooking!
There are affiliate links in this post. I make small earnings through any purchases made through these links. Thank you for supporting Aggie's Kitchen!