Broccoli Slaw Salad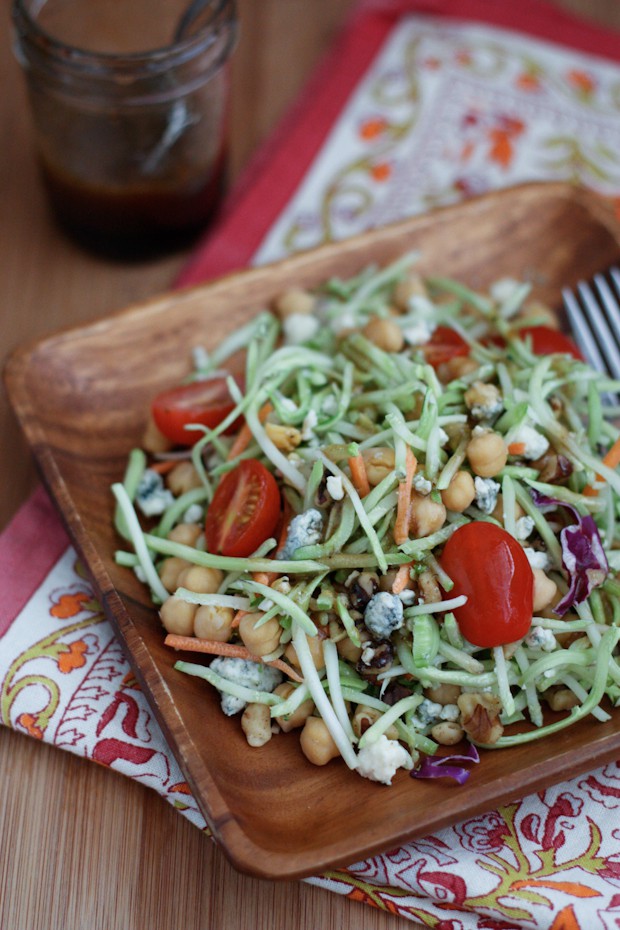 Blogging has changed quite a bit for me over the years. When I started my blog, I was a stay at home mom to my two babies who were of the ages 3 and 1 at the time. There were no iPhones, I had only recently acquired a digital camera when my older son was born a few years before and there certainly wasn't any social media to waste precious time on throughout the day. Blogging was my outlet, my way to reach out and connect with other people without leaving the house. It was exciting to publish a post and see who stopped by to leave a comment. At first it was my friends or my husband's co-workers. Eventually I became friends with other bloggers like Lisa and Jenny and Maria and Leslie and commenting on each others blogs were our way of keeping in touch with each other. I was over the moon when my sister in law Jamie started her blog, it was like we were cooking in each other's kitchens all the time though we lived 9 hours away.
Fast forward to 2014 and blogging has evolved into a whole other animal. It's become somewhat of a business for me (though I still struggle with the idea of that) and I am so grateful beyond words to be able to work from home because of it. I've made some of my best friends through blogging…some I've been fortunate to have met in real life, some I still haven't met. It's amazing to reflect on the doors that have opened up and the experiences that have been experienced. However, blogging in 2014 isn't just about cooking a recipe, taking a photo and publishing a post anymore. There is so much that goes on behind the scenes, so much busy work to keep up with…a huge part of it being social media. I've kept up with it over the last few years for the most part but lately I've been wondering how much I want to keep up with anymore. I think having my third baby (9 years after my 1st) and seeing how fast my older two are growing up makes me realize how precious this time in life is. I am not going to stop blogging, don't get that crazy idea in your head. But I have finally come to terms with the idea that I can no longer keep up. Nor do I want to. I am determined to focus on working smart and not hard to be able to happily manage my time spent with the online world and with my real life world. I am not 100% there (will I ever be, probably not) but I'm figuring it out. Bottom line is, I don't ever want to look back at this time with regrets because I was spinning my wheels and not being intentional with my time.
On that note, I had no intention of rambling on like this here today. All I wanted to do was update a photo on a recipe that I published back in September of 2009. Reading the post and seeing the recipe brought back so much from that time in life that I couldn't help but reflect on how things have changed and evolved over the years. I hope you don't mind the rambles… 😉
Have a great Monday!!
**************************************************************************
(originally posted in September 23, 2009, photos updated in March 10, 2014)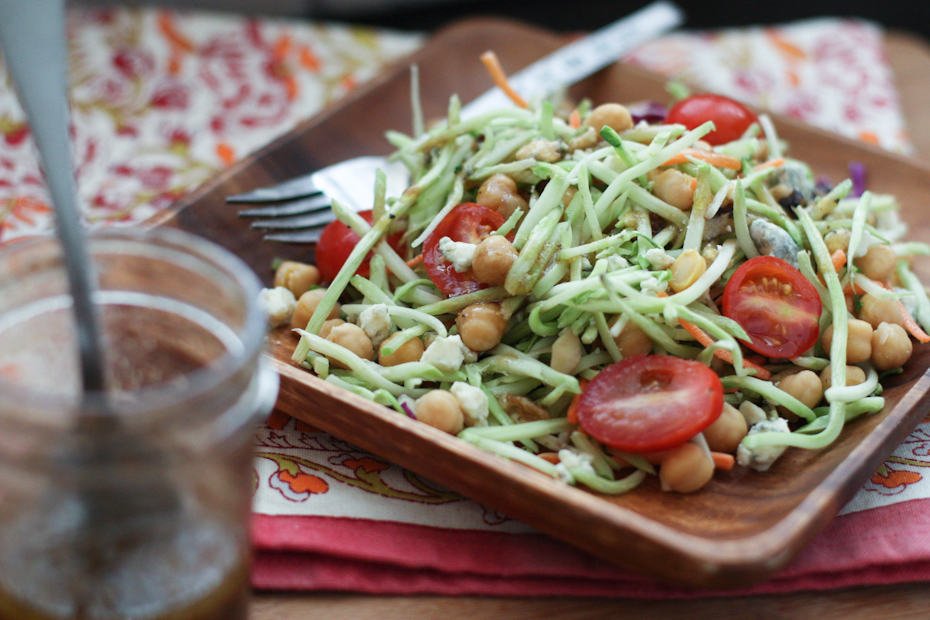 I love having salads for lunch. But I don't always like making salads for lunch. Unless everything is already cut up or pre-made for me, I would more likely grab something like a piece of bread and turkey in a rush, rather than sit down and eat something really good for me.I made this salad one day using a little shortcut of bagged shredded Broccoli Slaw that you can find in your grocery store produce section. To it I added, some grape tomatoes, chickpeas, crumbled blue cheese and balsamic vinegar. It doesn't take long and it will definitely satisfy your taste buds. And bonus… its good for you, like a good salad should be.
(kept this old photo around for memories 😉 )

Note: If you aren't a fan of blue cheese, try it with gorgonzola, it' a little milder and equally delicious. I used Ile de France's St. Agur blue cheese recently for this salad and wow, my taste buds were singing! Good stuff!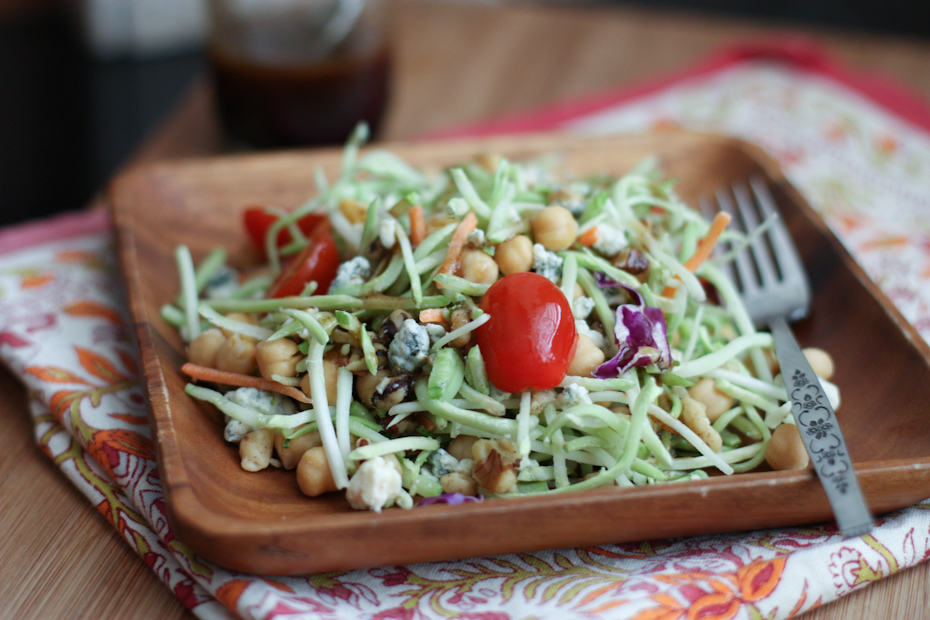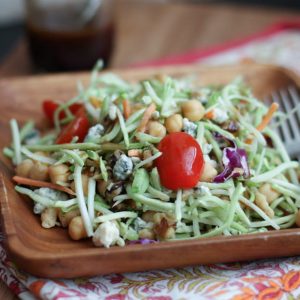 Ingredients:
1/2 bag of pre-shredded broccoli slaw
1/2 pint grape tomatoes, sliced in half
1/2 can garbanzo beans, rinsed and drained
2 oz crumbled blue cheese or gorgonzola cheese (I used Ile de France St. Agur blue cheese)
1/4 cup chopped walnuts
2-3 TB balsamic vinegar
1 tsp olive oil
salt and pepper to taste
Directions:
Combine veggies, beans, and cheese in a bowl, gently toss with balsamic vinegar, olive oil, salt and pepper. Top with crumbled cheese.

Follow Aggie's Kitchen's board Salads on Pinterest.
Are you following me on Instagram, Twitter, Facebook and Pinterest? If you'd like to subscribe to Aggie's Kitchen and have each post delivered straight to your e-mail box, then please add your email here. Happy cooking!
There are affiliate links in this post. I make small earnings through any purchases made through these links. Thank you for supporting Aggie's Kitchen!