10 Things In My Fridge: Reluctant Entertainer
I'm so excited that Sandy agreed to be the first guest blogger in my new 10 Things In My Fridge series! If you didn't know, Sandy is the voice behind the blog Reluctant Entertainer and is one of my dearest friends in life. She inspires so many people with her stories, tips, and words of encouragement when it comes to entertaining and hospitality. She feeds her family and friends well, that's for sure. It's such a treat to have a peek inside Sandy's fridge, I'm so happy she's here.
Get to know Sandy better! You can follow her on her blog, Facebook, Twitter and Pinterest.
Hi, Sandy here from Reluctant Entertainer. I'm a little nervous today to be Aggie's first guest for her new series, 10 Things in my Fridge, but I'm going to just go for it!
For me, the kitchen is the heart of our home, it's the most common place where we gather for coffee, snacks, breakfast, to chat while cooking, to cook together for dinner or a party, and where guests come and get drinks and appetizers before we host a dinner party. It's a well-used room in the house, and I love my kitchen.
I recently got a new fridge that I love. It's all lit up and fancy, with LED lights, slick on the outside, functional on the inside, and stocked with lots of healthy foods (and a few unhealthy items, too). It's usually ready for some sort of entertaining, whether it be impromptu (guests are coming in 30 minutes!) or planned out (a dinner party for 6-8, my favorite size). Of course I head to Trader Joe's quite often, or our local Farmer's market when our own garden isn't producing, because we try to eat fresh as often as we can!
So here goes, my favorite top 10 things in my fridge:
1. Greek yogurt. Perfect for breakfast, snacks, making cream sauces or waffle batter, or parfaits (little jars of prettiness for overnight guests).
2. Fresh basil (and other herbs). We daily use fresh herbs in salads, dishes, on sandwiches or wraps. Life is better when herbs are involved! (Basil in the jar is for ambience, only. Normally we step outside and snip some from our herb trough.)
3. Eggs. I never want to run out of eggs. You just have to have them for baking, breakfast, lunch, dinner, and the perfect food for when you have nothing else to eat in the house.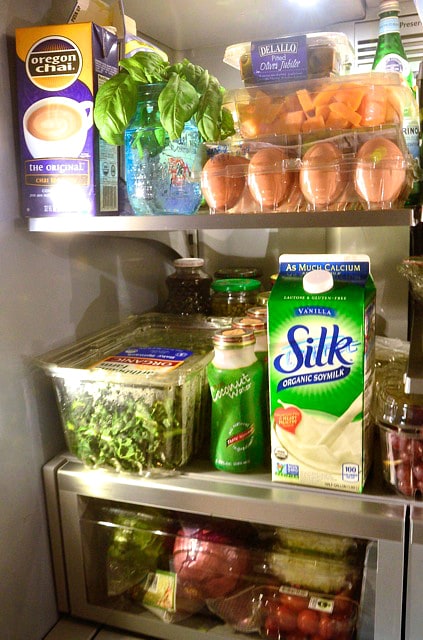 4. Kale or spinach. We use daily for juice and smoothies, salads, casseroles. Yum! You have to have your greens!
5. Pesto. Always have a jar of pesto for appetizers, lasagna, grilled cheese sandwiches, sliders, pasta.
6. Cheese. Bottom drawer is full of feta, Parmesan, gouda, goat …we love cheese, ready for sandwiches, pizza, enchiladas, tacos, lasagna, and tasty appetizers.
7. Salami. My favorite quick and easy appetizer for guests is Salami Chips. Bake and serve, but they're also nice for gourmet sandwiches or wraps. Perfect for when my boys are home from college. Salami is "man" food.
8. Silk (organic soy milk products). It's what we use daily in smoothies and on cereal. Silk products always grace our fridge.
9. Rotisserie chicken. Always keep a rotisserie stocked and ready for last-minute company, to make an easy pasta dish, enchiladas, soups, or to go on the salad!
10. Salsa and fudge. Sorry, it seems like (2) items here, but since they're both from Trader Joe's, these are 2 of my favorites. Corn Chili (salsa) which goes on sandwiches, wraps, in Mexican food, soups, pasta, anything! And their chocolate fudge. Do I need to say what this goes on? You can use it for frosting, ice cream, or my favorite—eat with a spoon.
There are so many more items I'd love to talk about. I noticed Aggie mentioned leftovers. We always have leftovers and we love them for lunch the next day – in salads, wraps, or with eggs (depending on what it is). We are indeed a leftover family.
Every single bite.
I'm also very grateful when my fridge is stocked and ready, because I know that many are struggling with wanting to eat healthy and entertain, but they can't. That's when having a well stocked fridge comes in handy, so we can take meals to others, and bless them in their homes, or when they visit in our own.
Thank you Aggie, for letting me share here today! I love a well stocked fridge, but I never want to take it for granted.
Are you following me on Instagram, Twitter, Facebook and Pinterest? If you'd like to subscribe to Aggie's Kitchen and have each post delivered straight to your e-mail box, then please add your email here. Happy cooking!
There are affiliate links in this post. I make small earnings through any purchases made through these links. Thank you for supporting Aggie's Kitchen!