Fruity Greek Yogurt Smoothie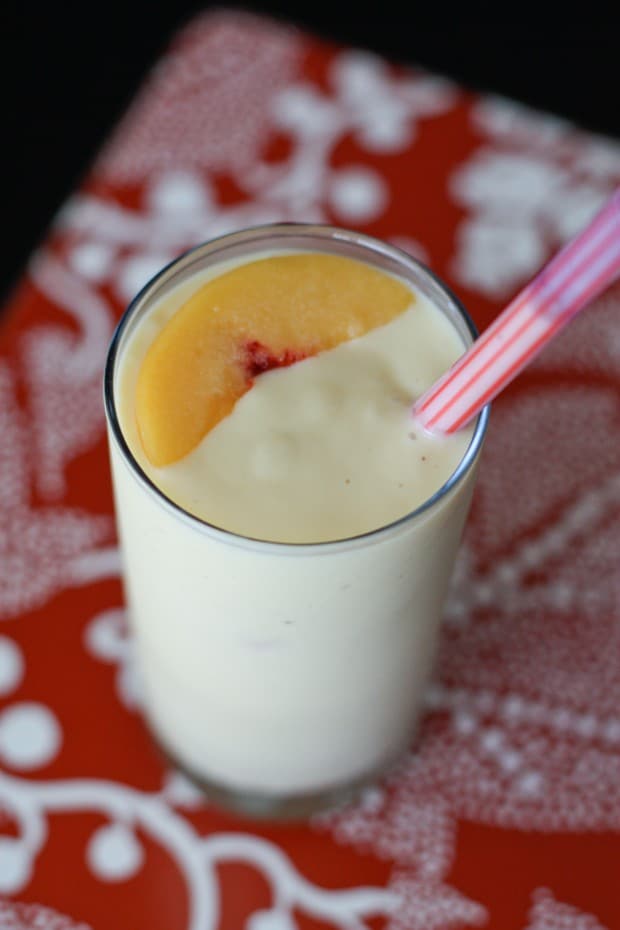 It's hard to mess up a smoothie in my opinion. Once you get a basic formula down, and you're using a blend of naturally sweet fruit with yogurt, milk or a little juice, then really the sky is the limit as far as combinations go. If you look in my freezer you could pretty much always find a few bags of frozen fruit ready to be put into a blender. Though I love to eat fresh fruit daily, frozen fruit is usually my go to when it comes to smoothies because I find that it makes them extra creamy and thick, and keeps them extra cold. If your blender isn't a high powered blender like the Blendtec I use, then I suggest you let the frozen fruit sit in your blender jar a few minutes to defrost a bit and slightly soften up to make it easier on your blender. Always add your liquids to the jar first, then layer with your softest to hardest fruits to get a better blend.
A few weeks ago, Chobani (grab some coupons here!) was nice enough to send me a generous sampling of their larger sized yogurts to try out. I always pick up large containers of their plain non fat Greek yogurt, but usually only stick to the single servings of their flavored ones. Having the resealable larger sized ones in the fridge constantly tempted me to add some to my smoothies, or even to spoon some over my waffle as a topping along with some berries. These days, there are so many recipes that include Greek yogurt, the options are endless. I even went a little crazy and baked up a version of these Peach Yogurt Muffins for my kids (I really need to do that more often, why oh why don't I like to bake?).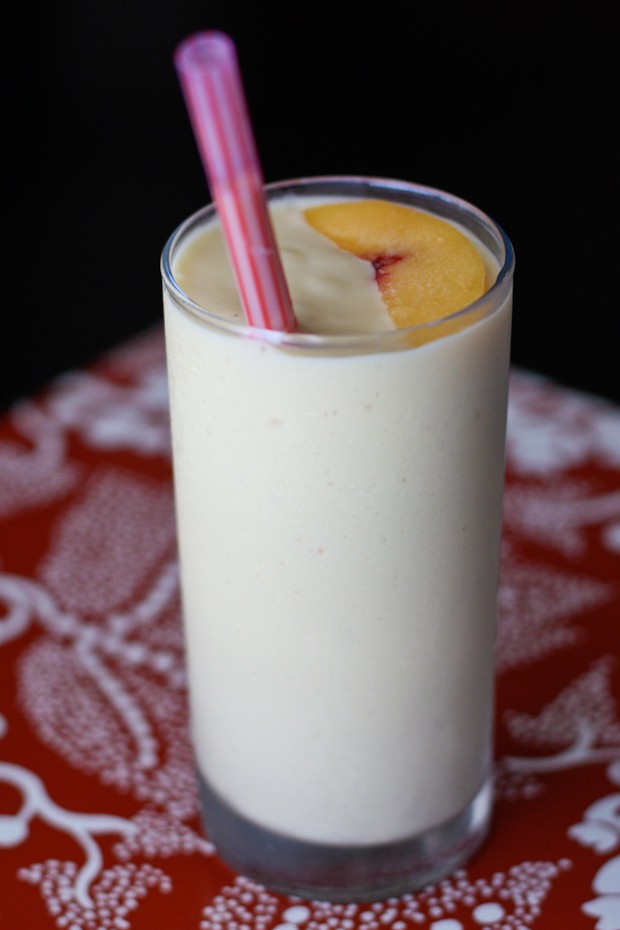 This Fruity Greek Yogurt Smoothie was a perfect post workout snack for me, but also would be a nice treat to take on the afternoon drive to pick up the kids from school. Smoothies are great any time of day. 🙂
Enjoy!
Fruity Greek Yogurt Smoothie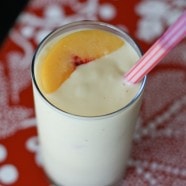 Ingredients:
1 cup pineapple Greek yogurt (I used Chobani)
couple of splashes of low fat milk
1/2 banana
1/4 cup frozen mango
1/4 cup frozen sliced peaches
Directions:
Place ingredients into blender starting with Greek yogurt and ending with frozen fruit. Let sit for a few minutes to let frozen fruit defrost just slightly (for easier blending).
Blend and enjoy.
Follow Aggie's Kitchen's board Smoothie & Fresh Juice Love on Pinterest.
More smoothie love:
Refreshing Cantaloupe Smoothie
Banana and Coconut Butter Smoothie
Strawberry Banana Smoothie | Add A Pinch
Pear Me Up Smoothie | Picky Palate
(This is not a sponsored post. Chobani provided me with a generous sampling of their product, but it's a product I've been buying for years. My opinions are always my own.)
Are you following me on Instagram, Twitter, Facebook and Pinterest? If you'd like to subscribe to Aggie's Kitchen and have each post delivered straight to your e-mail box, then please add your email here. Happy cooking!
There are affiliate links in this post. I make small earnings through any purchases made through these links. Thank you for supporting Aggie's Kitchen!
29 Responses to "Fruity Greek Yogurt Smoothie"
Trackbacks/Pingbacks

Leave a Comment