Lemony Tuna and White Bean Kale Salad with Avocado
Packed with protein and nutrients your body will thank you for, this Lemony Tuna and White Bean Kale Salad with Avocado is one of my favorite salads.
This recipe was created in partnership with Genova Seafood.
Click Here to Pin this Kale Salad recipe!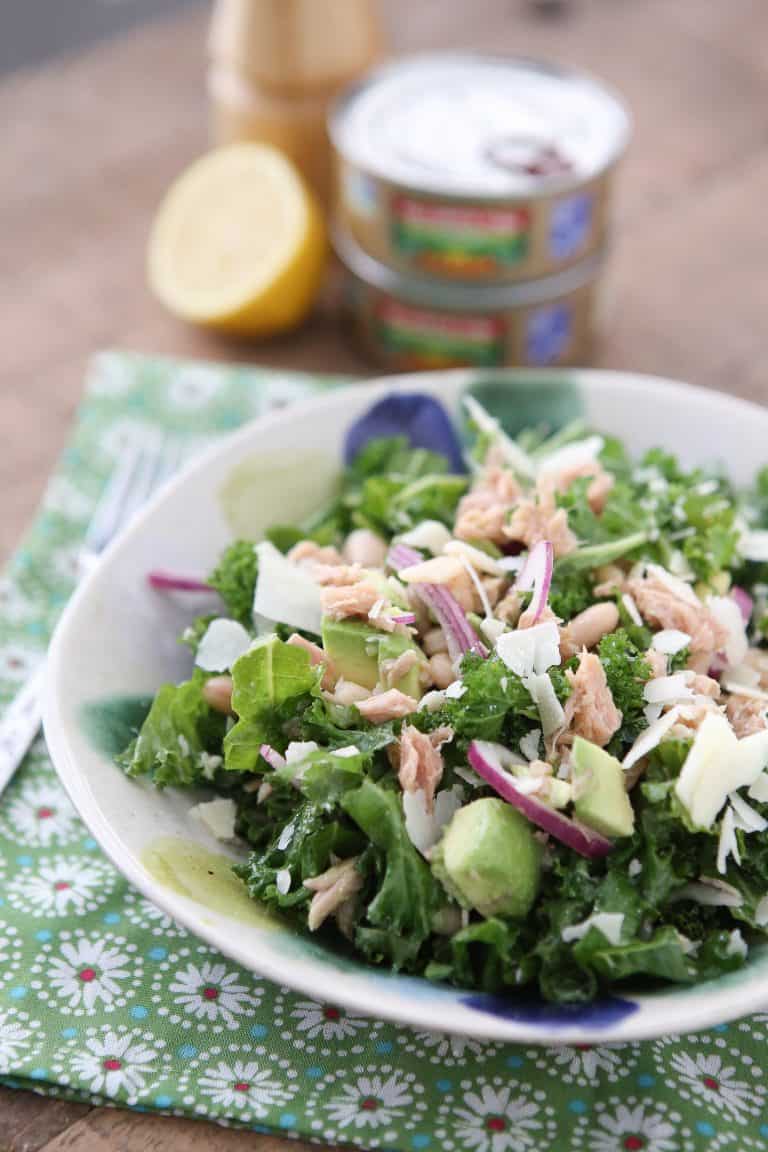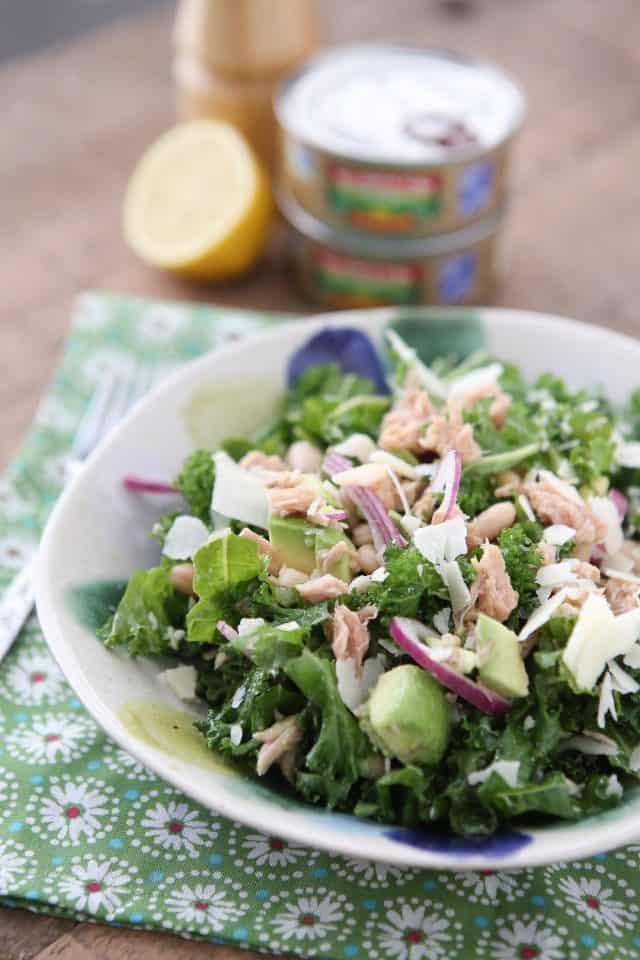 This Lemony Tuna and White Bean Kale Salad with Avocado has been my go-to salad the last couple of weeks. I've made it for quick lunches and I've also packed leftovers to take with me to my daughter's volleyball tournament over the weekend. You know I felt so much better eating this salad in the bleachers instead of concession stand food!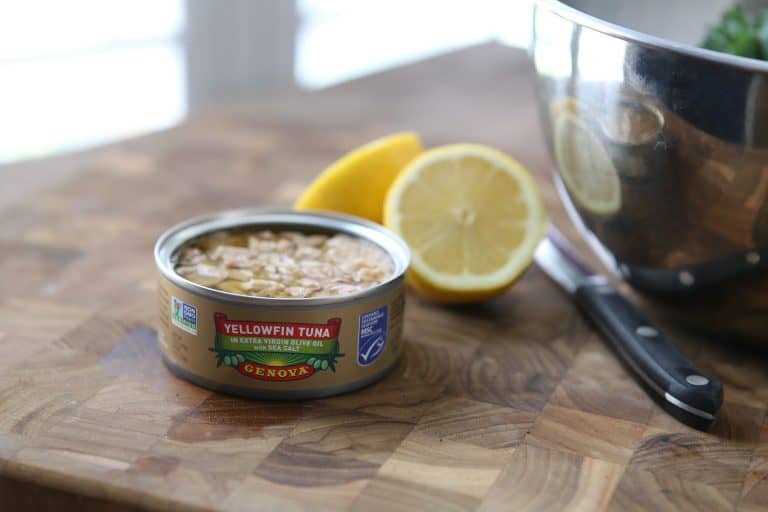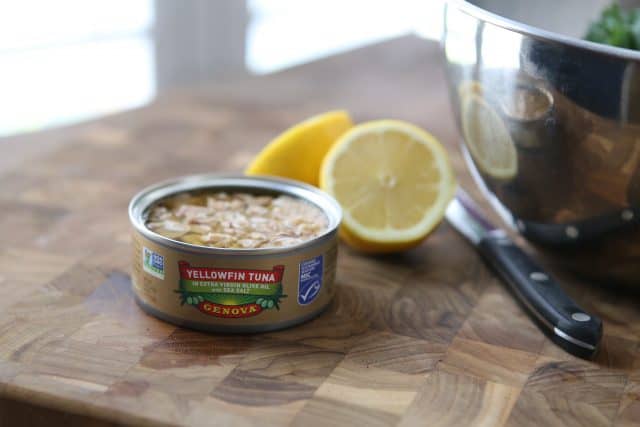 There is a lot of quality protein in this kale salad. Tuna, specifically this Genova Yellowfin Tuna, is one of my favorite proteins to salads each week. I have partnered up with Genova for this recipe but I discovered this tuna a few years back when my grocery store had it on sale (this is the salad I first made with this tuna!). I picked up a few cans back then and I have been hooked on its rich, savory taste ever since. You can find where Genova is sold near you here.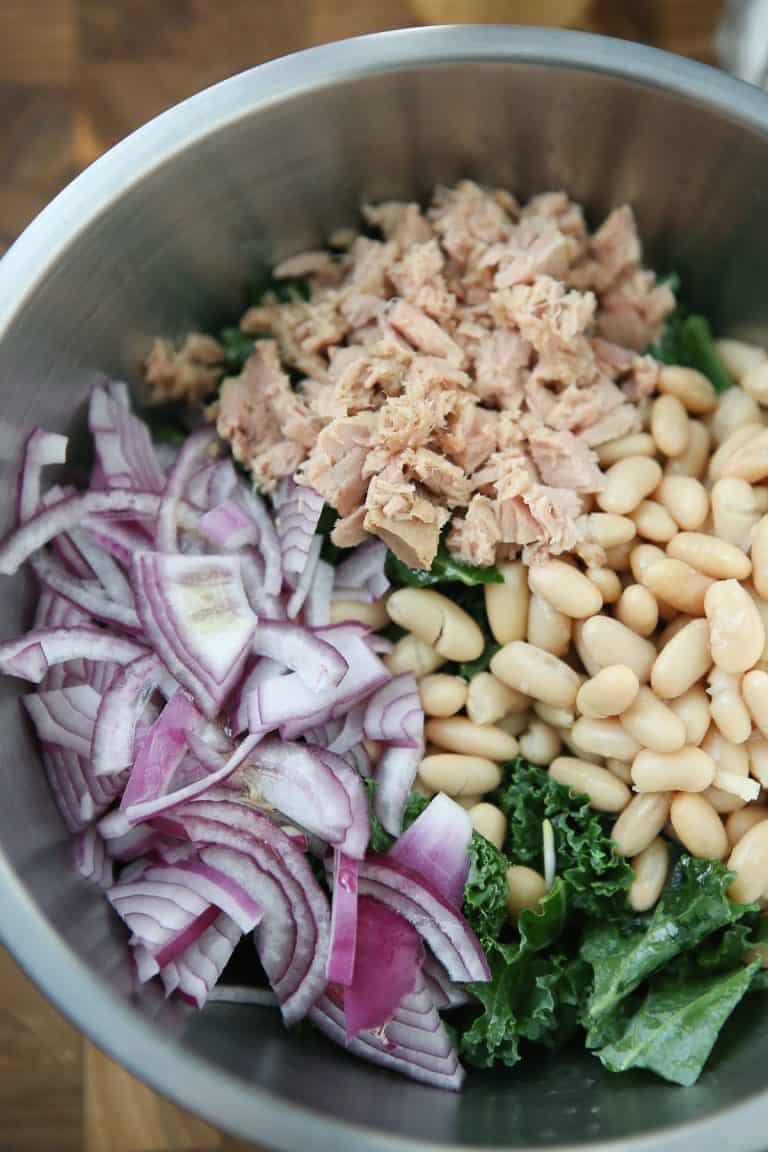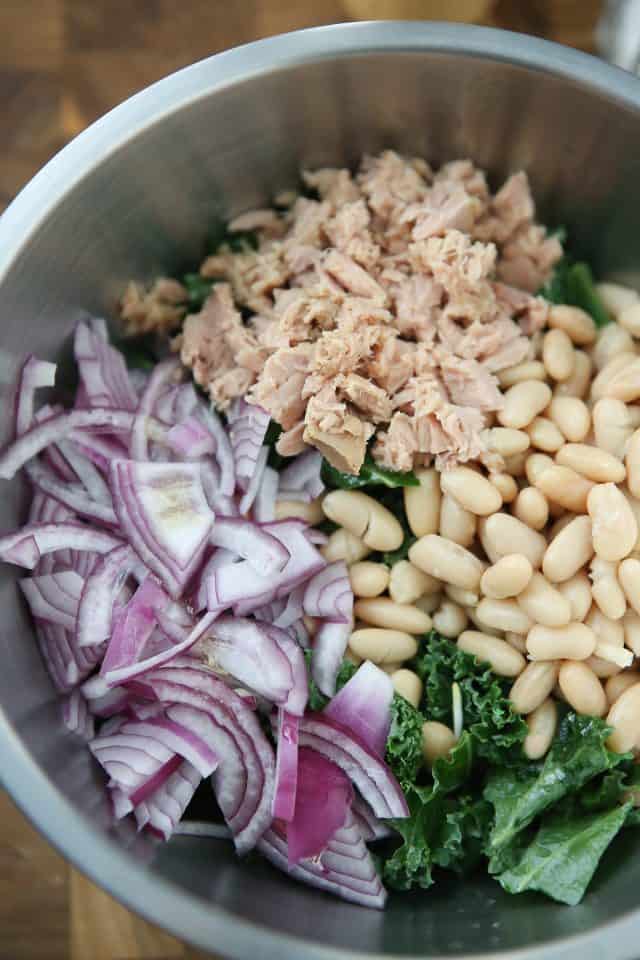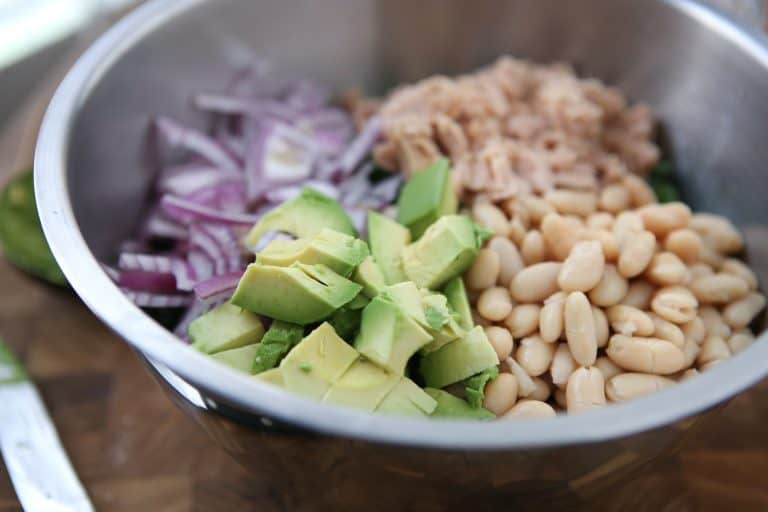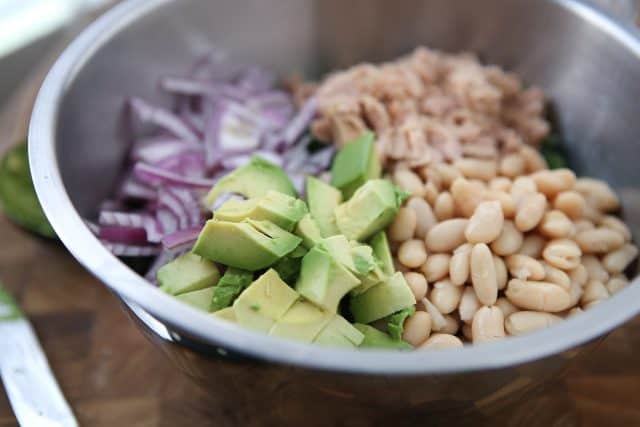 As part of the dressing for the salad, I used the olive oil from the tuna itself in addition to fresh squeezed lemon juice. I made sure to squeeze the lemon over the kale first (to help soften it a bit) while I was preparing the rest of the salad ingredients. You can massage the kale with the lemon juice at this time if you like (I did not but it does help tenderize it).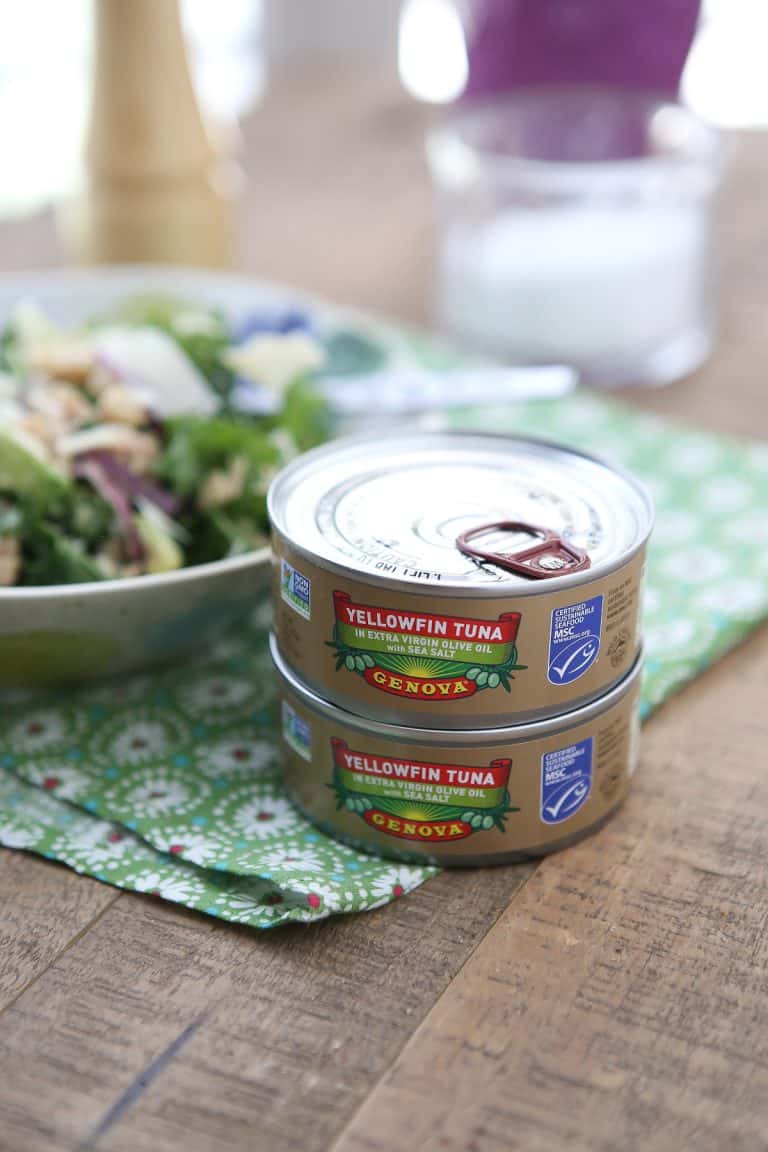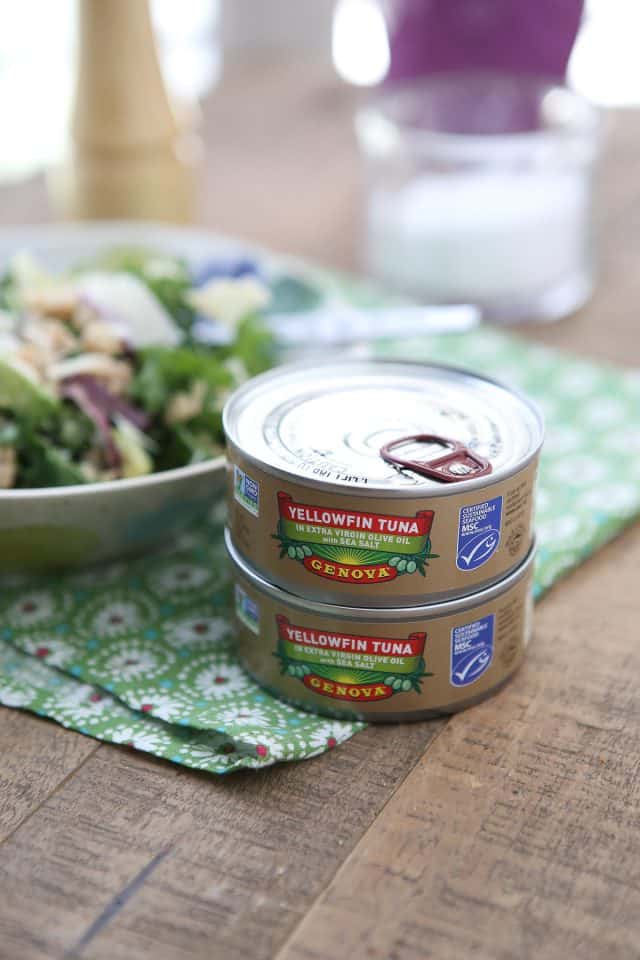 A little more about Genova Seafood:
Also, I love their easy to open tops!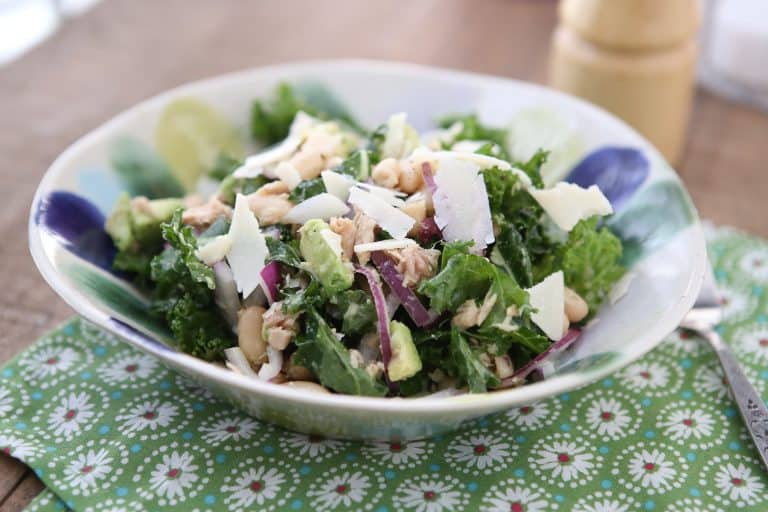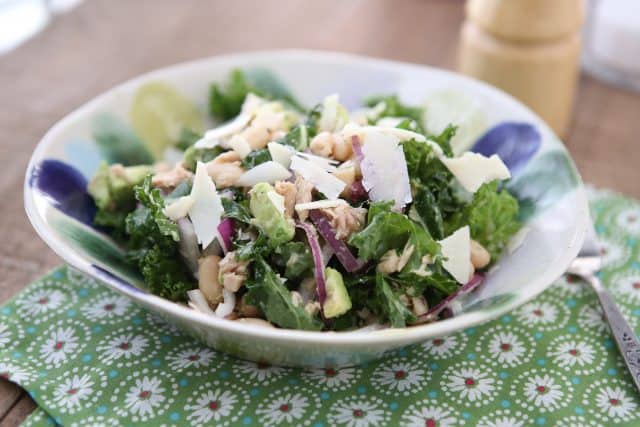 If you are into meal prepping, this is a good salad for meal prep since the kale can hold up to wilting and can last in the fridge dressed for a couple of days. If you add extra lemon directly to the avocado, it will help it from browning as well. I've loved having it ready to go in the fridge for a couple of days.
Hearty, healthy salads like this are my favorite kinds of meals – ones you can absolutely feel good about!
Lemony Tuna and White Bean Kale Salad with Avocado
Yield: 2 large salads or 4 smaller salads
Total Time:15 minutes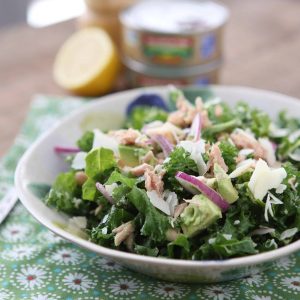 Ingredients:
4 cups chopped kale
1 15 oz can white kidney beans, rinsed and drained
juice from 1 lemon
1 can Genova Yellowfin Tuna in Olive Oil
1/4 red onion, sliced thin
1 avocado, diced
2-4 tablespoons shaved Parmesan cheese
coarse salt and fresh ground pepper, to taste
Directions:
Place kale in a large bowl. Pour lemon juice over kale and toss to coat. Let sit while you prepare the rest of your ingredients.
Drizzle the oil from can of tuna to kale. Add white beans, red onions and tuna to bowl. Add avocado and gently toss all ingredients until well combined. Season with coarse salt and fresh ground pepper, to taste.
Serve with shaved Parmesan.
Are you following me on Instagram, Twitter, Facebook and Pinterest? If you'd like to subscribe to Aggie's Kitchen and have each post delivered straight to your e-mail box, then please add your email here. Happy cooking!
There are affiliate links in this post. I make small earnings through any purchases made through these links. Thank you for supporting Aggie's Kitchen!