Cranberry White Chocolate Pecan Oatmeal Cookies
I love discovering new food blogs.  I must come across a dozen some days (especially since I started "channel surfing" with Stumble)…but it's only once in a while that a new one really catches your interest and sucks you in.  You don't realize it until you have clicked on numerous recipes or are reading each post in entirety.  And it's usually at least 25 minutes later.  Are you following me?
I came across a new blog just the other day from reading the comments that were left on my cookbook giveaway post (which by the way is still going on until Thursday at 10pm!).  I like to visit any new reader who is nice enough to leave a comment…but I also admit, her name drew me in too.  Wonder Woman.  I have always loved Wonder Woman.
So happy I visited "Wonder Woman" because I instantly fell in love with this cookie.  For one, it's a drop cookie and that is a HUGE plus.  But also, the combination of everything in it was just perfect.  Dried cranberries, white chocolate, oatmeal AND pecans.  Um, yea, my kind of cookie for sure.  AND she mentioned it was her newest favorite cookie.  I was sold.  Lucky for me I had everything I needed in my pantry, so I baked a batch of these babies this afternoon.  The kids loved them and so did I.  And with my new found spirit of baking and getting the sweets out of the house as soon as possible, I packed up a few cookies and will be leaving them with some friends tomorrow.
And don't worry…I stashed a few aside for my cookie lovin' kids..
Cranberry White Chocolate Pecan Oatmeal Cookies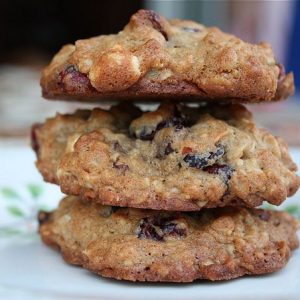 Ingredients:
3/4 cup butter, softened
2/3 cup packed dark brown sugar
2 large eggs
1 tsp vanilla
1 1/2 cups oatmeal
1 1/2 cups flour
1 tsp baking soda
1 tsp cinnamon
1/2 tsp salt
1 cup dried cranberries
2/3 cup white chocolate chips
3/4 cup coarsely chopped pecans
Directions:
Preheat oven to 375 degrees and line a baking sheet with parchment paper. Combine butter and brown sugar in a mixer on medium speed until creamy. Add eggs one at a time, beating well after each addition, then add vanilla. Add the dry ingredients, beating until just barely combined. Then stir in the cranberries, white chocolate chips, and chopped pecans.
Drop by rounded teaspoonfuls onto the parchment paper lined cookie sheet and sprinkle the tops with a few leftover cranberries or white chocolate chips if you want.
Bake for exactly 10 minutes. Remove from the oven - cookies will be slightly golden brown around the edges and the middles will look underdone. But trust me on this one - it will give you soft, chewy cookies once they cool. Or just slightly gooey cookies if you can't wait. Like me. Makes 2 dozen cookies.
Are you following me on Instagram, Twitter, Facebook and Pinterest? If you'd like to subscribe to Aggie's Kitchen and have each post delivered straight to your e-mail box, then please add your email here. Happy cooking!
There are affiliate links in this post. I make small earnings through any purchases made through these links. Thank you for supporting Aggie's Kitchen!