Oatmeal-Apple Muffins …and a gift for you!
I think I've been bit by the baking bug.  I'm not really sure how it happened…it kinda came out of nowhere.  I've always avoided baking for some reason, partly because I've never been good of it (not a big fan of measuring!) and because honestly, I just don't like the temptation of having sweets in the house.  Lately though I've just wanted to bake bake bake.  And luckily I have had reasons for the baking…so after a nice taste or two, off the sweets go to a good home.  I think I may have finally found a healthy balance…
Now this basket of sweet little muffins were actually not meant for sharing.  These muffins were baked with love on Saturday morning for my little guy who just beams with excitement anytime I ask him to help me in the kitchen lately.  He's a big fan of stirring and likes to sample everything from the flour to the sugar to the chopped apples that were added into this batter.  His enthusiasm is pretty cute if I do say so myself.  🙂
I made these muffins from a recipe I found in a new cookbook I picked up for myself the other day at Home Goods…The Complete Magnolia Bakery Cookbook.  There are so many recipes I want to try in this book.  There is a good variety of different treats…from cookies to bars to cheesecakes (uh hello Mocha Rum Cheescake!) to pies.  I started with the muffins since I had everything I needed on hand and because my kids absolutely go crazy for muffins.  I love that there is oatmeal in them, and the addition of finely chopped apple gave them that little extra something.  They weren't overly sweet and turned out very moist. These muffins are a perfect mid morning or afternoon snack for the kids…or with a cup of hot tea for yourself.
Oatmeal-Apple Muffins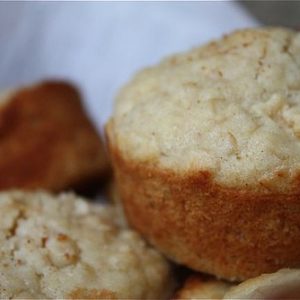 Ingredients:
2 cups rolled oats (not quick-cooking oats)
1 1/2 cups milk (I used non fat)
1 1/2 cups all-purpose flour
1 TB baking powder
1/2 teaspoon salt
1/4 teaspoon cinnamon
2 large eggs, lightly beaten
1/2 cup firmly packed light brown sugar
1/2 cup (1 stick) unsalted butter, melted and cooled slightly
1 teaspoon vanilla extract
1/2 cup finely chopped apple, optional
Directions:
Preheat oven to 400 degrees.
Grease well a 12 cup muffin tin.
In a medium bowl, mix the oats and the milk and set aside for 10 minutes.
Meanwhile, in a large bowl, mix together the dry ingredients, making a well in the center. Stir in the liquid ingredients and the oatmeal mixture until just combined, being careful not to over mix. Batter may be lumpy. Fold in chopped apple.
Fill muffin cups about 3/4 full. Bake for 16-18 minutes until lightly golden or a cake tester inserted into center of muffin comes out with moist crumbs attached. Do not over bake.
So in the spirit of the holidays and because I loved this cute little cookbook so much… I ended up picking up an extra copy to share with one of you!  All you need to do is leave a comment on this post answering this question:
What is your most favorite thing to bake?
Earn additional opportunities to win by sharing this giveaway on Facebook, Twitter and/or on your own blog, just leave an additional comment or comments telling me you did so.
Giveaway ends Thursday night 10pm Eastern time.  (Sorry, US residents only) I will draw a comment number using Random.org and announce the winner on Friday!
Enjoy the rest of your week!
Follow Aggie's Kitchen's board Healthy Breakfasts on Pinterest.
Are you following me on Instagram, Twitter, Facebook and Pinterest? If you'd like to subscribe to Aggie's Kitchen and have each post delivered straight to your e-mail box, then please add your email here. Happy cooking!
There are affiliate links in this post. I make small earnings through any purchases made through these links. Thank you for supporting Aggie's Kitchen!