Sausage and Spinach Lasagna
Last week at the gym, a friend of mine came over and asked if I had a lasagna recipe to share.  I thought about it and realized that though I've made lasagna plenty of times, I've never actually written down a recipe.  I went home that afternoon and decided I wanted to make lasagna.  I normally make it with seasoned ground beef but I just love how crumbled sausage tastes in almost any pasta dish.  I had most of the ingredients in the pantry and fridge, but did run to the store for some ricotta and sausage.
There's something about pouring yourself a glass of red wine and spending some time in the kitchen making a classic home cooked meal like this.  It's just comforting to me.  I ended up baking the lasagna for a teacher at my son's preschool who is recovering from surgery.  Using some leftover noodles and filling, I did make a few lasagna rollups that the kid's ended up eating for their dinner.  Rollups are quicker and easier to make than lasagna and is a great way to use up any leftover noodles and filling.  To make a rollup, lay the noodle flat, spread about 2 TB cheese filling over noodle, top with small amount of meat and sauce.  Roll up from one end to the other, loosely.  Bake in additional tomato sauce and topped with mozzarella until bubbly.
Sausage and Spinach Lasagna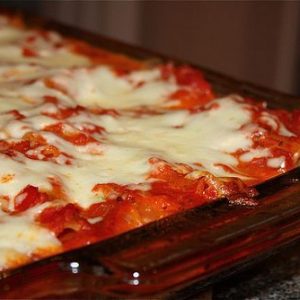 Ingredients:
For the Lasagna
1 box of Barilla lasagna noodles (or your favorite brand)
1 lb Italian Sausage or Turkey Italian Sausage, removed from casings, cooked and crumbled
Semi-Quick Tomato Sauce (see recipe below, best to make ahead) or 2 jars of your favorite sauce
2 cups whole milk ricotta
12 oz box of frozen chopped (or leaf) spinach, defrosted and drained very well
1/3 cup Parmesan cheese
1 egg
2 TB dried parsley flakes
2 good pinches of salt
fresh ground pepper, to taste
2-3 cups mozzarella cheese, shredded (it's best to buy a block and shred yourself)
For the Tomato Sauce
2 TB olive oil
1 medium onion, minced
1 large can of crushed tomatoes
1 large can of tomato sauce
2 tsp oregano flakes
1 tsp parsley flakes
pinches of salt, pepper and sugar (sugar is optional)
Directions:
For the Lasagna
Preheat oven to 375 degrees.
Prepare noodles as directed on package or take this shortcut: Spread uncooked noodles in large pan (I used an aluminum roasting pan). Bring water to a boil, using a large tea kettle if you have it. Pour hot water over noodles, making sure there is plenty to cover all the noodles.  Add a little olive oil to water to help prevent sticking. Let them soak while you are preparing the filling.  Drain well when ready to use.
In a large bowl, combine ricotta, spinach, Parmesan, egg, parsley, salt and pepper. Spray 13x9 baking dish with cooking spray. Spread about 3/4 cup of sauce over bottom of baking dish. Place 4-5 noodles over the bottom, slightly overlapping each other. Spread half of the cheese and spinach mixture over the bottom layer of noodles. Then spread half of the cooked crumbled sausage over the cheese mixture. Top layer with about a cup of sauce. Repeat next layer the same. Top last layer with noodles and remaining tomato sauce (about 2 cups), if you made the sauce using my recipe you will have sauce leftover. You can freeze any unused sauce for future use.
Cover with aluminum foil and bake in 375 degree oven for 20-25 minutes. Take aluminum foil off lasagna and spread shredded mozzarella over top layer. Cook uncovered for an additional 15-20 minutes until cheese is melted and slightly browned and sauce is bubbly
Let pasta stand for at least 10 minutes before cutting and serving. Serve with grated Parmesan, red pepper flakes and garlic bread.
For the Tomato Sauce
In large saucepan, heat olive oil and add minced onion and a small pinch of salt. Saute over medium heat until onions are softened. Add both cans of tomatoes to pot. Add a small amount of water to each can and swirl to grab any leftover sauce and add to pot. Bring sauce to a simmer over medium heat. Add oregano, parsley, salt, pepper and sugar. Sugar is optional, depending on taste.
Continue to simmer for about 20-25 minutes. Taste for any additional salt and pepper.
GO GATOR S!!
Bring home another SEC Championship!
Chomp…Chomp…
Are you following me on Instagram, Twitter, Facebook and Pinterest? If you'd like to subscribe to Aggie's Kitchen and have each post delivered straight to your e-mail box, then please add your email here. Happy cooking!
There are affiliate links in this post. I make small earnings through any purchases made through these links. Thank you for supporting Aggie's Kitchen!