Buffalo Chicken Slaw Salad
This Buffalo Chicken Salad uses slaw mix as it's base to change things up. It's crunchy, healthy and full of flavor!
Click here to pin this recipe!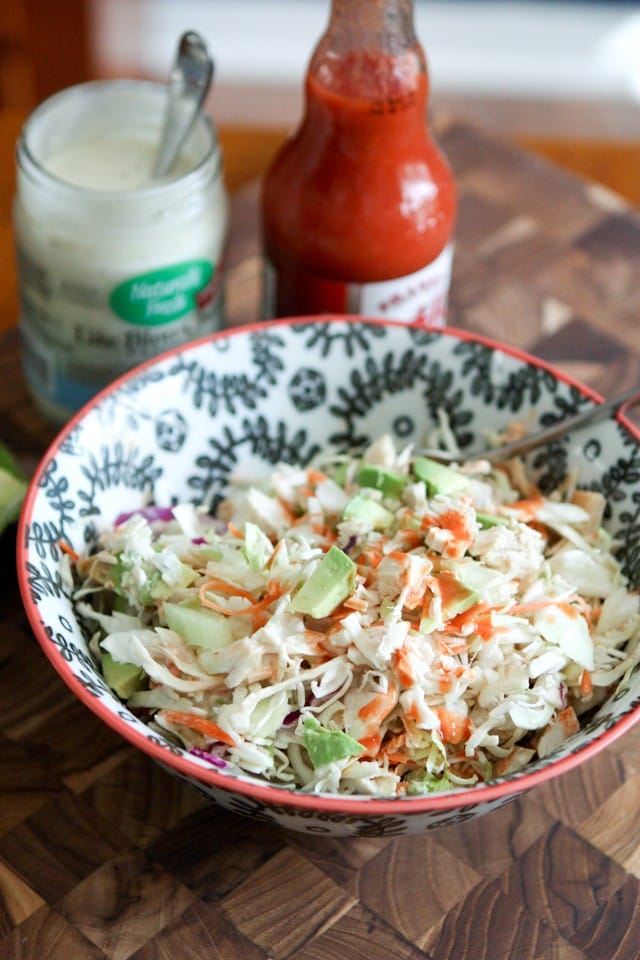 I originally shared this Buffalo Chicken Salad recipe back in February of 2012. As I'm getting myself "back in the salad" this week, I've been browsing my salad archives to find some of my favorite go-to salad recipes. This slaw based Buffalo Chicken Salad is a little different than my usual lettuce based salad and is so easy to put together – which is why I love it so much.
Since Super Bowl Sunday I've been having major cravings for buffalo sauce and blue cheese dressing. I am not a huge wing person (I don't really care for chicken on the bone), but I love anything doused in hot wing sauce and dunked in blue cheese dressing. My love of buffalo sauce and blue cheese was born when I was in college working at a sports bar (the Gainesville Ale House – fun times!). There, I fulfilled my cravings daily with a basket of crispy french fries dunked in hot wing sauce and blue cheese…hello amazing (and hello 15lbs on the scale).
This Buffalo Chicken Salad (slaw salad actually) has become my current – waistline friendly – answer to my cravings. I ate this salad for lunch everyday for a week.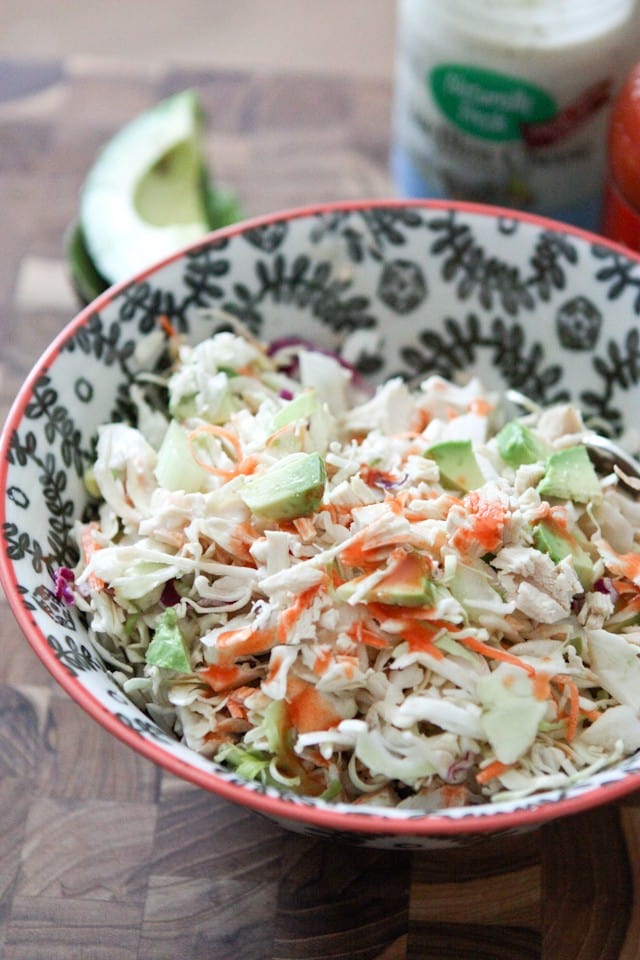 The base of this salad is slaw mix. Slaw mix is a great (and oh so easy) way to change up salads just by adding a handful to whatever salad you are making. I often add it to spinach salads for a little extra crunch and texture. For this buffalo chicken salad I made the slaw the main part of the salad and added a few extras to it instead, those extras being celery, avocado and chicken. Splash on some hot sauce, red wine vinegar and a little creamy blue cheese dressing and you are set.
Dee-licious.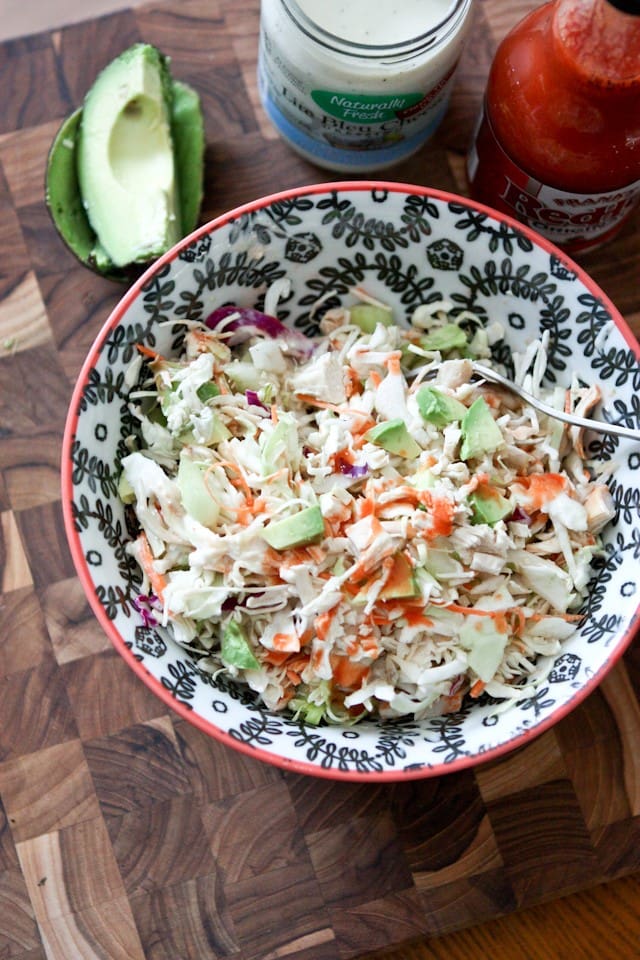 Need some new light and easy dinner ideas? Check out these 20 Healthy Recipes Using Shredded Chicken!
Print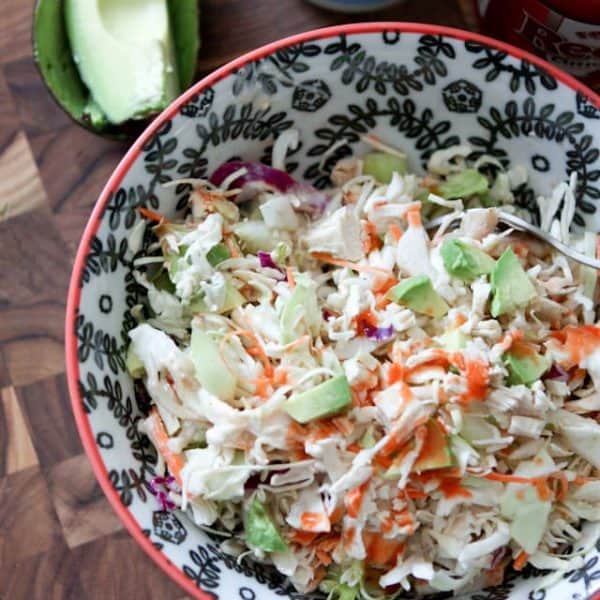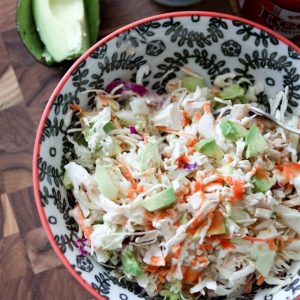 Buffalo Chicken Slaw Salad
Author:
Yield: 1 serving 1x
Category: Chicken
This Buffalo Chicken Salad uses slaw mix as it's base to change things up. It's crunchy, healthy and full of flavor!
---
Ingredients
1 1/2 cups tri-color slaw mix
1 stalk celery, sliced
1/3 avocado, diced
3 oz chopped rotisserie chicken (or cooked chicken breast)
a couple splashes Frank's buffalo sauce (1 tablespoon)
a couple of splashes red wine vinegar (1 teasp)
1 tablespoons light blue cheese dressing (I used Naturally Fresh Light Blue Cheese Dressing)
---
Instructions
Combine all ingredients in a big salad bowl and enjoy!
---
Notes
Healthy Tip:  To cut back on the need to add too much creamy (higher calorie) dressings, I like to splash a little bit of red wine vinegar on my salads first. I find that it helps spread the creamy dressing and flavor around so that I don't need to add as much.
---
Nutrition
Serving Size: 1 serving
Calories: 328
Fat: 16g
Carbohydrates: 11g
Fiber: 6g
Protein: 36g
Change up your salad game with a bag of slaw mix! Here are some slaw salad recipe ideas for you to try:
Mexican Slaw Salad with Black Beans
Orange Cranberry Summer Slaw Salad | Reluctant Entertainer
Spicy Cabbage Slaw with Chicken and Cilantro | Kalyn's Kitchen
Maple Dijon Apple Coleslaw | Cupcakes and Kale Chips
Are you following me on Instagram, Twitter, Facebook and Pinterest? If you'd like to subscribe to Aggie's Kitchen and have each post delivered straight to your e-mail box, then please add your email here. Happy cooking!
There are affiliate links in this post. I make small earnings through any purchases made through these links. Thank you for supporting Aggie's Kitchen!