Garden Salad with Shrimp and Bacon
This Garden Salad with Shrimp and Bacon will definitely get you back in the salad! It's is chock full of the best crunchy, colorful veggies plus protein to fill you up and keep you feeling good.
Click here to Pin this recipe!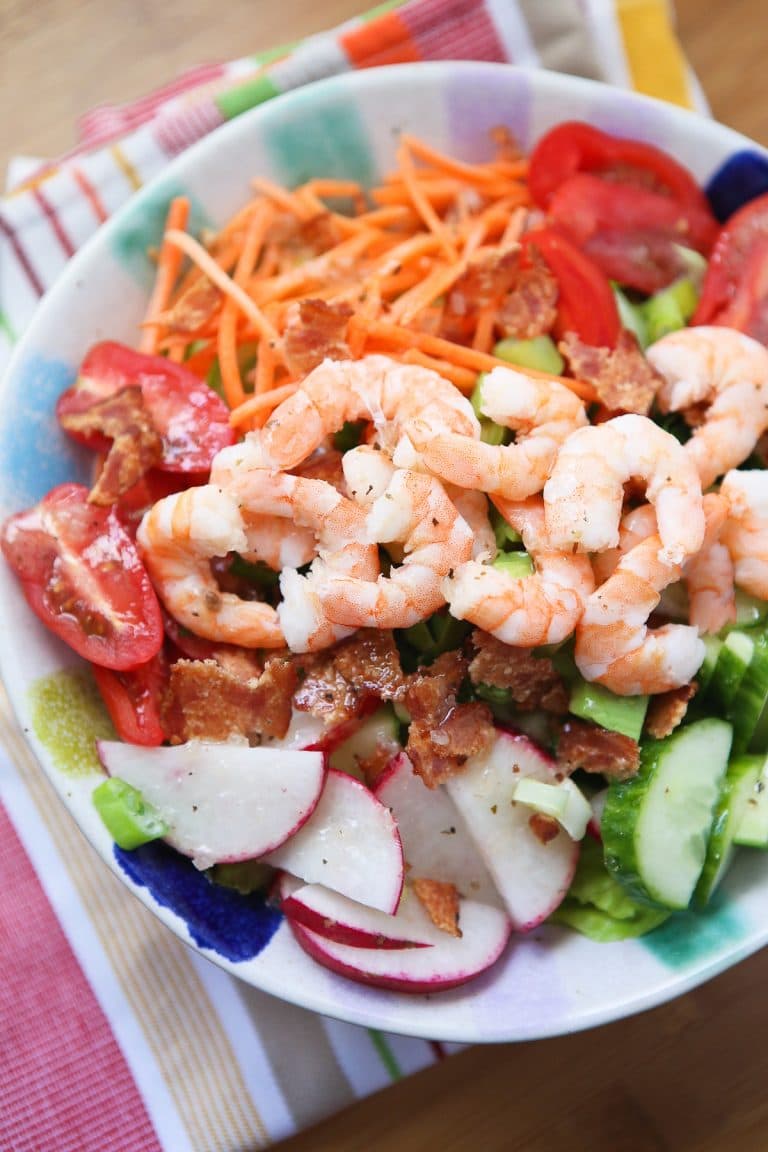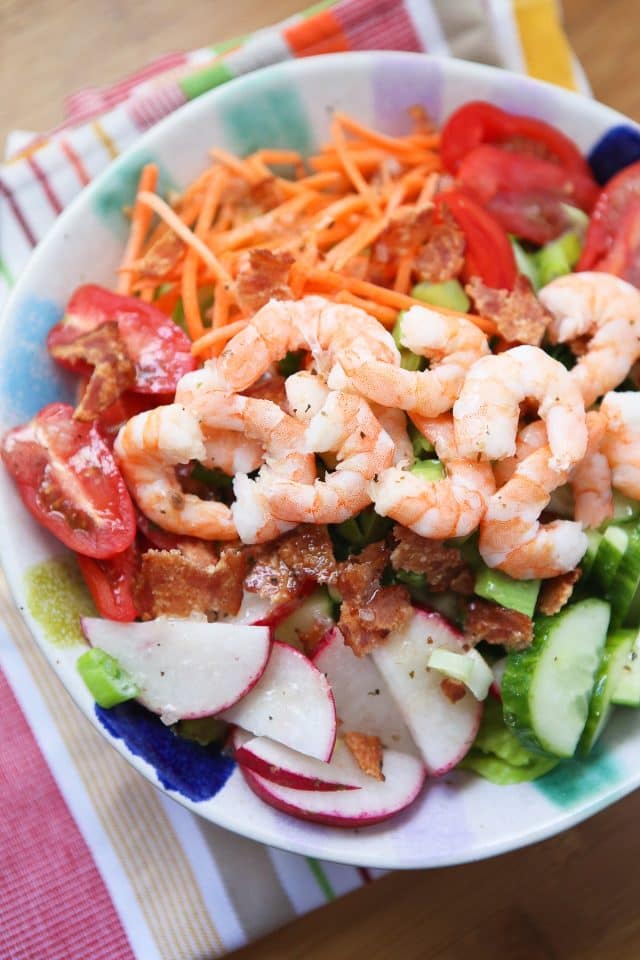 For the past month I've been on a 'quest' to lose some weight that I put on during the second half of last year. My quest (which can be appropriately defined as a journey towards a goal) is not only to lose weight, but to lose body fat, gain muscle and basically become the fittest version of myself that I've ever been. I like being active, and I want to feel fit and strong (and good) while being active. Especially with my family. I have 3 incredible kids to keep up with and I want to feel good while keeping up with them.
I've never had a problem getting motivated to workout, but I found myself in a bit of a rut so I signed up with a personal trainer I know from my previous gym, Jeff Higuera, last month. I started training with personal trainers 2 years ago and it's been the best investment I have made for myself. Working out is just part of the equation and since I've made a goal to get in 5 workouts at the gym (sometimes I only make it to 4 and I'm okay with that) and hit 10k steps daily my activity level is covered. What I've been struggling with (ironically) is nutrition. Obviously I enjoy healthy food, my biggest problem is I enjoy too much of it. I also enjoy pizza but that's another story. Two weeks ago Jeff challenged me to track my meals in My Fitness Pal for 31 days. That's all I needed to hear so here I am 15 days in and down about 5lbs. The first week of tracking was the hardest, but now that I've got most of my everyday foods logged in and I know what to stock my fridge with each week I'm in a good groove. I've read and agree that a big part of weight loss is eating the same type of foods every day. It doesn't mean it has to be boring, but sticking to the same types of structured meals has helped me stay on track.
I'll be sharing those meals here as often as I can and if you are on My Fitness Pal please connect with me there – my name is aggiegoodman. I keep my diary public, it keeps me accountable plus I know looking at other diaries helps me with ideas. Also, I'm slowly adding nutrition info to some of my recipes so if you search My Fitness Pal for Aggie's Kitchen you may be able to use some of them easily to add to your daily logs.
Can we talk about this Garden Salad with Shrimp and Bacon now?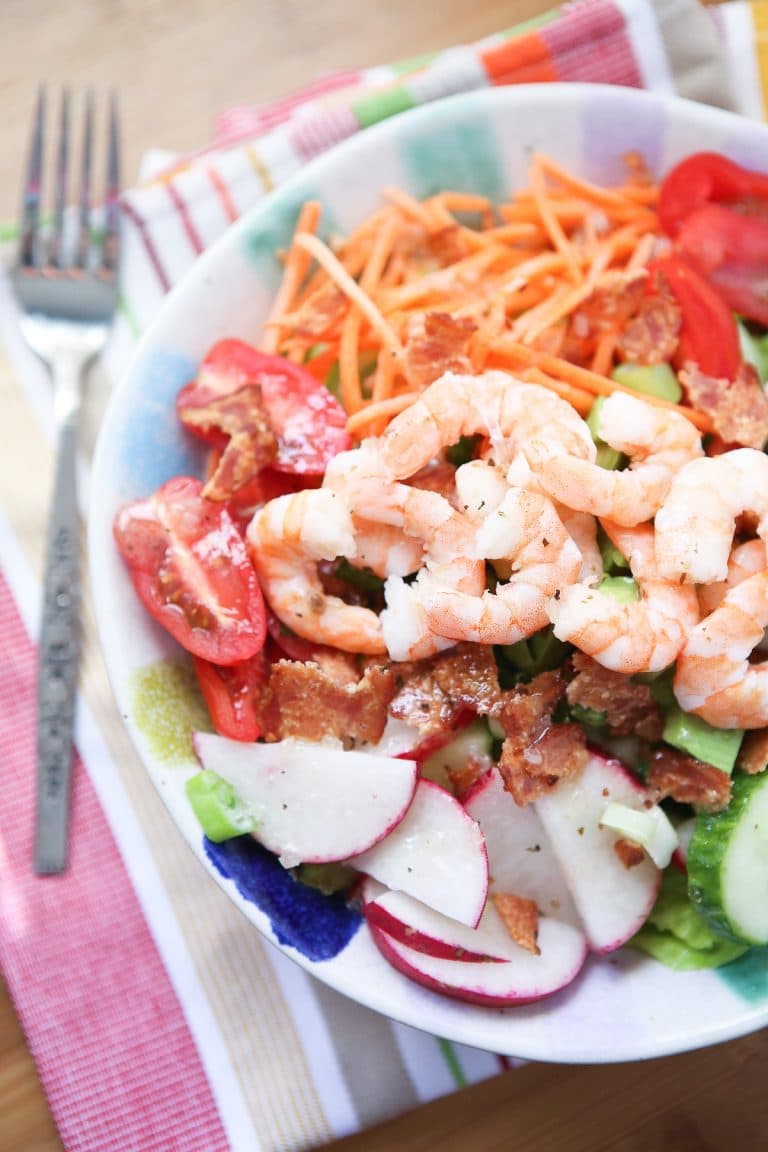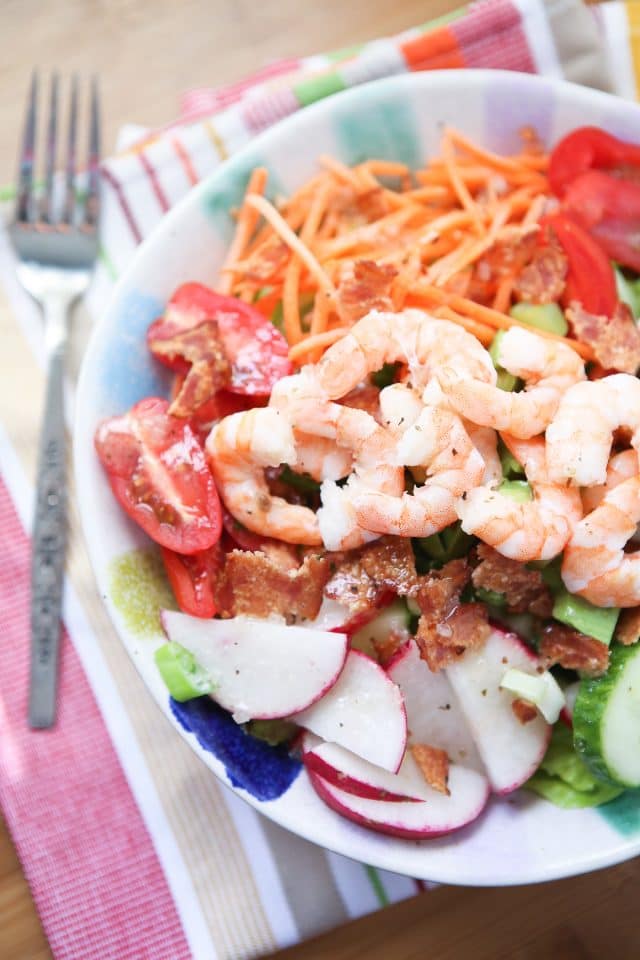 This is a monster of a salad. I've had it for lunch a few times already but it would be a pretty great salad for dinner too. I think my husband would agree. It's filled with your usual salad suspects – carrots, radishes, tomatoes, romaine – and topped with cooked shrimp, avocado and crumbled bacon (I like using a nitrate free chicken bacon I've discovered from Al Fresco).
This dressing? Good stuff. If you find yourself at Trader Joe's, grab some.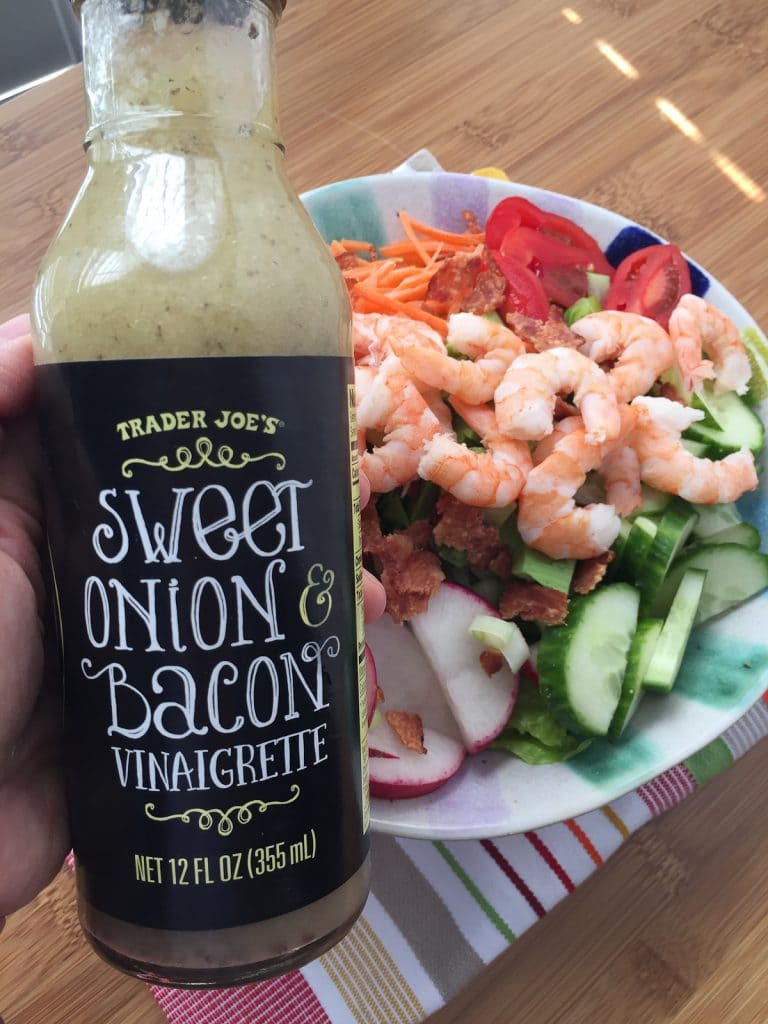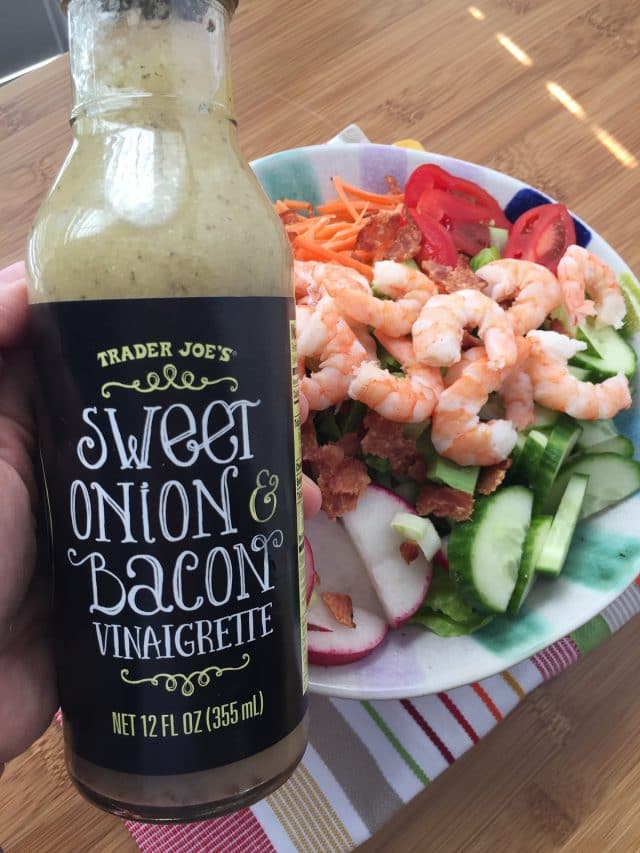 I'm on a search for more healthy salads to add to my repertoire and am inspired to try this Thai Chicken Salad recipe, Quinoa and Kale Protein Power Salad and Spinach Chicken Salad with Garlic Balsamic Vinaigrette.
Have a great week and let me know if you try this Garden Salad with Shrimp and Bacon by tagging me on Instagram @aggieskitchen #aggieskitchen!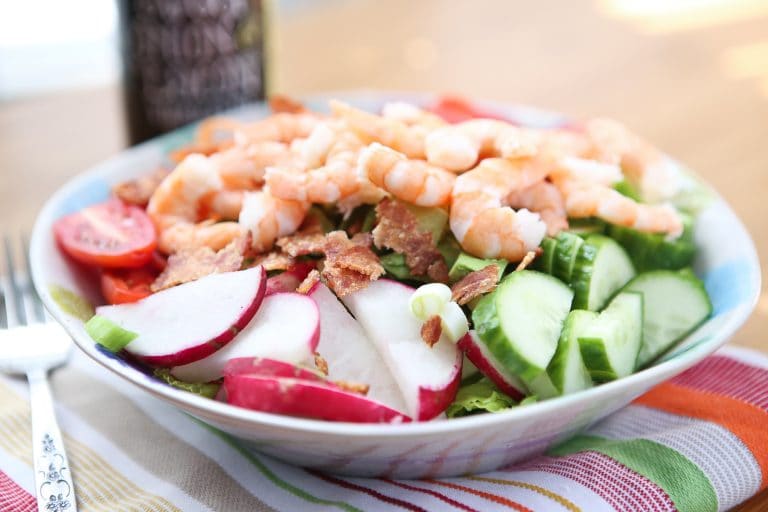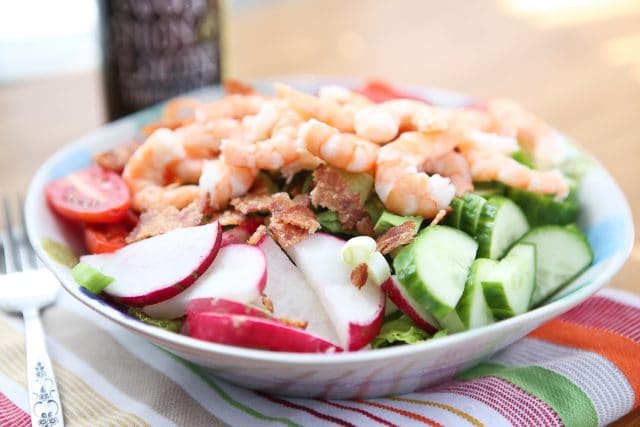 Print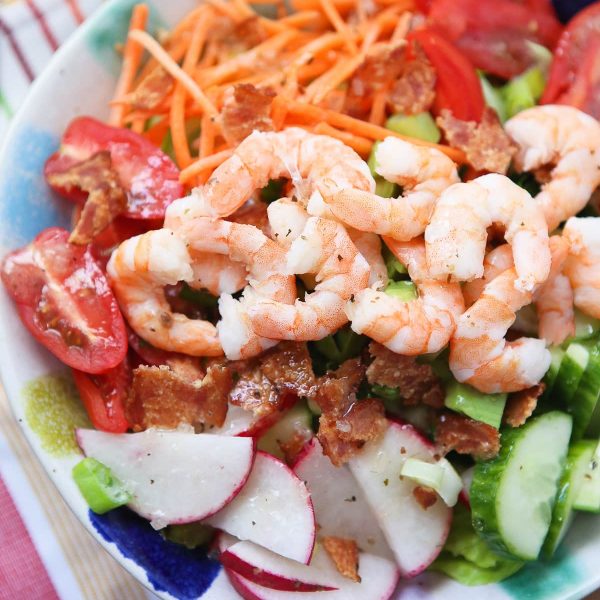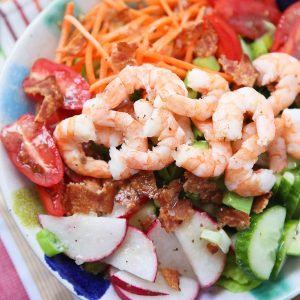 Garden Salad with Shrimp and Bacon
Author:
Yield: 1 salad 1x
Category: Fish
This Garden Salad with Shrimp and Bacon will definitely get you back in the salad! It's is chock full of the best crunchy, colorful veggies plus protein to fill you up and keep you feeling good.
---
Ingredients
3 oz cooked shrimp (my package thankfully said to count out 13)
6 leaves romaine lettuce, torn into bite-sized pieces
2 radishes, halved and sliced
1/2 seedless cucumber, halved and sliced
1 oz matchstick carrots (small pile about 1/4 cup)
1/2 cup grape tomatoes, halved
2 slices cooked turkey or chicken bacon (I have been loving this one from Al Fresco)
1/3 medium Hass avocado, diced
chopped green onion, optional
Trader Joe's Sweet Onion & Bacon Vinaigrette, optional
---
Instructions
Assemble torn romaine in a salad plate or bowl. Add vegetables, bacon and shrimp. Drizzle with dressing and enjoy!
---
Notes
Nutrition Information (calculated in My Fitness Pal) does not include green onion or dressing:
Calories 282  / Fat 11g / Carbohydrates 19g / Fiber 9g / Protein 25g
Are you following me on Instagram, Twitter, Facebook and Pinterest? If you'd like to subscribe to Aggie's Kitchen and have each post delivered straight to your e-mail box, then please add your email here. Happy cooking!
There are affiliate links in this post. I make small earnings through any purchases made through these links. Thank you for supporting Aggie's Kitchen!