Baked Spinach and Ricotta Meatballs
Baked Spinach and Ricotta Meatballs are easy to make and will be a family favorite! Perfect addition to Sunday Supper!
Click Here To Pin This Recipe!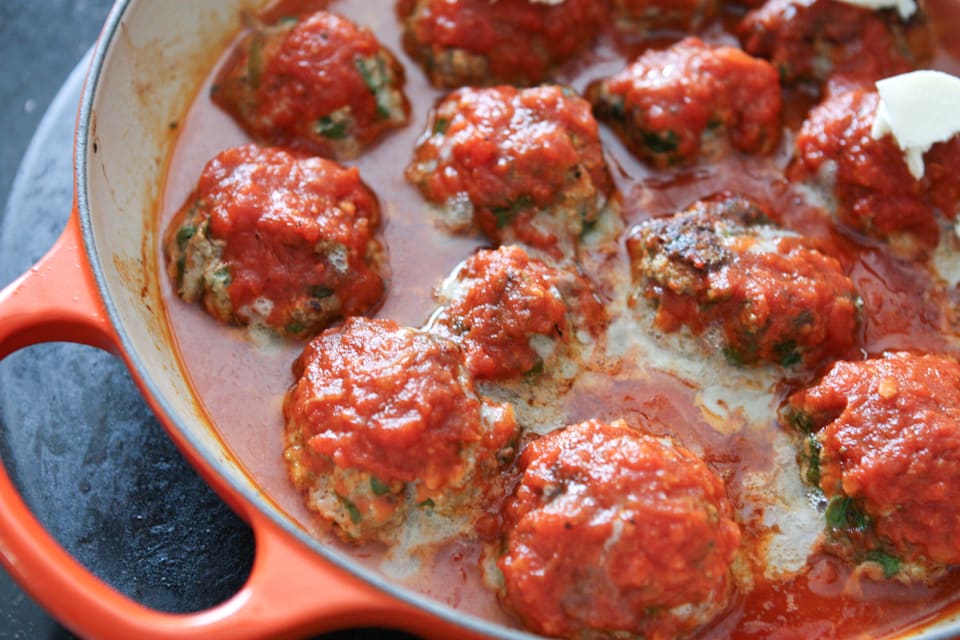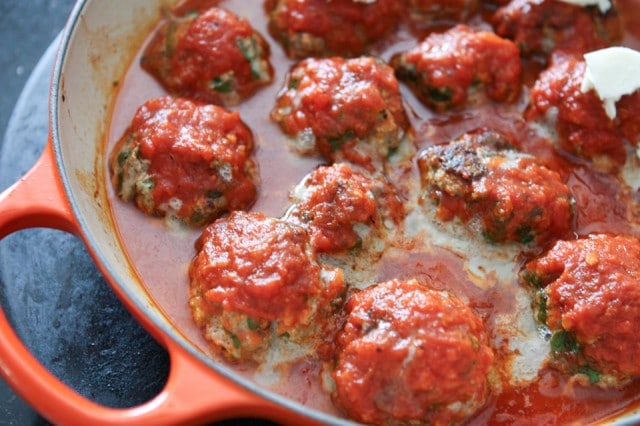 My family goes crazy over meatballs. I don't make them enough but knowing it's something everyone will surely eat I'm going to make an effort to cook them more often. They aren't really all that hard to put together, and my thoughts are if you are going to make some go ahead and bake up a double batch (without sauce) and put into the freezer for later.
Whenever we visit my grandparents, you can pretty much count on meatballs being served with our pasta. My grandfather whips up batches of meatballs in large quantities and has a big stash in the freezer at all times for any spontaneous visits from grandchildren (and great grandchildren). He also likes to send me home with my own bag sometimes. I've been so spoiled by my grandpa over the years. You have no idea how awesome it is to have bags of meatballs, chicken cutlets, polenta and stuffed cabbage rolls in the freezer waiting for me. It's such a treat for us – not only is it extremely helpful and convenient, but it's comforting too. I live an hour away from my family, it may not be far for some but it feels very far for me a lot of the time. I try to get home as often as I can, but it's not the same as living a few houses down from your grandparents (like I have my whole life).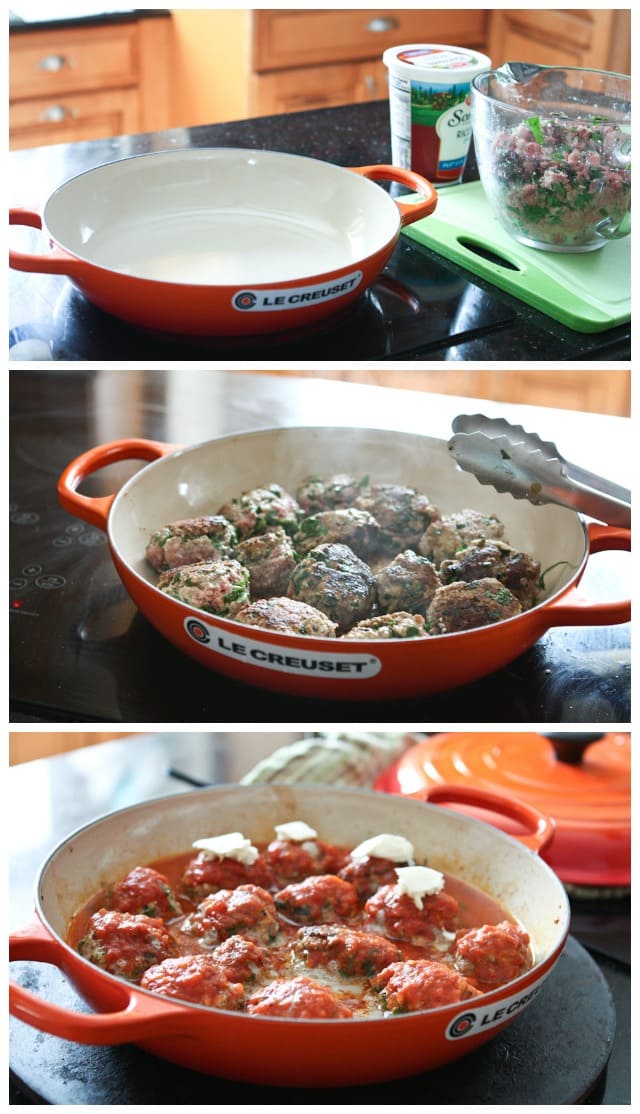 These meatballs. They really turned out delicious. They aren't how my grandpa would make them, I don't see him adding ricotta or spinach, but I thought it would be fun to try it this way. I have added spinach to turkey meatballs before, and honestly, no one knows it's spinach. It really adds a nice pop of color to your meatballs. Browning them on the stovetop before baking them makes the outside a little more firm in my opinion, but I've baked them completely before so you can always skip that step and add extra cooking time in the oven (before adding sauce). I do like them seared though.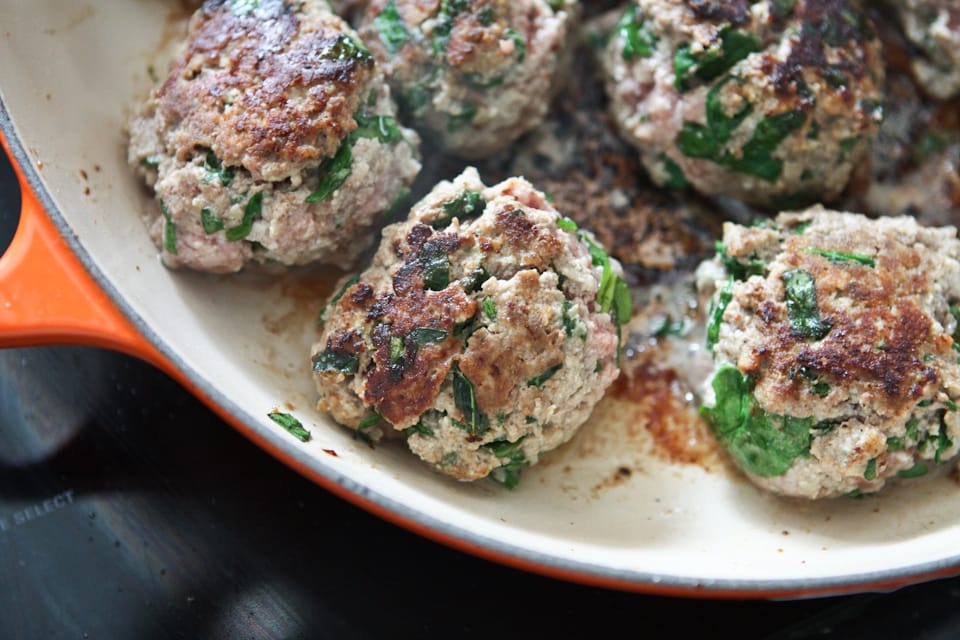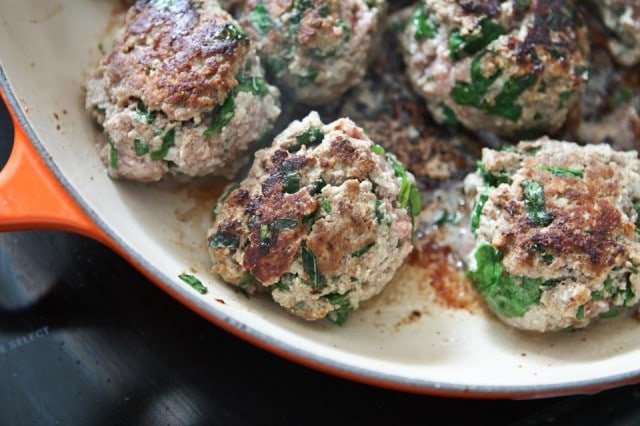 The extra mozzarella at the end is optional…but I don't think anyone will complain if you add it. I didn't add much, just a small bit on each meatball.
I served these Baked Spinach and Ricotta Meatballs over polenta (thank you Nonno!) but they would be great on their own, with pasta or over a bed of sauteed kale or spaghetti squash if you are trying to stay away from carbs.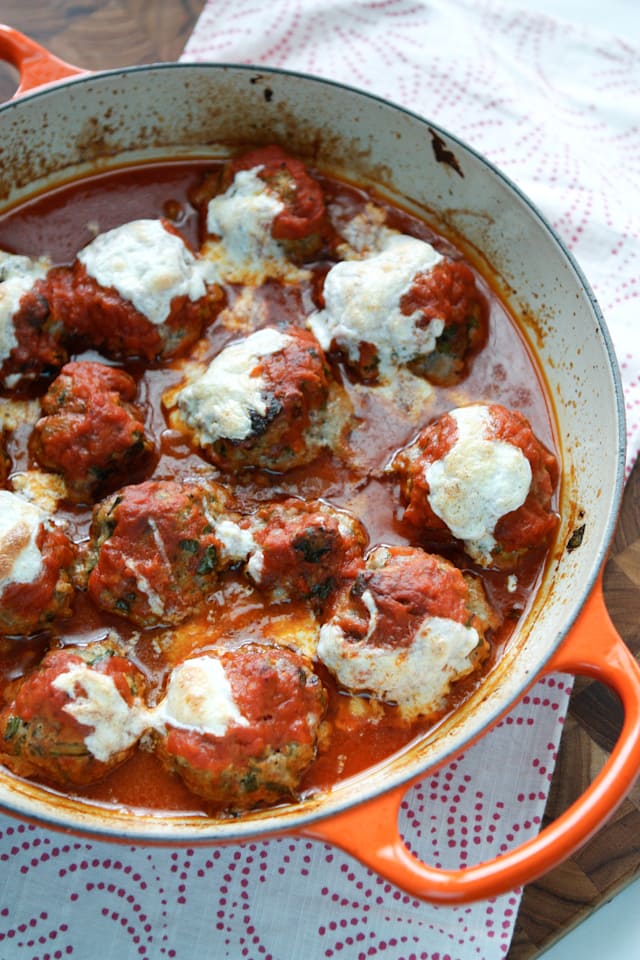 Spinach and Ricotta Meatballs
Yield: about 14 meatballs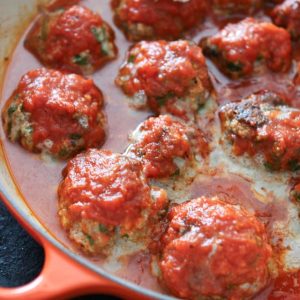 Ingredients:
1.25 lean ground beef
1/2 cup part-skim ricotta
2 handfuls fresh spinach leaves, sliced thin
1/2 tsp garlic powder
1/2 tsp onion powder
1/2 teaspoon kosher salt
fresh ground pepper, pinch
2 eggs, whisked
1/2 cup whole wheat panko
1/4 cup grated Parmesan
1 tablespoon oil
2 cups prepared marinara sauce
mozzarella cheese
Directions:
Preheat oven to 375 degrees.
In a large mixing bowl, gently mix together ground beef, ricotta, spinach, garlic powder, onion powder, salt, pepper, eggs, panko and Parmesan cheese. I use my hands to combine (it helps to spread the ingredients better without overmixing).
Heat your large oven proof pan over medium-high heat. Add 1 tablespoon cooking oil to pan (tilt pan to spread oil around). Roll meatballs (into slightly bigger than golf ball size) and carefully add to pan. Let meatballs sear for 2-3 minutes on each side until outside of meatballs are browned. Use tongs to turn meatballs in pan. Make sure to let the side searing get a good cook on it before turning (to keep from sticking and falling apart).
Turn off heat. Add marinara sauce to pan, covering all of your meatballs with sauce. Cover pan with lid and place in oven and bake for 20 minutes until sauce is bubbling. Add mozzarella cheese to meatballs and bake uncovered for another 5-10 minutes until cheese is melted.
Serve meatballs on their own, in rolls, with whole wheat pasta, over polenta or over sauteed kale. Enjoy!
If you do not have an oven proof skillet/pan, sear the meatballs first then carefully transfer to a glass baking dish (add a little sauce to bottom of dish before placing meatballs in to prevent sticking). Cover with foil if you do not have a cover.
I used this braiser for this recipe (and many others). Worth the investment, it's one of my favorite items in my kitchen!
More recipes to add to your Sunday Supper:
Baked Lemon Chicken Spaghetti Primavera | Recipe Girl
Make Ahead Manicotti | Valerie's Kitchen
Roasted Italian Turkey Sausage, Potatoes and Peppers
Slow Cooker Risotto with Italian Sausage and Butternut Squash | The Food Charlatan
Swiss Chard with White Beans over Pasta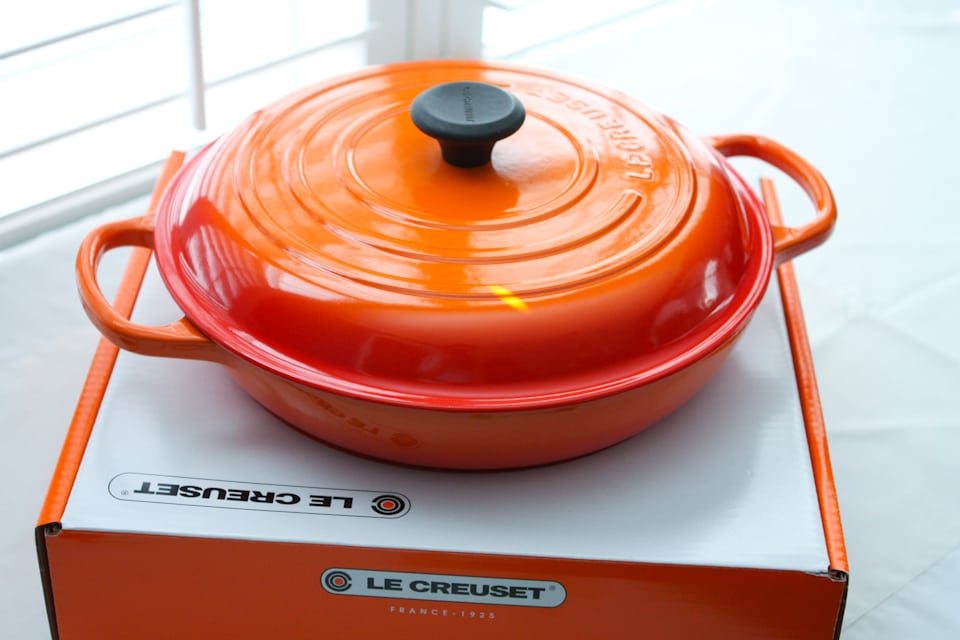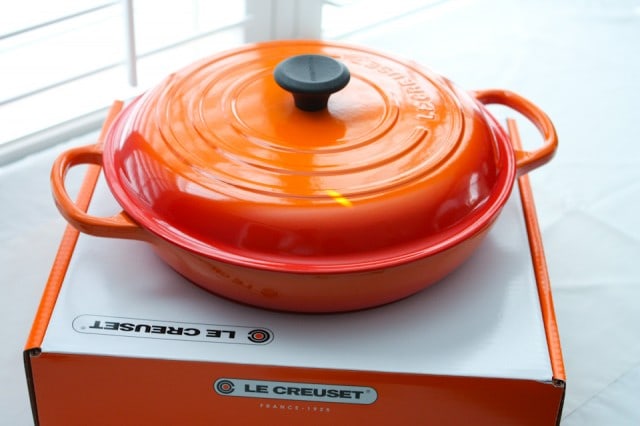 Check out my Pinterest Board for more healthy recipes. Follow Aggie's Kitchen's board Aggie's Kitchen Recipes on Pinterest.
I am really excited about today's giveaway. I am pretty much in love with this 3 1/2 qt. Braiser from Le Creuset and I know you will be too. Not only is it totally gorgeous (color shown is Flame) and the best quality, but it is so functional. I can't stop thinking about what I want to cook in it! It's perfect for any kind of one-pot type meal where you need to brown meat (like this Stuffed Cabbage Casserole) before adding ingredients, but it also works for braising greens like my Stewed Kale and Tomatoes.
Enter to win your own 3 1/2 qt. Braiser from Le Creuset (you pick your color, subject to availability) by following the prompts in the Rafflecopter widget below.
Good luck and thanks for entering!
Sorry, giveaway open to U.S. readers only.
(Disclosure: I was provided with my own 3 1/2 qt. braiser from Le Creuset. As always my opinions are my own!)
Are you following me on Instagram, Twitter, Facebook and Pinterest? If you'd like to subscribe to Aggie's Kitchen and have each post delivered straight to your e-mail box, then please add your email here. Happy cooking!
There are affiliate links in this post. I make small earnings through any purchases made through these links. Thank you for supporting Aggie's Kitchen!