Autumn Rotisserie Chicken Salad with Apples and Almonds
Rotisserie Chicken Salad with Apples and Almonds (lightened up with Greek yogurt) is always a crowd pleaser!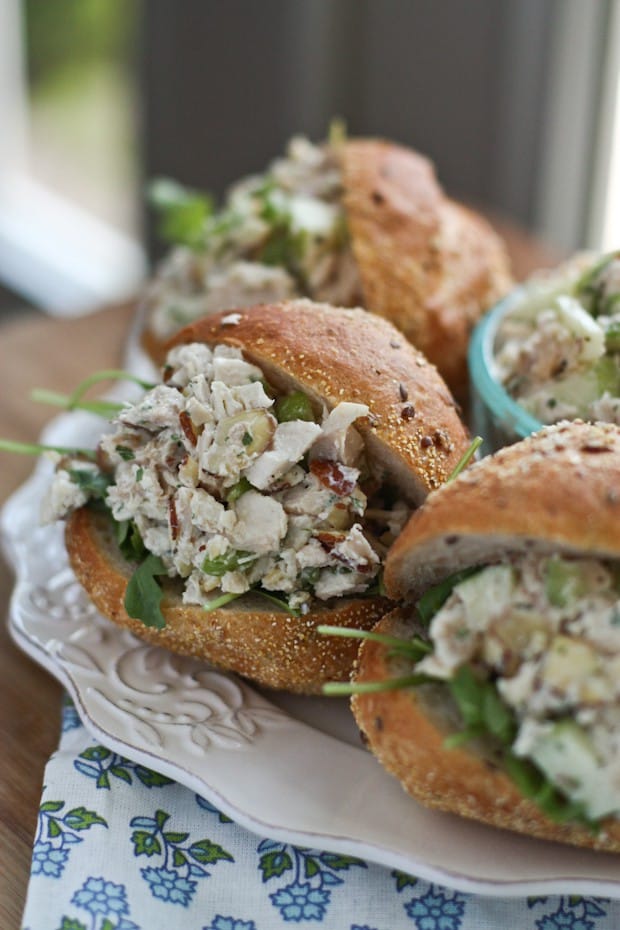 This post is sponsored by Fisher Nuts.
Well friends, I've jumped on the rotisserie chicken bandwagon, if there is even such a thing. I have never been a big purchaser of rotisserie chicken, only because I've always been too lazy to deal with all the bones and such, but I guess you can say my perspective has changed.
Having a freshly precooked chicken available to me is definitely convenient and a huge time saver. The last few weeks I've been picking up a chilled rotisserie from the deli and making chicken salad with it. Lots of chicken salad. It's been nice…real nice. A great change up in the sandwich category in our house. 🙂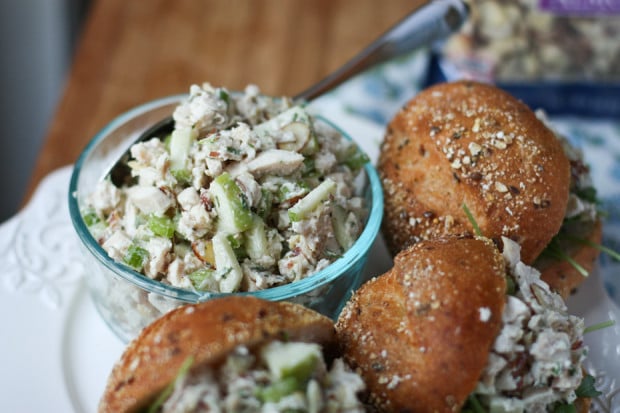 I'm excited to share today's recipe with you because it's the first of several recipes that I will be working on with Fisher Nuts. You may recall I worked with Fisher Nuts last year and shared this Autumn Spinach Salad with Pecan Vinaigrette, these Gingerbread Spiced Nuts, and this Honey Nut Cocoa Crunch Granola with you all.
Nuts are a staple in my kitchen so it's a no brainer when it comes to developing recipes featuring them. Fisher Nuts are preservative free and can pretty much be found everywhere. Follow the hashtag #ThinkFisher on social media for more recipes!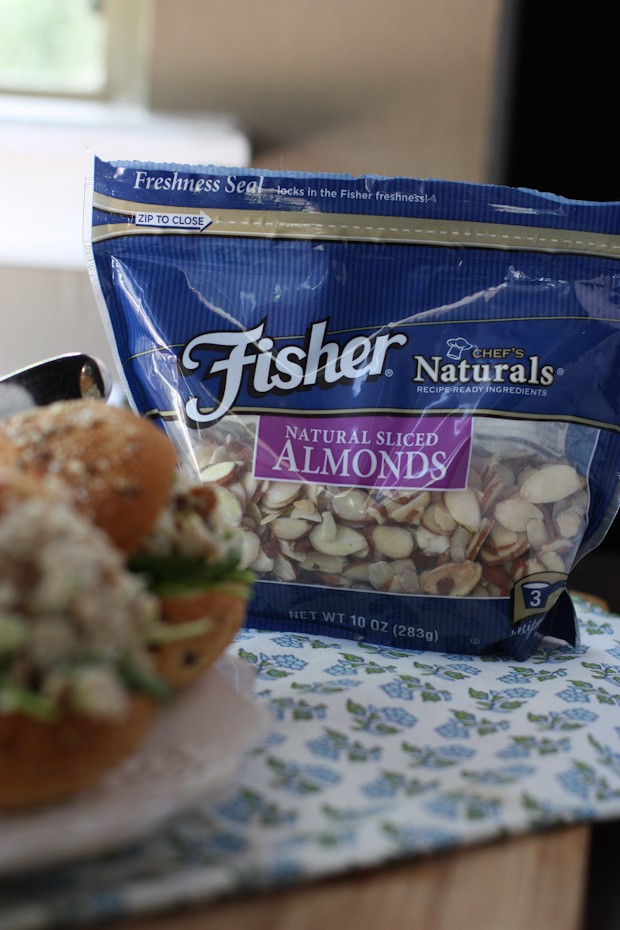 This salad was inspired by a chicken salad I used to always buy at my local grocery store deli that was made with tarragon and sliced almonds. I was obsessed with this chicken salad for years and lived off of it back in my post college days. I would purchase a container of it along with some fresh crusty bread and wine and that would be my dinner in front of the television after a long day at work.
I'm happy that I'm finally making my own version of it, even if it is 15+ years later….better late than never! I added some extra crunch and seasonal flavor by including chopped Granny Smith apples to the salad. I love apples in the fall, especially in salads.
This rotisserie chicken salad with apples recipe is perfect to serve while watching an afternoon football game this fall. It's light and can be made ahead which is always a good thing. Prepare your chicken salad ahead of time then just assemble into sandwiches using small crusty mulitgrain rolls from the bakery and some fresh arugula. Or you can always turn it into a light weeknight dinner during the busy school year.
Of course it would be great in lunch boxes too. 🙂
Enjoy this Rotisserie Chicken Salad with Apples and Almonds recipe and hope everyone is having a great week!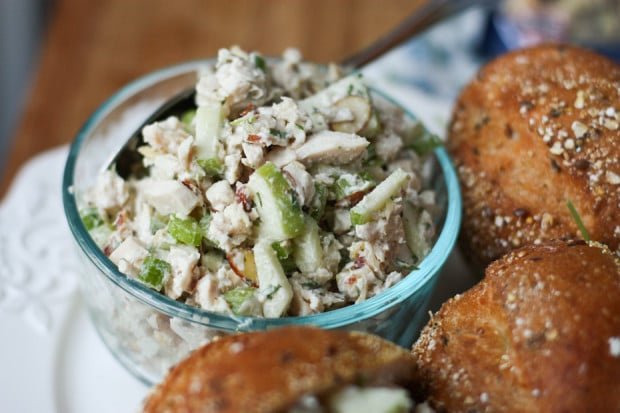 If you're looking for more ideas with what to do with your rotisserie chicken here are 20 healthy recipes using shredded chicken to help you out!
Print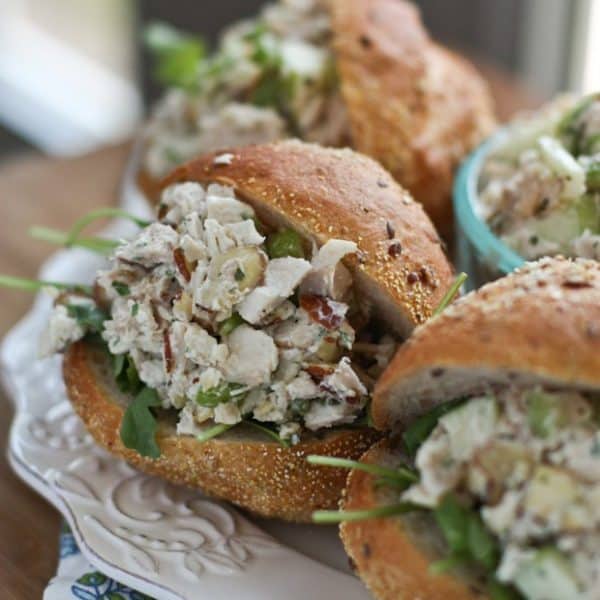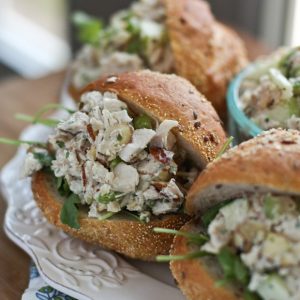 Autumn Rotisserie Chicken Salad with Apples and Almonds
Rotisserie Chicken Salad with Apples and Almonds (lightened up with Greek yogurt) is always a crowd pleaser!
---
Ingredients
3 cups chopped rotisserie chicken (or cooked chicken breast)
2 celery stalks, chopped
1 Granny Smith apple, chopped
1/2 cup Fisher's Sliced Almonds, slightly crushed
3 tablespoons plain Greek yogurt
2 tablespoons light mayo
1 1/2 teaspoons dried tarragon
1/2 teaspoon onion powder
3/4 teaspoon coarse salt (or salt to taste)
freshly ground pepper, to taste
1/4 cup chopped dried cranberries, optional
---
Instructions
Place chicken, celery, apple and almonds in a large bowl. In a small bowl, combine Greek yogurt, mayo, tarragon, onion powder, salt and pepper. Pour yogurt and mayo mixture into chicken mixture and combine.
Serve immediately at room temperature or chilled.
Disclosure: I am honored to be sharing this recipe with you on behalf of Fisher Nuts as a product ambassador. I received compensation for creating this recipe but as always all opinions expressed are my own!
Follow Aggie's Kitchen's board Healthy Recipes on Pinterest.
Are you following me on Instagram, Twitter, Facebook and Pinterest? If you'd like to subscribe to Aggie's Kitchen and have each post delivered straight to your e-mail box, then please add your email here. Happy cooking!
There are affiliate links in this post. I make small earnings through any purchases made through these links. Thank you for supporting Aggie's Kitchen!