Andouille Sausage, Mushroom and Sun-dried Tomato Naan Pizza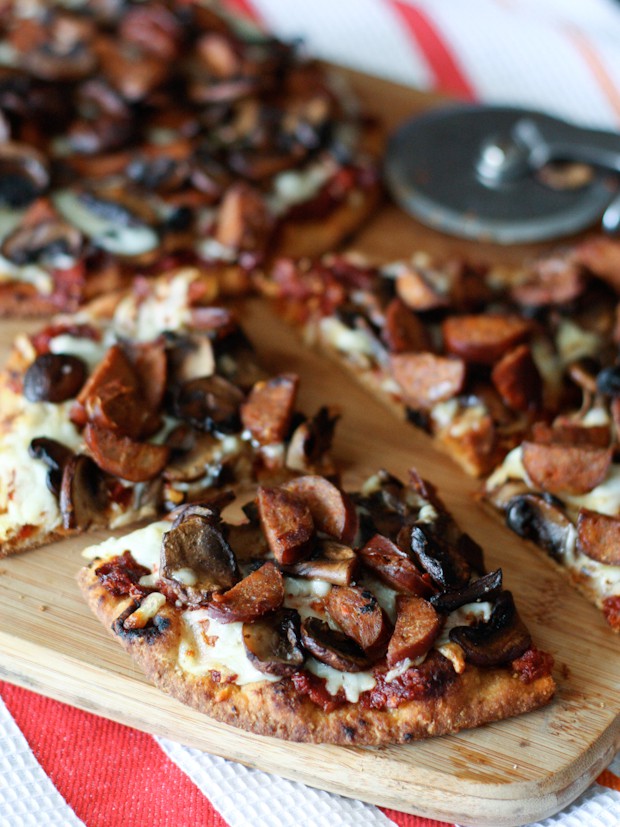 Remember a few weeks ago I posted this recipe for Grilled Baby Portabella Pesto Flatbreads? They turned out so good that I wanted to go back and make a heartier, meatier version that my husband would be satisfied with for lunch or dinner. Me? I would be perfectly content with the cheese, sun-dried tomato spread and mushrooms. My husband, as good as he is about eating all the meatless meals I crank out for weeknight dinners, really enjoys a little bit of meat on his pizza. And so that's what I gave him here with my latest naan pizza creation.
I had a package of julienned sun-dried tomatoes in the pantry and with a few quick pulses in my blender (along with some olive oil and garlic), I turned it into a spreadable base for the pizza. I decided to stick with my favorite mushrooms, the baby portabellas, as well as a couple of links of some turkey andouille sausage I recently picked up to kick up the flavor. The flavors worked so well together!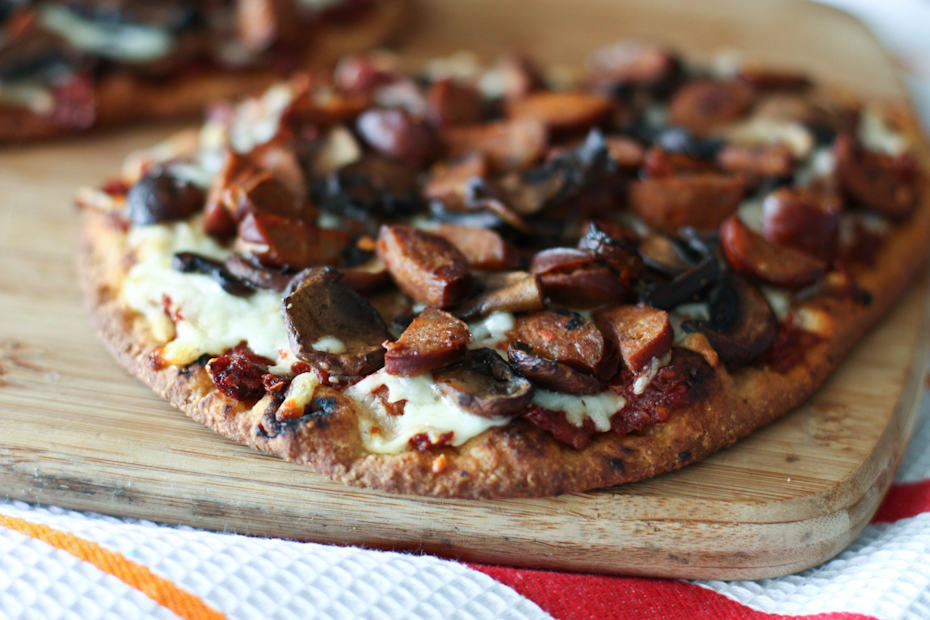 Now, if you want to make things easier on yourself, feel free to pick up a jar of pre-made sun-dried tomato spread. I've seen a brand in my produce section that would work, I'm sure most grocery stores have something similar as well. But the sun-dried tomato spread I threw together here was really simple – the sweetness from the tomatoes were incredible and the little add-ins made it a perfect complement to the other ingredients.
I obviously love making naan pizzas (like these killer Grilled Veggie Naan Pizza and Grilled "Stinger" Naan Pizza), and the only problem that I have with them is that they are so darn good you can really go overboard with the calories if you're not careful. If you look on the package of the bread, you'll see a serving size is for 1/2 a loaf (at least on the ones I pick up) and if I am not prepared with a big salad to serve alongside my serving, then I might just go ahead and polish off the whole thing. With all the toppings and cheese, that could be considered a calorie disaster…or not. It's up to you, but if you are watching your calorie intake and don't want to blow that session on the elliptical or treadmill that morning, stick to just a couple slices and a salad (and save the rest for lunch the next day!).
Enjoy!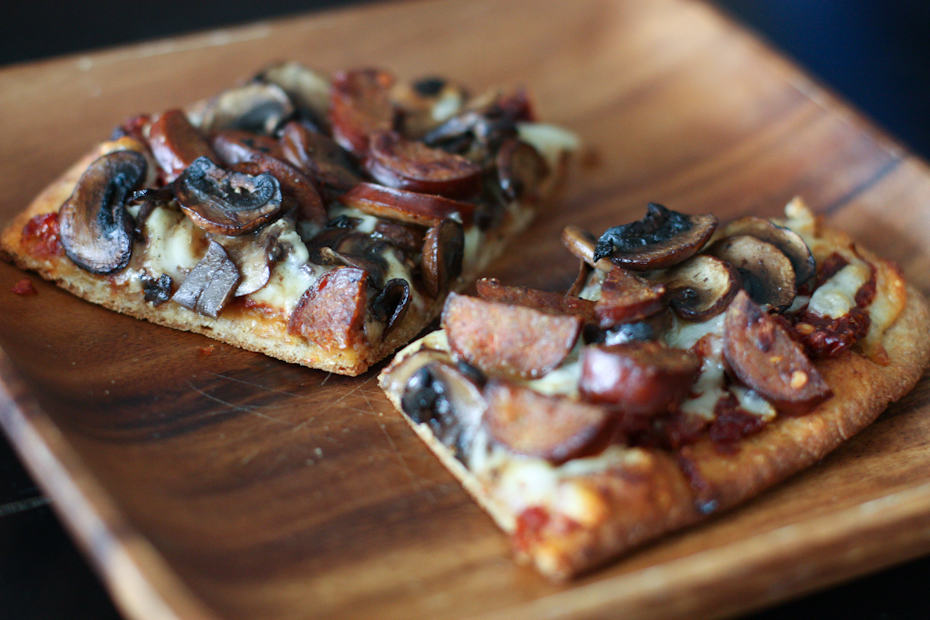 Love mushrooms? Don't miss out on these mouthwatering mushroom recipes created by fellow bloggers for the Mushroom Council and Kitchen Play.
Andouille Sausage, Mushroom and Sun-dried Tomato Naan Pizza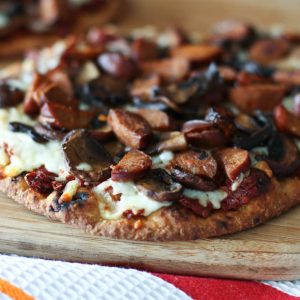 Ingredients:
2 naan breads
4 tablespoons sun-dried tomato spread
2 links turkey andouille sausage, halved then sliced
1 teaspoon olive oil
8 oz whole portabella mushroom, sliced
1/2 cup shredded mozzarella cheese
2 tablespoons grated Parmesan cheese
For the sun-dried tomato spread:
3 oz sun-dried tomatoes, julieened and rehydrated in a bowl of water
1/4 cup olive oil
1 clove garlic, smashed
2 tablespoons water, reserved from rehydrating sundried tomatoes
good pinch coarse salt and pepper
Directions:
Preheat oven to 400 degrees. (if using a pizza stone set inside oven to preheat at this time as well)
To prepare sun-dried tomato spread: Combine ingredients into blender or small food processor. Pulse a few times until spreadable. You do not need to puree, it can be chunky.
In a large saute pan, cook sausage slices for about 7 minutes or until browned. Set aside in bowl. In same pan, saute mushrooms in 1 teaspoon olive oil. Add pinch salt and pepper and cook until softened, about 8-10 minutes. Set aside.
Place naan breads on preheated pizza stone or baking sheet in oven and warm up for 5 minutes. Pull out and spread 2 tablespoons of sun-dried tomato spread on each naan. Spread shredded mozzarella cheese and Parmesan cheese over both breads. Top generously with cooked mushrooms and sausage pieces (I didn't use all of sausage, set aside and use leftover in scrambled eggs or for nibbling).
Place pizzas back into oven and bake for 12-15 minutes until bubbly and browned.
Notes
To make the preparation of this pizza even easier, purchase sun-dried tomato spread in the jar where you find other sun-dried tomato products. Naan bread is not low in calories so if you are watching your weight you want to make sure you stick to serving size - which is half a naan bread. Serve your pizza with a nice sized salad to keep your portions in check!
Follow Aggie's Kitchen's board Pizza & Flatbread on Pinterest.
Are you following me on Instagram, Twitter, Facebook and Pinterest? If you'd like to subscribe to Aggie's Kitchen and have each post delivered straight to your e-mail box, then please add your email here. Happy cooking!
There are affiliate links in this post. I make small earnings through any purchases made through these links. Thank you for supporting Aggie's Kitchen!