35 Chili Recipes To Kick Start Fall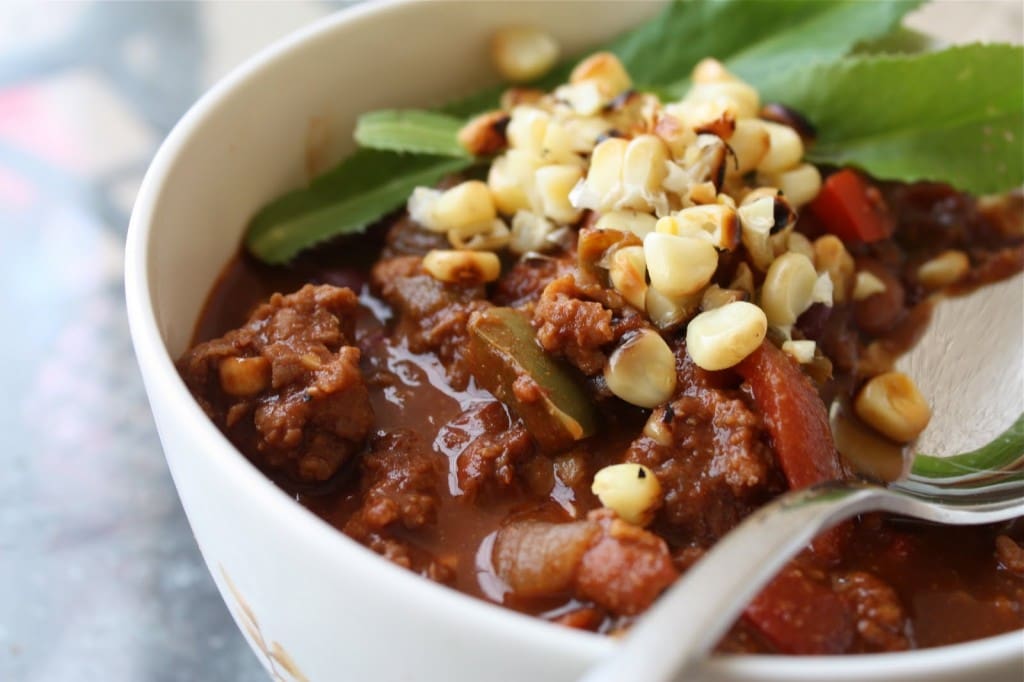 I don't know about you, but chili is definitely one of my many favorite fall foods. I love pumpkin, I love apples, I love all the funky looking squashes – there really are so many fall foods to love aren't there?
Fall doesn't officially start for another week, but I have already started craving chili as I'm sure some of you have too. There's nothing like a pot of chili bubbling on the stovetop on a lazy Saturday or Sunday afternoon, while football is playing in the background. I made this season's first pot of chili earlier in the week and am looking forward to many more…especially after browsing all of my favorite blogs for new ideas. My stomach is officially growling…
These 35 mouthwatering chili recipes will surely get you in the fall chili making mood:
Beef/Steak:
Steak Chili
7 Chili Chili
Chocolate Stout Chili
Crockpot Black Bean Chili with Lime and Cilantro
Farmgirl Chili
Beer Chili
Cincinnati Chili
Simple Weeknight Ground Beef Chili
Chinese 5 Spice Harvest Chili
Barbecue Chili with Corn
Turkey/Chicken:
Game Day Chili
Turkey Chili with Pinto Beans and Mushrooms
Smoked Turkey Mango Chili
Roasted Butternut Squash and Turkey Chili
Smoky Turkey Chili with Chipotle Peppers, and Black & White Beans
White Bean Chicken Chili
Smoky White Bean Chicken Chili
Bush's White Bean Chile Verde with Sonoma Pesto
Southwest Shredded Chicken 3-Bean Chili
Amy's Amazing White Chicken Chili
Vegetarian:
Black Bean and Quinoa Chili
Black Bean and Sweet Potato Chili
Spicy Tofu Chili
Vegetarian Quinoa Chili
Vegan Garden-Style Chili
Very Veggie Chili
Vegetarian Fiery Red Bean Chili
Slow Cooker:
Slow Cooker 3-Bean Pumpkin Chili
Green Turkey Chili
Crock Pot Turkey White Bean Pumpkin Chili
Crock Pot Chicken Taco Chili
Vegetarian Slow Cooker Chili
Smoky Red Chili
Slow Cooker Leftover Flank Steak Chili
Easy Crock Pot Lentil Chili
Are you following me on Instagram, Twitter, Facebook and Pinterest? If you'd like to subscribe to Aggie's Kitchen and have each post delivered straight to your e-mail box, then please add your email here. Happy cooking!
There are affiliate links in this post. I make small earnings through any purchases made through these links. Thank you for supporting Aggie's Kitchen!