Roasted Dill Potato Wedges
There are two foods my kids are obsessed with right now – potatoes and rice. This is a new thing for us. And it's keeping things interesting for me because before this obsession I really didn't cook potatoes and rice regularly. Now I find myself bookmarking recipes like this homemade rice-a-roni from Heather because I just know it will be a hit amongst the fam.
Now if I could get sweet potatoes onto this obsession wagon I would be a very happy cooking mama. Something about the orange is making the kiddos turn away from their plate. If they only knew and remembered how much they loved that weird orange food just a couple of years ago when they ate them all the time.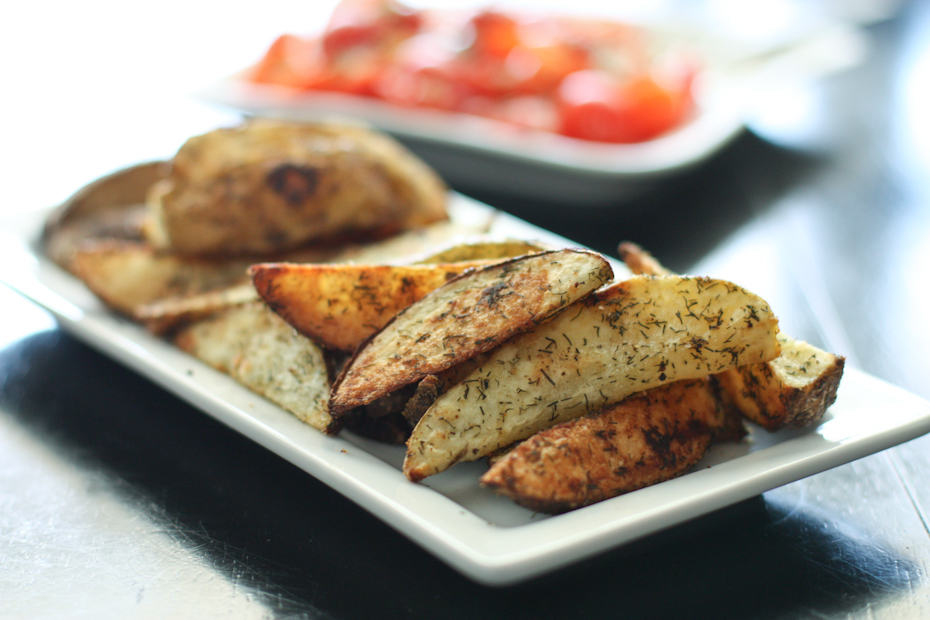 There are a million ways you can season and roast potatoes. This little roasted red potatoes with smoked paprika recipe has become quite popular on Pinterest. I've made it plenty of times, as I have already made this dill version a few times in the past month. I like to change up the shape of how I'm cutting them (crinkle fries anyone?) as well as the combination of spices every time I cook them.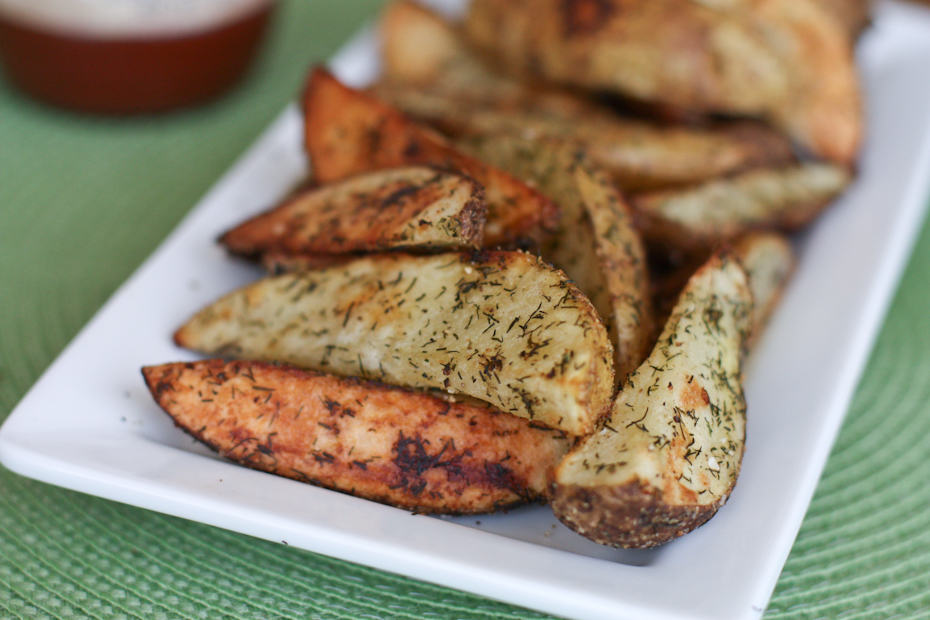 You all loved these grilled bison burgers, and that made me (and my hubby) happy. We think you'll also love these potato wedges that are perfect alongside any burger you cook up this summer.
Roasted Dill Potato Wedges
Ingredients:
6 -8 medium russet potatoes, cut into wedges evenly
2 teaspoons dried dill
1 1/2 teaspoons dried onion powder
a good pinch of coarse salt and fresh ground pepper
2 tablespoons grapeseed or canola oil (or any oil that can handle high temperatures)
Directions:
Preheat your oven to 425 degrees.
In a large bowl combine potato wedges with dill, onion powder, salt, pepper and oil. Gently toss and coat your potatoes well. Place on large baking sheet (may need two). Make sure to have potatoes spread out enough for best cooking results.
Bake in 425 degree oven for 25 - 30 minutes. At around 20 minutes, check your potatoes and gently turn or toss to brown up the other side. They are ready when they are browned and crisp on the outside.
Don't want to miss a post or recipe from me? Sign up for the new Aggie's Kitchen weekly newsletter here. You'll make me happy. Thank you!
Are you following me on Instagram, Twitter, Facebook and Pinterest? If you'd like to subscribe to Aggie's Kitchen and have each post delivered straight to your e-mail box, then please add your email here. Happy cooking!
There are affiliate links in this post. I make small earnings through any purchases made through these links. Thank you for supporting Aggie's Kitchen!
41 Responses to "Roasted Dill Potato Wedges"
Trackbacks/Pingbacks

Leave a Comment