Zucchini and Walnut Arugula Salad with Basil Vinaigrette {and $100 Food Network Store Giveaway}
(This post is sponsored by Fisher Nuts. I have been compensated for creating this recipe and for being part of the Fisher Fresh Thinker campaign. As always, all opinions are 100% my own.)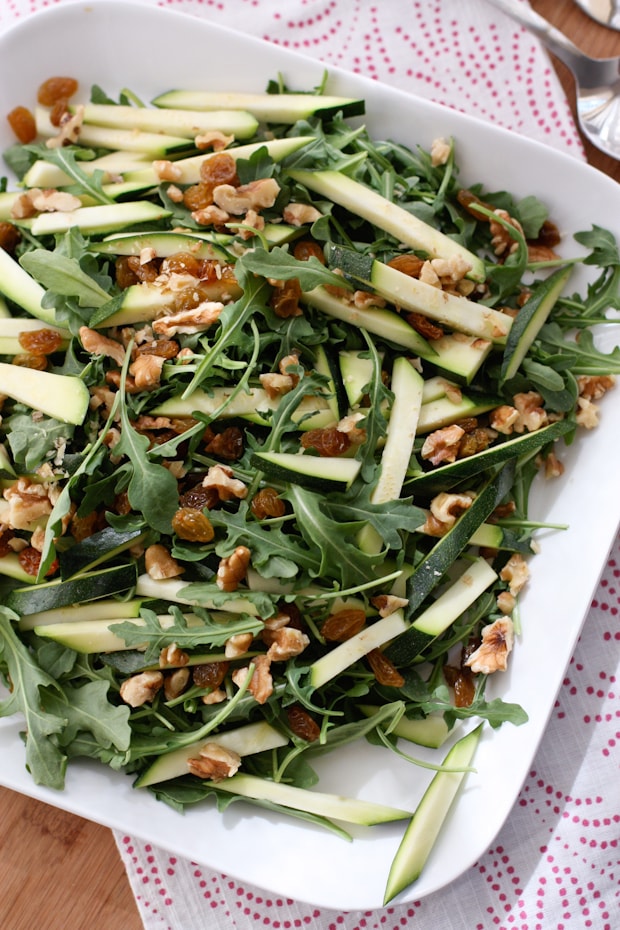 We've entered the time of year where I am seeing requests for recipes using zucchini everywhere I turn. Zucchini seems to take over gardens, farmer's markets and produce sections for a good part of summer and I love finding new ways to incorporate it into everyday recipes to keep things interesting.
When my kids were little, I always sliced a zucchini and sprinkled it with salt to give them as a snack on the counter while I cooked dinner. They never questioned what they were eating, and they finished up their healthy raw zucchini snack without complaining every single time (this made me so happy!!). I started eating it this way with them too and over the years started adding raw zucchini (and yellow squash) into salads more regularly. I think it makes a great healthy addition to a salad, especially when you add in some crunch from nuts and sweetness from raisins like in this Zucchini and Walnut Arugula Salad.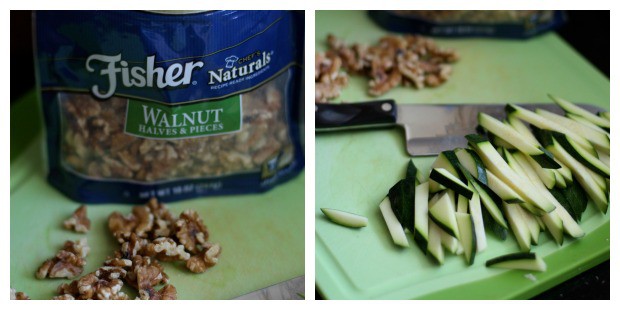 Walnuts are one of my favorite nuts to throw into salads. They have a ton of flavor when roasted (or quickly toasted up in a skillet) but I find myself eating them raw more often due to a bit of laziness but more importantly for added health benefits. Whether they are roasted or raw, they are an absolute must in almost every salad I make, especially in the summer time!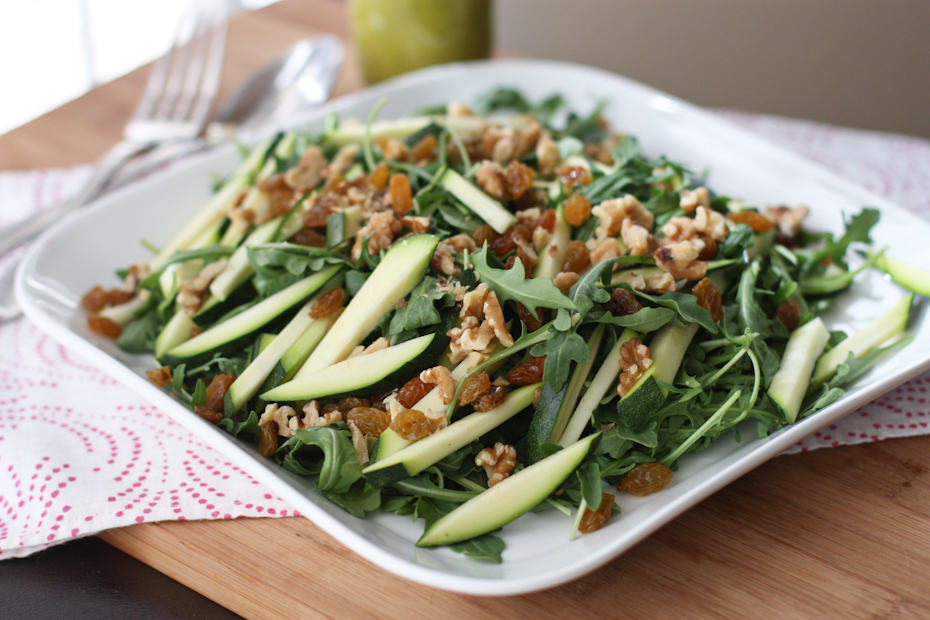 If you are planning a cookout this summer, this salad would be a perfect side dish to grilled fish, shrimp or chicken – or even better to offset some not so light summer grilled foods (I'm looking at you burgers, hot dogs and steaks). You can easily make the salad and the vinaigrette ahead of time and toss together right before serving. A little crumbled feta, or shaved Parmesan would be a nice way to kick up the flavor in this salad even more.
Enjoy!
Print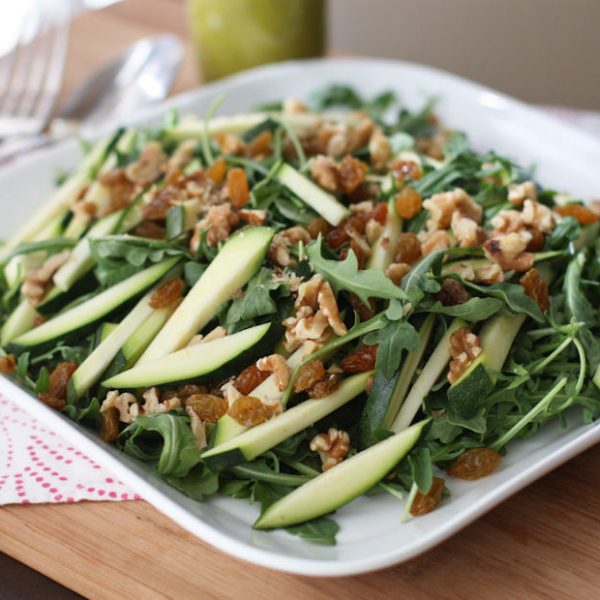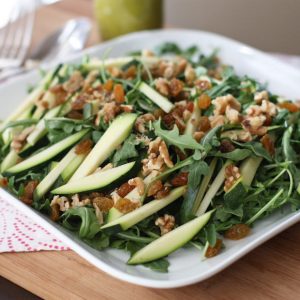 Zucchini and Walnut Arugula Salad with Basil Vinaigrette
Author:
Category: Salad
Method: Blender
(This post is sponsored by Fisher Nuts. I have been compensated for creating this recipe and for being part of the Fisher Fresh Thinker campaign. As always, all opinions are 100% my own.)
---
Ingredients
For the salad:
1 4oz bag baby arugula
1 large zucchini, julienned
1/3 cup chopped Fisher Nuts Walnuts (raw or toasted)
1/3 cup golden raisins
crumbled feta or shaved Parmesan, optional
For the vinaigrette:
2 tablespoons fresh lemon juice
1/4 cup apple cider vinegar
1/3 – 1/2 cup extra virgin olive oil
small handful of fresh basil leaves (about 12 large leaves)
2 teaspoons honey
big pinch coarse salt and fresh ground pepper
---
Instructions
To make the Basil Vinaigrette: Combine lemon juice, apple cider vinegar, olive oil, basil, honey, salt and pepper in a blender and blend for about 30 seconds until emulsified. Set aside (on counter).
To prepare salad: Place arugula on large serving plate. Top with freshly julienned zucchini, golden raisins and chopped walnuts. Dress the salad in vinaigrette (do not use all of the dressing, start with small amount and adjust to your liking) and gently toss right before serving.
---
Notes
Notes: Dried cranberries would be a tasty substitute for dried raisins, or try switching out pecans for the walnuts!
For more summer salad inspiration, check out Chef Alex Guarnaschelli's summer salad recipes on Fisher Nuts' website.
(This post is sponsored by Fisher Nuts. I have been compensated for creating this recipe and for being part of the Fisher Fresh Thinker campaign. As always, all opinions are 100% my own.)
***GIVEAWAY***
Details:
Winner will receive $100 Gift Card to the Food Network Store.
Choose from many products to create your own summer salad kit (salad bowls, utensils, and items for entertaining)!
To Enter:
Leave a comment on this blog post telling me your favorite nut to use in summer salads (i.e. walnuts, pecans, almonds). Your comment will be counted as your entry into the giveaway.
Giveaway starts Wednesday July 2, 2014 and ends Monday July 7, 2014 at 12 noon (EST). I will pick a winner randomly using the Pick Giveaway Winner tool on my blog. Winner will be contacted by me via email and will have 48 hours to reply before another winner will be selected.
(note: if you are commenting on Aggie's Kitchen for the first time, it may take some time to see your comment appear. Thanks for your patience!)
Follow Aggie's Kitchen's board Salads on Pinterest.
Are you following me on Instagram, Twitter, Facebook and Pinterest? If you'd like to subscribe to Aggie's Kitchen and have each post delivered straight to your e-mail box, then please add your email here. Happy cooking!
There are affiliate links in this post. I make small earnings through any purchases made through these links. Thank you for supporting Aggie's Kitchen!