Garden Pasta Salad with Chicken Sausage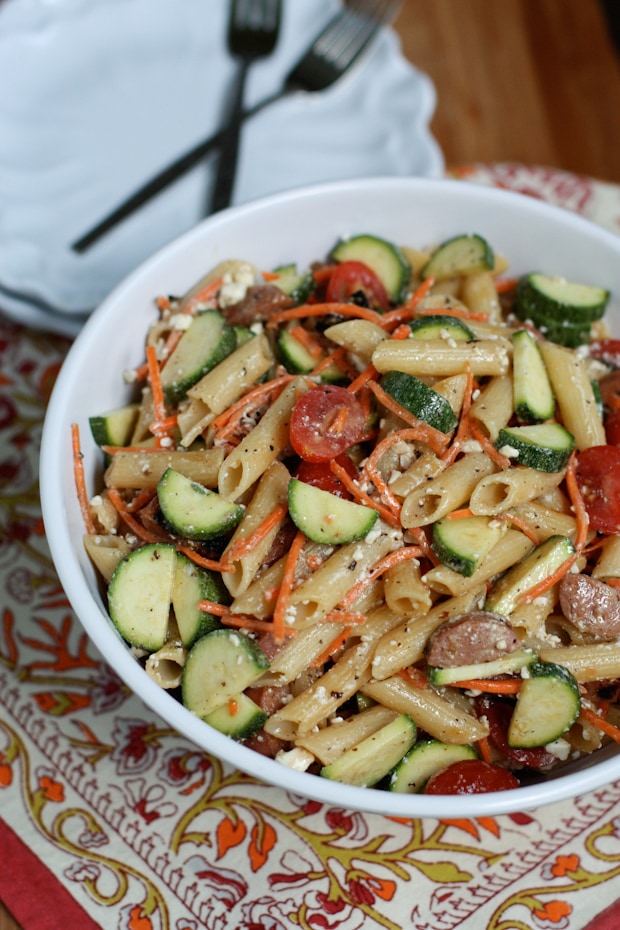 Earlier this summer my daughter requested I make a pasta salad. She didn't have to ask me twice! I always love a good pasta salad and tend to volunteer to make them whenever invited to a potluck, but I have to admit I avoid making them for our meals at home because honestly, I don't have a lot of self control when it comes to eating pasta. Knowing that more of that big bowl of pasta salad will be shared with more of my family gave me more incentive to make it for dinner a few times this summer (my husband and daughter will eat it, my older son is still not on board but I have a feeling our littlest guy will be a fan soon enough).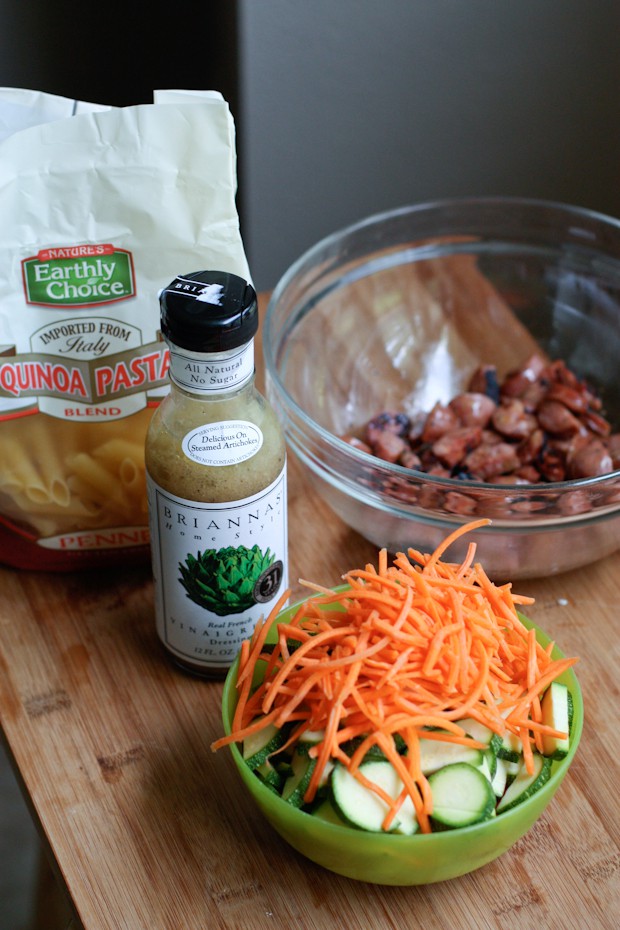 I used quinoa pasta for this pasta salad recipe (found a great big bag at Costco recently), but your favorite whole wheat or regular pasta would work just fine. I kept things simple and summery with sliced raw zucchini, shredded carrots and grape tomatoes. The bite sized pieces of chicken sausage made it a tad heartier (for those that don't think pasta salad could count as a meal) but the sausage could easily be replaced with beans to turn this pasta salad into a vegetarian dish. And because I'm all about shortcuts these days I used a bottled vinaigrette – this one from Brianna's was just recenly introduced to me by my friend Shari and I am absolutely in love with it (among a few of their others).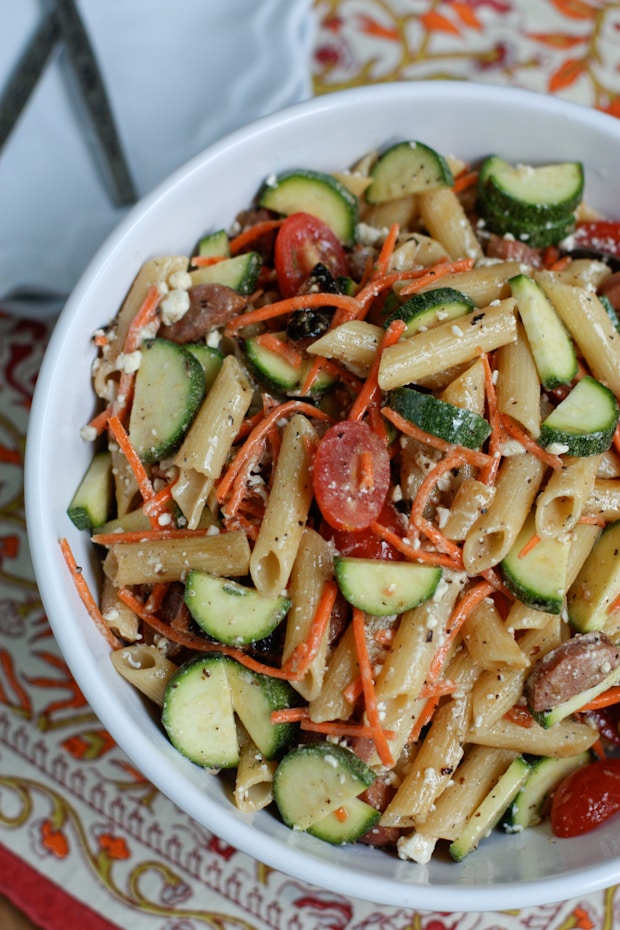 Since I know I have a hard time controlling myself around pasta, I try to bulk up my pasta dishes with as many vegetables as possible. I added a couple large handfuls of spinach and baby kale mix to a serving of this garden pasta salad with a couple extra splashes of dressing. It was perfect. My husband and daughter approved and agreed!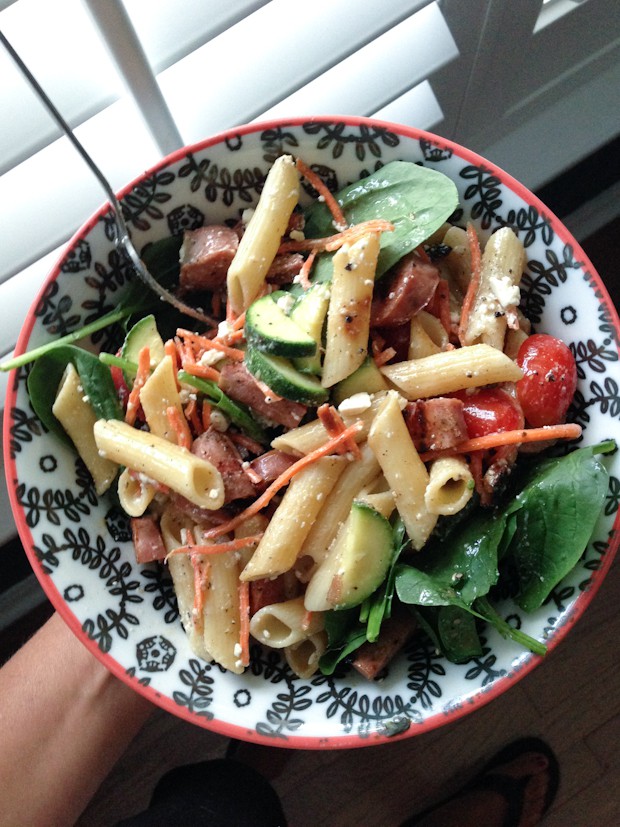 Hope everyone is having a GREAT summer! xo
Garden Pasta Salad with Chicken Sausage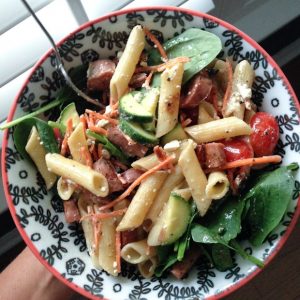 Ingredients:
3 cups uncooked quinoa pasta (or pasta of your choice)
3 precooked chicken sausage links, halved and quartered (cut into half moon size) - I used Aidells Chicken and Apple Sausage
2 large zucchini, halved and quartered (cut into half moon size)
1 cup halved grape tomatoes (about 3/4 pint)
1 cup matchstick carrots (or shredded)
1/2 cup crumbled feta cheese
1/2 cup your favorite vinaigrette or dressing - divided
(see notes for optional add in ideas)
Directions:
Cook pasta according to directions. Drain and lightly rinse (to stop cooking process) and set aside to cool.
In a large nonstick skillet over medium heat, cook chicken sausage pieces until browned, about 5-7 minutes. Set aside to cool.
In a large bowl combine cooked pasta and chicken sausage with 1/4 cup of dressing. Season with a pinch of coarse salt and fresh ground pepper.
When pasta mixture is completely cooled, add in vegetables and feta cheese. Toss gently with remaining 1/4 cup dressing. Serve chilled or at room temperature. (Note: if serving at a later time, add second 1/4 cup of dressing when ready to serve or you may be have to freshen up the salad with a few tablespoons of dressing since pasta salad is known to soak in dressing)
Optional add in ideas : ** 1 can drained and rinsed kidney beans and/or garbanzo beans (sub in for chicken sausage to make into a vegetarian dish) ** 1 small can sliced olives ** chopped fresh baby spinach or kale


Follow Aggie's Kitchen's board Pasta Salad! on Pinterest.
Are you following me on Instagram, Twitter, Facebook and Pinterest? If you'd like to subscribe to Aggie's Kitchen and have each post delivered straight to your e-mail box, then please add your email here. Happy cooking!
There are affiliate links in this post. I make small earnings through any purchases made through these links. Thank you for supporting Aggie's Kitchen!