Top 5 Favorites of 2009… #3 Roasted Vegetable Pesto Pizza
When I first started making this pizza, I was so addicted to it.  I made it every Friday night for weeks and weeks.  It has all the right flavors.  Here's a tip…whenever you are roasting veggies like red peppers, zucchini, squash and onions, roast more than you need.  You can always use the extra veggies…they are delicious when added to homemade pizza, salads and sandwiches or even processed together to make a dip like Ina's Roasted Eggplant Dip. The toasted pine nuts take the flavor combination on this pizza over the top.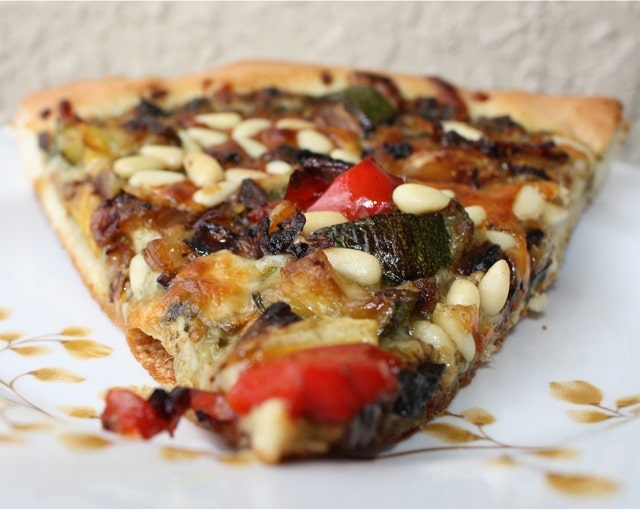 Roasted Vegetable Pesto Pizza
Recipe from Aggie's Kitchen
store bought or homemade pizza dough
1-2 red bell peppers, chopped
1-2 zucchinis, chopped
2 yellow squash, chopped
red onion, chopped
4-5 garlic cloves, crushed
store bought or homemade pesto
pine nuts
mozzarella cheese, shredded
2 tsp olive oil
salt and pepper
In a large bowl, toss veggies, olive oil and salt and pepper. Spread evenly on large baking sheet and place in a preheated 425 degree oven. Roast vegetables for approximately 20-25 minutes, tossing about halfway through.
Spread pizza dough out on flat surface. Work dough out, pulling and stretching gently until reaching desired size. I use a pizza stone and try to get the dough just slightly larger than the stone since it does tend to shrink back slightly.
Spread pesto evenly over pizza dough. Spread roasted vegetables over pesto. Top with pine nuts and mozzarella. Bake in 425 degree oven for approximately 15-20 minutes or until dough is golden brown and cheese is melted. Be sure to lift pizza up and check that the bottom is browning as well. If it is not, place on lower rack for a few more minutes.
Are you following me on Instagram, Twitter, Facebook and Pinterest? If you'd like to subscribe to Aggie's Kitchen and have each post delivered straight to your e-mail box, then please add your email here. Happy cooking!
There are affiliate links in this post. I make small earnings through any purchases made through these links. Thank you for supporting Aggie's Kitchen!