Top 5 Favorites of 2009… #2 Game Day Chili
Not only was this one of our favorite days of the year (Gator Football Game Day Opener!)…but this became one of the best things I've made all year.  Who knew adding 2 new flavors to good old chili would make it so good?  Those dried New Mexico chilies I found at Publix and a few pieces of chocolate really turned this chili into something special.  The list of ingredients seems long…but it's really no trouble since it's all going in one pot to cook slowly while you wait for kick off!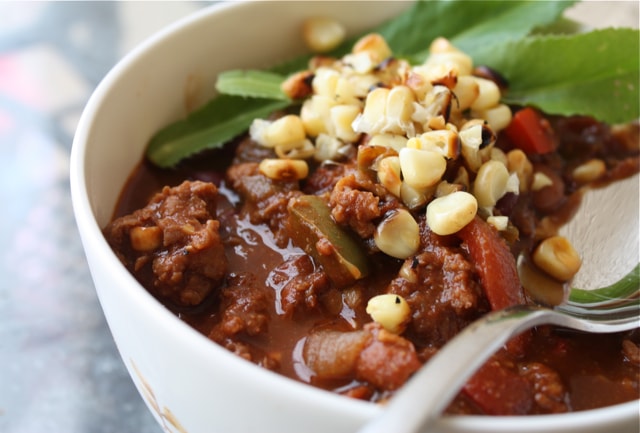 Game Day Chili
Recipe from Aggie's Kitchen
1 TB olive oil
3-4 cloves garlic, minced
1 Spanish onion, chopped
1 lb mild turkey sausage, casings removed
1 red pepper, chopped
1 green pepper, chopped
2 jalapenos, chopped
1 cup of grilled corn kernels, about 2-3 ears of corn
1 can chili beans, drained but not rinsed
1 can kidney beans, drained but not rinsed
3 TB chili powder (I did a combination of regular chili powder, chipotle chili powder and New Mexico chili powder)
1 TB smoked paprika
1 TB cumin
1 TB garlic powder
1 tsp cinnamon
3 good pinches of salt
1 dried New Mexico chili, whole
1/2 bottle Sam Adams Octoberfest (if you prefer not to use beer, sub 1 cup red wine, chicken broth or water)
1 28 can of diced tomatoes
4 squares dark chocolate (about 1 oz), rough chopped
Heat Dutch oven with 1 TB olive oil. Add onions and garlic and cook for 3-4 minutes until softened, season with salt and pepper. Add turkey sausage and crumble. Cook through, then add chopped peppers. Cook for about 10 minutes until peppers begin to soften. Add chili powder, spices, salt and dried chili and stir. Once all the spices have combined with veggies and meat, pour in half a bottle of Sam Adams Octoberfest (or any other beer you are drinking) and deglaze bottom of pot. Cook for 1-2 minutes then add in tomatoes and stir. Bring chili up to a boil then simmer for about 20-30 minutes. Add chocolate to chili and stir. Continue to cook for another 10-15 minutes on low heat. Taste for salt.
Serve with your favorite toppings: shredded cheese, sour cream or Greek yogurt, grilled corn kernels, chopped cilantro, green onions
Are you following me on Instagram, Twitter, Facebook and Pinterest? If you'd like to subscribe to Aggie's Kitchen and have each post delivered straight to your e-mail box, then please add your email here. Happy cooking!
There are affiliate links in this post. I make small earnings through any purchases made through these links. Thank you for supporting Aggie's Kitchen!