Top 5 Favorites of 2009….#1 Harissa Steak Sandwich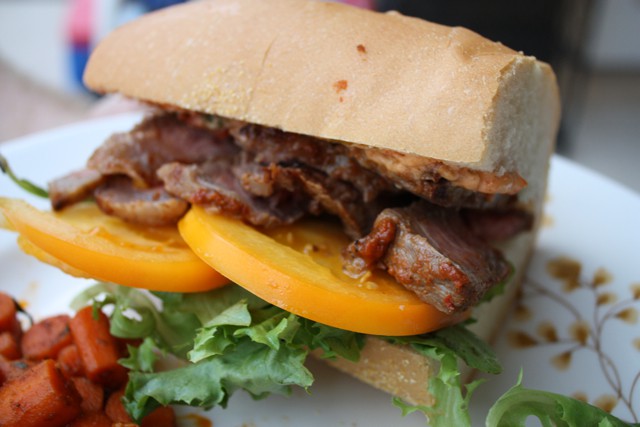 Not sure what I loved more about this sandwich…how unbelievably delicious it was or that I didn't have to cook it!  🙂
If you remember this post, my sweet non-cooking husband had the urge to make something and blog about it. After watching Next Food Network Star with me one night he picked this recipe from the runner up Jeffrey Saad.  I must admit, I was pretty impressed by my hubby's ambition and the outcome of it all.  If you can get your hands on some harissa (which we found at a local butcher/gourmet shop) please make this sandwich.  Make it exactly as it's shown…the yellow tomatoes, the cuban bread…the harissa mayo.  It's heavenly.  So heavenly that we decided it will be our last meal of 2009.  That's right…Larry is going back into the kitchen for an encore, and I am thrilled!
Happy New Year to all of you!  Wishing everyone Love and Laughter in 2010!
See you next week with lots of new healthy recipes to kick of the New Year!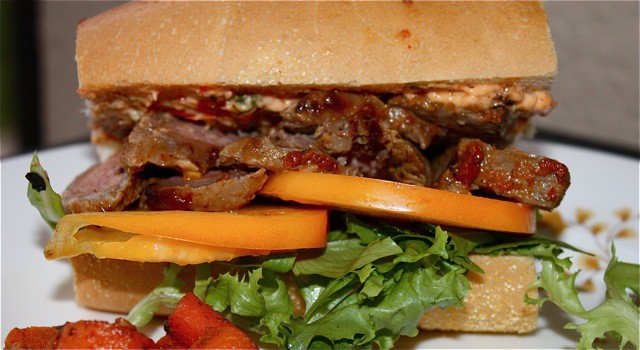 #3 Roasted Vegetable Pesto Pizza
#4 BBQ Pulled Pork and Chipotle Onion Sandwiches
Are you following me on Instagram, Twitter, Facebook and Pinterest? If you'd like to subscribe to Aggie's Kitchen and have each post delivered straight to your e-mail box, then please add your email here. Happy cooking!
There are affiliate links in this post. I make small earnings through any purchases made through these links. Thank you for supporting Aggie's Kitchen!