Thai Curry Spaghetti Squash
The other night on Facebook, a gal from my gym posted an update that she was making Thai Curry Spaghetti Squash. I instantly got a craving. It seemed like a really unusual pairing but it

really hit the spot with me. I love the spice and creaminess of curry…and love even more the health benefits of spaghetti squash. I couldn't wait to make it.
The beauty of social networking sites like Facebook and Twitter is the amount of access you have to other people all at once. I posted my need for a Thai Curry recipe and my blogging buddy Ninette from Big Bold Beautiful Food gave me a simple recipe to follow. I luckily had everything I needed on hand. In case you haven't been over to her blog, you really should. She has an amazing talent of making everything she makes look mouthwatering. She's always cooking different types of food and you will most definitely leave her site feeling hungry
So using some leftover London Broil and vegetables I had in the fridge, I whipped up a delicious coconut curry sauce and served it with spaghetti squash. Craving satisfied.
I can't wait to make this again!! Thank you Ninette!!
Thai Curry Spaghetti Squash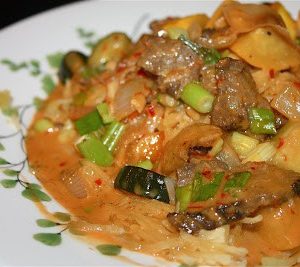 Ingredients:
1 spaghetti squash, cooked and "shredded"
1-2 TB red pepper infused oil or olive oil with pinch of red pepper flakes
1 onion, thinly sliced
2 garlic cloves, minced
London Broil, sliced thin and cut in small pieces
1 zucchini, quarter chopped
1 squash, quarter chopped
1-2 TB red curry paste
2-3 tsp fish sauce
1 TB brown sugar
1 can lite coconut milk
juice of 1 lime
2-3 scallions, chopped
chopped cilantro
Directions:
Heat oil with red pepper in a large nonstick skillet, cook onion and garlic for a few minutes until soft. Add London Broil pieces and veggies to pan and saute. Add 1 or 2 TB curry paste to meat and veggies and mix together. Add a few splashes (about 2-3 tsp) of fish sauce and brown sugar to pan. Mix together, then add a can of coconut milk (and some water if necessary). Simmer a few minutes or until your meat is tender. Add fresh squeezed lime juice, cut scallions and chopped cilantro. Serve over spaghetti squash.

Are you following me on Instagram, Twitter, Facebook and Pinterest? If you'd like to subscribe to Aggie's Kitchen and have each post delivered straight to your e-mail box, then please add your email here. Happy cooking!
There are affiliate links in this post. I make small earnings through any purchases made through these links. Thank you for supporting Aggie's Kitchen!