Sunday Morning Waffles …
Not long ago, a good friend of mine graciously lent me her waffle maker for a "test drive". I've been wanting to buy one of my own, but like most kitchen gadgets, I wasn't sure if it was something I was going to really use. My kids eat waffles for breakfast several times a week, so I thought, like pancakes, that it might be a good idea to make large batches of homemade waffles and freeze them.
So last Sunday, we tried out our first batch of homemade waffles. I'll just say that I couldn't make them fast enough! Everyone loved them…and they just kept asking for more! I was lucky enough to be able to sit down and eat the last two for my own breakfast.
I found a recipe on Recipezaar that I toyed with and made my own. We have made them 2 Sundays in a row and have really enjoyed them both times. I am thinking it is going to become a Sunday tradition…
I guess I'll be going out to buy my own waffle maker this week…thank you Betsy for the loaner! 😉
Sunday Morning Waffles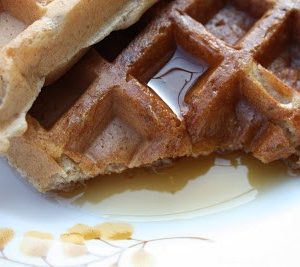 Ingredients:
1 cup whole wheat flour
1 cup all purpose flour
1/4 cup turbinado sugar (or regular sugar)
3 TB baking powder
3/4 teaspoon salt
2 cups lowfat buttermilk (can substitute lowfat milk)
3 eggs
1/3 cup applesauce
2 TB flax meal
1 tsp vanilla extract
1 tsp cinnamon
Directions:
Combine flour, sugar, baking powder, salt and cinnamon in a bowl. Add buttermilk, eggs, applesauce and flax meal to the dry ingredients and mix until combined. Pour approximately 1/3 cup of the batter per waffle into the waffle maker and cook according to waffle maker directions.
Serve with a small bit of butter, maple syrup and fruit.
(Gina and Sammy, Flagler Beach, Saturday April 4)

Follow Aggie's Kitchen's board Breakfast on Pinterest.
Are you following me on Instagram, Twitter, Facebook and Pinterest? If you'd like to subscribe to Aggie's Kitchen and have each post delivered straight to your e-mail box, then please add your email here. Happy cooking!
There are affiliate links in this post. I make small earnings through any purchases made through these links. Thank you for supporting Aggie's Kitchen!