Pint-Size Lemon-Poppy Seed Muffins
When I saw these cute little muffins in the most recent
bon appetit
magazine I just couldn't wait to make them. I love mini muffins. They are just so perfect for the kids to snack on or in this case to bring as a small token of appreciation to my YMCA pool staff for all of their great help in our team's tri training.
This is also my kind of baking. The recipe is straight forward and they cook up quick too. Nothing fancy about these little muffins, just plain goodness.
I think my son was a little disappointed when he realized that these weren't for him…so I guess I can make another batch for the kids tomorrow!
Pint-Size Lemon-Poppy Seed Muffins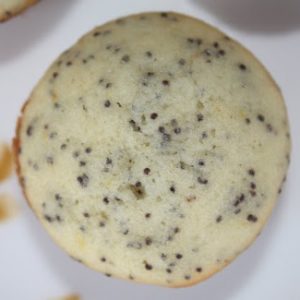 Ingredients:
2 cups all purpose flour
1 teaspoon baking powder
1/2 teaspoon coarse kosher salt
1/4 teaspoon baking soda
1/2 cup lowfat milk
1/2 cup lowfat plain yogurt
2 tablespoons fresh lemon juice
1 cup sugar
1/2 cup (1 stick) unsalted butter, room temperature
1 tablespoon (packed) finely grated lemon peel
2 large eggs
1/4 cup poppy seeds
Directions:
Position rack in center of oven and preheat to 350 degrees. Butter and flour mini muffin pans or line with paper liners. Whisk flour, baking powder, salt and baking soda in medium bowl. Whisk milk, yogurt and lemon juice in small bowl to blend. Using electric mixer, beat sugar, butter, and lemon peel in large bowl to blend. Add eggs 1 at a time, beating well after each addition until mixture is light and fluffy, occasionally scraping down sides of bowl. Beat in dry ingredients in 3 additions alternately with yogurt mixture in 2 additions. Mix until just blended. Mix in poppy seeds. Spoon batter into prepared muffin cups by generous tablespoonfuls.
Bake muffins until tester inserted into center comes out clean, 22-24 minutes (I thought 18 minutes was better). Cool in pans 5 minutes. Remove muffins from pans and cool on rack.

Are you following me on Instagram, Twitter, Facebook and Pinterest? If you'd like to subscribe to Aggie's Kitchen and have each post delivered straight to your e-mail box, then please add your email here. Happy cooking!
There are affiliate links in this post. I make small earnings through any purchases made through these links. Thank you for supporting Aggie's Kitchen!