Chinese Chicken Salad
YUM!
This salad is officially a new favorite in my book. I had no idea it would be this good! I made this the other night for dinner for a friend of mine and I. We served it over fresh spinach leaves for a light weeknight dinner and it was perfect. Leftovers for lunch the next day were even better.
The salad was really easy to put together. I had roasted the chicken earlier in the day so that it was ready to be shredded. I also blanched the asparagus at the same time and kept them in the fridge to chill. The dressing was a breeze to throw together – I just love making my own fresh salad dressings. I originally thought about serving this salad over some cold sesame noodles or even in a pita, but the fresh spinach leaves worked out wonderfully to make this a great dinner salad.
Thank you to Kenzie over at Kenzie's Kitchen for choosing this month's recipe…go check her out along with the rest of the Ina Garten fans over at Barefoot Bloggers! The Barefoot Bloggers are a group of cookers and bakers brought together to test out the talented Ina Garten's always fantastic recipes…come join us!
Chinese Chicken Salad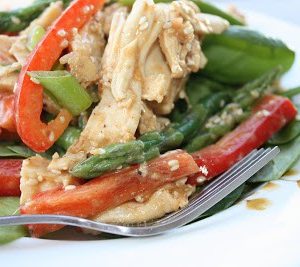 Ingredients:
4 split chicken breasts (bone-in, skin-on) (I used boneless, skinless chicken breasts)
Good olive oil
Kosher salt
Freshly ground black pepper
1/2 pound asparagus, ends removed, and cut in thirds diagonally
1 red bell pepper, cored and seeded
2 scallions (white and green parts), sliced diagonally
1 tablespoon white sesame seeds, toasted
For the dressing:
1/2 cup vegetable oil
1/4 cup good apple cider vinegar
3 tablespoons soy sauce
1 1/2 tablespoons dark sesame oil
1/2 tablespoon honey
1 clove garlic, minced
1/2 teaspoon peeled, grated fresh ginger
1/2 tablespoon sesame seeds, toasted
1/4 cup smooth peanut butter
2 teaspoons kosher salt
1/2 teaspoon freshly ground black pepper
Directions:
Preheat the oven to 350 degrees F.
Place the chicken breasts on a sheet pan and rub with the skin with olive oil. Sprinkle liberally with salt and pepper. Roast for 35 to 40 minutes, until the chicken is just cooked. Set aside until cool enough to handle. Remove the meat from the bones, discard the skin, and shred the chicken in large bite-sized pieces.
Blanch the asparagus in a pot of boiling salted water for 3 to 5 minutes until crisp-tender. Plunge into ice water to stop the cooking. Drain. Cut the peppers in strips about the size of the asparagus pieces. Combine the cut chicken, asparagus, and peppers in a large bowl.
Whisk together all of the ingredients for the dressing and pour over the chicken and vegetables. Add the scallions and sesame seeds and season to taste. Serve cold or at room temperature.
Recipe from Ina Garten, Barefoot Contessa Parties! and Food Network

PS…I will be posting my Craving Ellie in my Belly recipe tomorrow…it's dinner tonight!!


Are you following me on Instagram, Twitter, Facebook and Pinterest? If you'd like to subscribe to Aggie's Kitchen and have each post delivered straight to your e-mail box, then please add your email here. Happy cooking!
There are affiliate links in this post. I make small earnings through any purchases made through these links. Thank you for supporting Aggie's Kitchen!