Buffalo Chicken Salad with Blue Cheese Dressing
I'm really trying to make it a habit to have more salads for dinner. So far, thanks to the last couple of recipes chosen for the Craving Ellie in my Belly group, I've been able to do that. For me the key to a salad is lots of flavor. I can't feel like a rabbit when I'm eating salad.
This week's CEimB recipe is Buffalo Chicken Salad with Blue Cheese Dressing and was chosen by AJM of You Eat Now. It was really a nice weeknight recipe, the chicken cooks up quickly under the broiler and the salad dressing was whipped up in no time. We are big fans of buffalo chicken in our house so this was a great way to get our "hot wing" fix in a much healthier way.
The recipe calls for simply tossing the uncooked chicken strips in your favorite hot sauce (Frank's is the way to go!). I decided to add another layer of flavor to the chicken by marinating it with some olive oil, salt, pepper, garlic and chili powders before adding the hot sauce. Also, since we like it really hot, I tossed the broiled chicken in more hot sauce before topping it on the salad. I wasn't sure if it would be filling enough for my husband, but he seemed pretty satisfied and said it was great. Oh…and I thought the dressing was really yummy. I poured all the ingredients in a small mason jar and just gave it a few shakes…and voila, homemade blue cheese dressing.
Print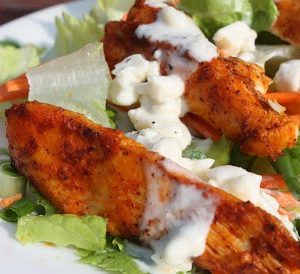 Buffalo Chicken Salad with Blue Cheese Dressing
Author:
Category: Chicken
Method: Oven
---
Ingredients
Buffalo Chicken Salad
2 (8-ounce) boneless, skinless chicken breast halves
2 tablespoons cayenne pepper hot sauce (or other hot sauce), plus more to taste
2 teaspoons olive oil
2 hearts Romaine, cut into 1-inch strips (about 8 cups)
4 celery stalks, thinly sliced
2 carrots, coarsely grated
2 scallions, green part only, sliced
1/2 cup Blue Cheese Dressing, recipe follows
Blue Cheese Dressing
2 tablespoons mayonnaise
1/4 cup lowfat buttermilk
1/4 cup plain fat-free yogurt (I used Greek yogurt to avoid the straining process)
1 tablespoon white vinegar
1/2 teaspoon sugar
1/3 cup crumbled blue cheese
Salt and freshly ground pepper
---
Instructions
Buffalo Chicken Salad
Preheat the broiler. Put the chicken between 2 sheets of waxed paper and pound with a mallet or hammer so the chicken is an even thickness of about 3/4-inch, then cut the chicken crosswise into 1/2-inch strips. In a large bowl, combine the hot sauce and the oil, add chicken and toss until the chicken is well coated. Arrange the chicken on a baking sheet and broil until it is cooked through, about 4 to 6 minutes, turning once.
In a large bowl combine the Romaine, celery, shredded carrots and scallions. Toss with the dressing. Divide the greens between 4 plates, top with the chicken. Serve with extra hot sauce.
Blue Cheese Dressing
Fold a full sheet of paper towel into quarters and put it into a small bowl. Spoon the yogurt onto the paper towel and place in the refrigerator for 20 minutes to drain and thicken. In a medium bowl, whisk the buttermilk and thickened yogurt into the mayonnaise until smooth. Add the vinegar and sugar and continue to whisk until all the ingredients are well combined. Stir in the blue cheese and season, to taste, with salt and pepper.
---

Are you following me on Instagram, Twitter, Facebook and Pinterest? If you'd like to subscribe to Aggie's Kitchen and have each post delivered straight to your e-mail box, then please add your email here. Happy cooking!
There are affiliate links in this post. I make small earnings through any purchases made through these links. Thank you for supporting Aggie's Kitchen!