Penne with Sausage, Spinach and Tomatoes
Treat your family to a homemade Italian meal with this easy Penne with Sausage, Spinach and Tomatoes dish. Hearty, healthy comfort food!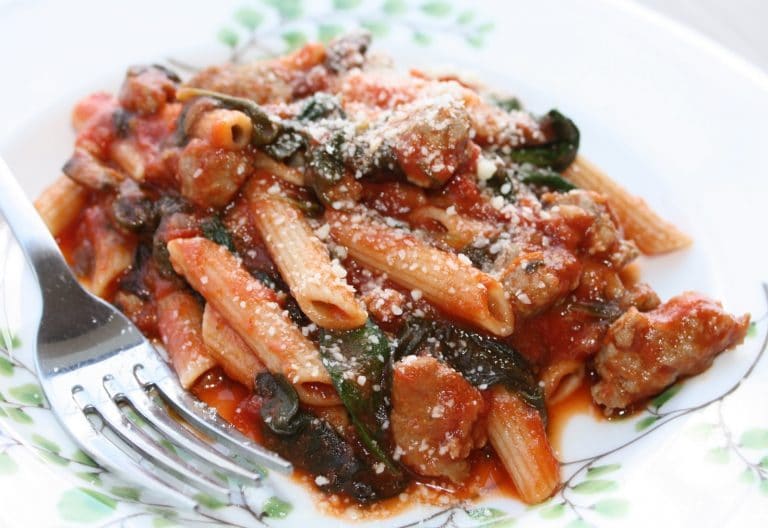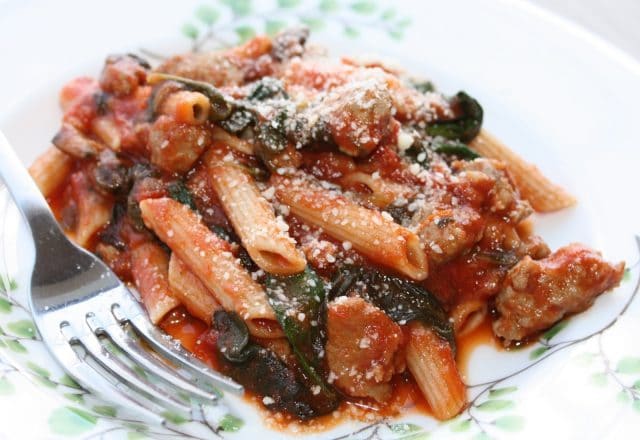 Pasta with sauce is total comfort food for me. Growing up in an Italian family, we had pasta often…very often. I could never get tired of it.
These days I don't eat pasta as often, but I do try to enjoy it at least once a week or so. This pasta dish can be easily made on a week night…it's that easy. And even better…it's healthy and delicious. Its full of good stuff for you…tomatoes and spinach, and lightened up turkey sausage.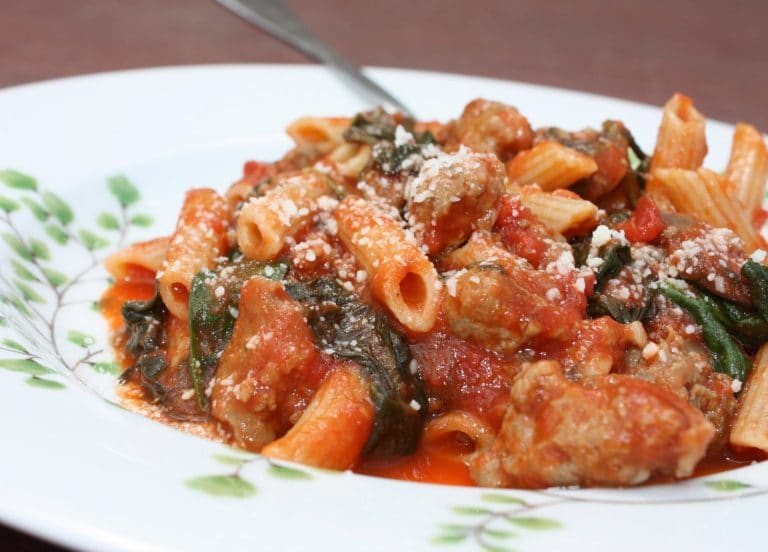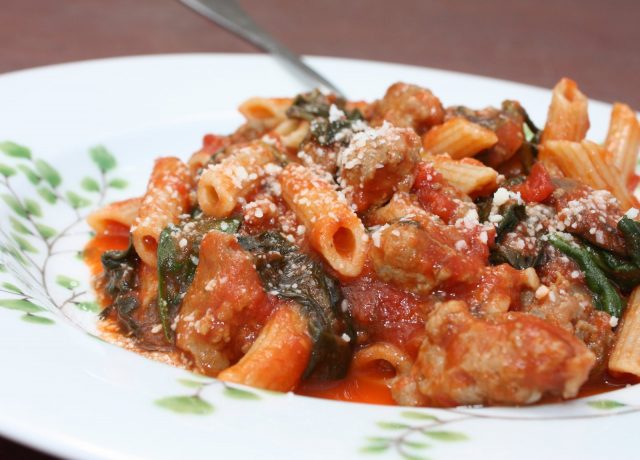 It's hard to believe, but I'm entering into my 9th week of training for my triathlon. The race is fast approaching and I'm really getting excited about it. I have joined a team of amazing women at my YMCA and am so enjoying sharing this training experience with them. We have been training 6 days a week (I'm really happy if I get in 5!) and have started completing "bricks" on Saturday mornings…bricks are when two legs of the training are combined, for example this past Saturday we rode 13 miles on our bikes then ran for 25 minutes. These next few weeks we are adding in open water swims as well as more intense workouts. If you've ever thought of trying a sprint triathlon I encourage you to find a training group, it's really motivating to have others along for the ride with you and makes for an unforgettable experience!
Enjoy your pasta!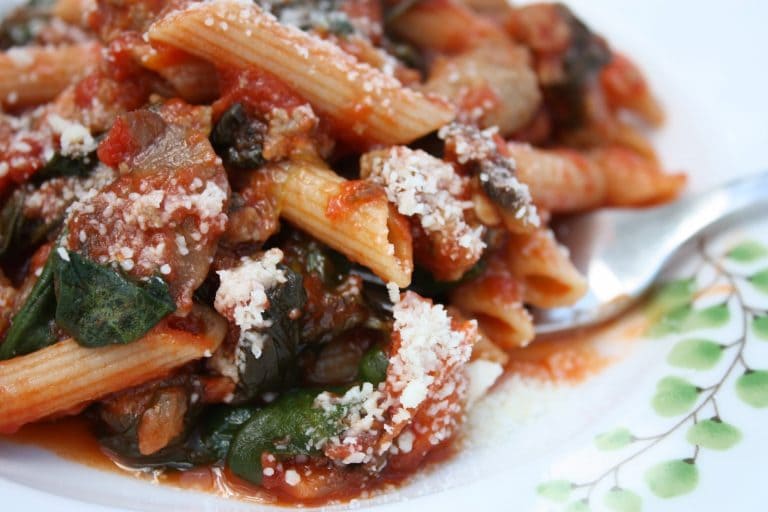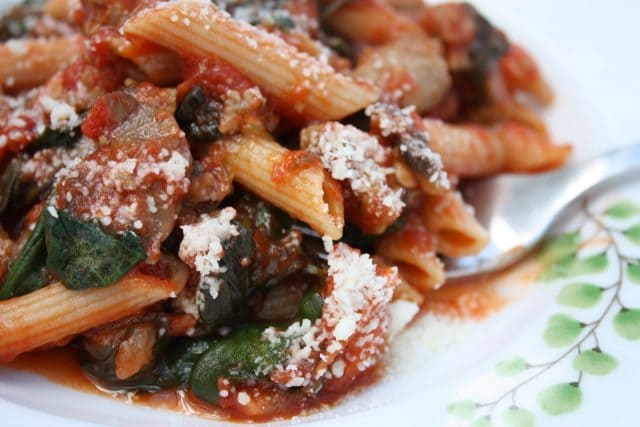 Penne with Sausage, Spinach and Tomatoes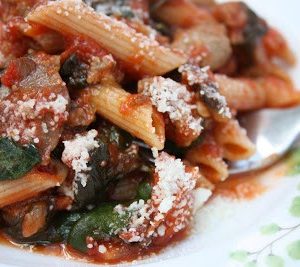 Ingredients:
1/2 lb whole wheat penne pasta
2 tsp olive oil
1 medium onion, chopped
2-3 cloves garlic, minced
salt and pepper to taste
3-4 links Italian Turkey Sausage, casings removed
1 large can of crushed tomatoes
1 small can of Italian diced tomatoes
1/2 bag of fresh spinach
Parmesan cheese, for serving
Red pepper flakes, for serving
Directions:
Bring pot of salted water to a boil to cook pasta. Cook pasta according to directions on box, slightly under cook because you will be adding pasta to sauce while still on heat.
In a large saute pan, drizzle a couple of teaspoons of olive oil and start to cook onion and garlic. Once onions start to soften, add sausage and begin to crumble and cook in pan. Cook sausage completely, approximately 8-10 minutes. Add cans of crushed tomatoes and diced tomatoes to pan. Add salt and pepper to taste. Cook together for about 5-8 minutes so sauce flavors combine. Add fresh spinach leaves to sauce and combine. Add cooked pasta to sauce and toss.
Serve with Parmesan cheese and red pepper flakes.
Are you following me on Instagram, Twitter, Facebook and Pinterest? If you'd like to subscribe to Aggie's Kitchen and have each post delivered straight to your e-mail box, then please add your email here. Happy cooking!
There are affiliate links in this post. I make small earnings through any purchases made through these links. Thank you for supporting Aggie's Kitchen!