Summer White Chicken Chili Verde
This Summer White Chicken Chili Verde is chock full of protein, summer vegetables and flavor. Delicious for a nutritious meal any time of the year!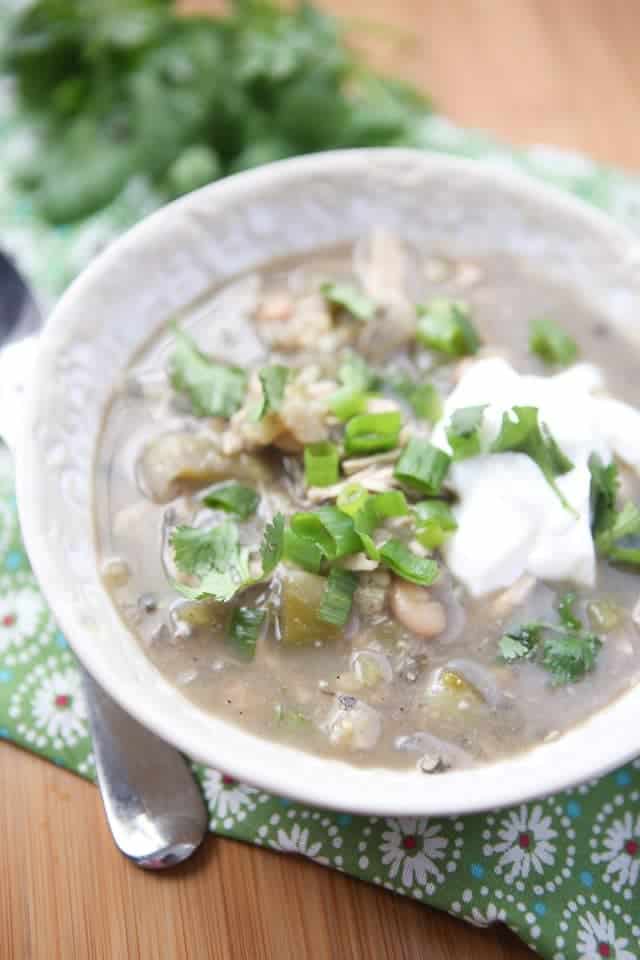 This Summer White Chicken Chili Verde recipe was originally shared with you in June 2014. I've updated it with new photos, nutrition information and slow cooker instructions. It's one I love making – leftovers make for quick healthy lunches. Enjoy!
Soup in the summer? Why yes, of course. I'm all in for soup for any time of the year, especially when it's full of seasonal veggies like this white chicken chili verde recipe I made last week.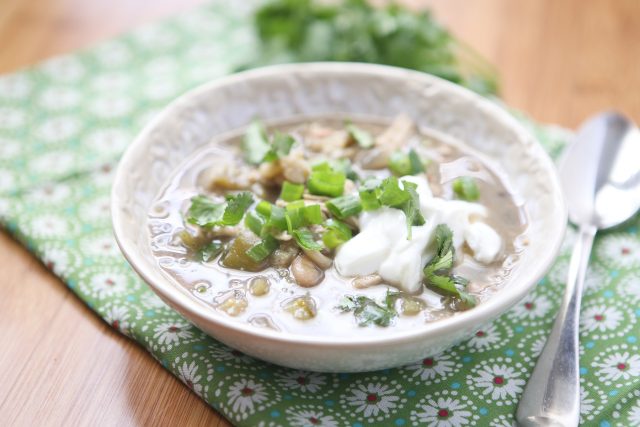 I have always found it best to have soup made and ready to eat in the fridge. It is truly one of my weekly go to meals especially when the late afternoons and evenings are busy with sports and activities or you're just feeling lazy at dinnertime. It's fairly easy to put together, though not necessarily quick – and it's as healthy and chock full of nutrition and goodness as you want it to be. I like to think of soup as a good friend who is always there for you. 🙂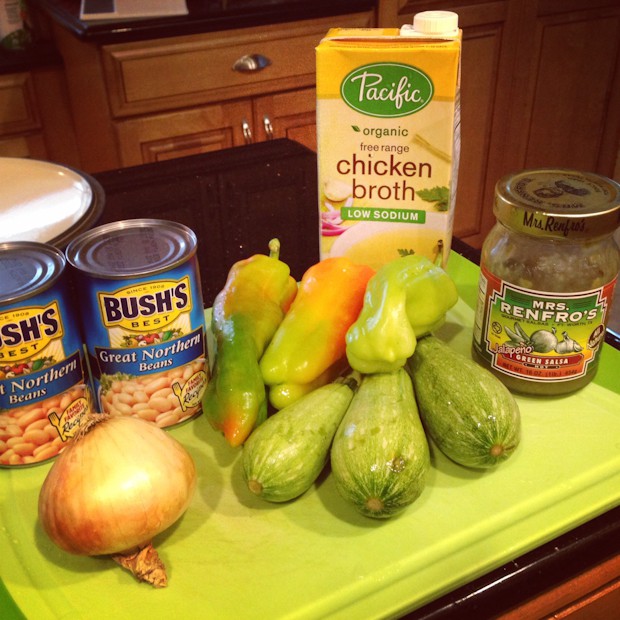 There is a great local produce market that I absolutely love to visit. I always leave there with way more fruits and veggies than I need, or can possibly cook in a week. I guess you can say this soup was inspired by a desperate attempt to clear out the produce drawer before anything went to waste. In the picture above you see some beautiful cubanelle peppers (that I can never ever resist) and a variation of zucchini I can only find at this produce market in the spring and summer. If you don't have either of these types of peppers or zucchini just substitute another kind of green pepper (poblano or bell would be great) or zucchini. Cubanelles typically have no heat and they have a light mild flavor so they are fun to cook with when you can find them (my grocery store tends to have them year round, I'm not sure if that's a regional thing or not).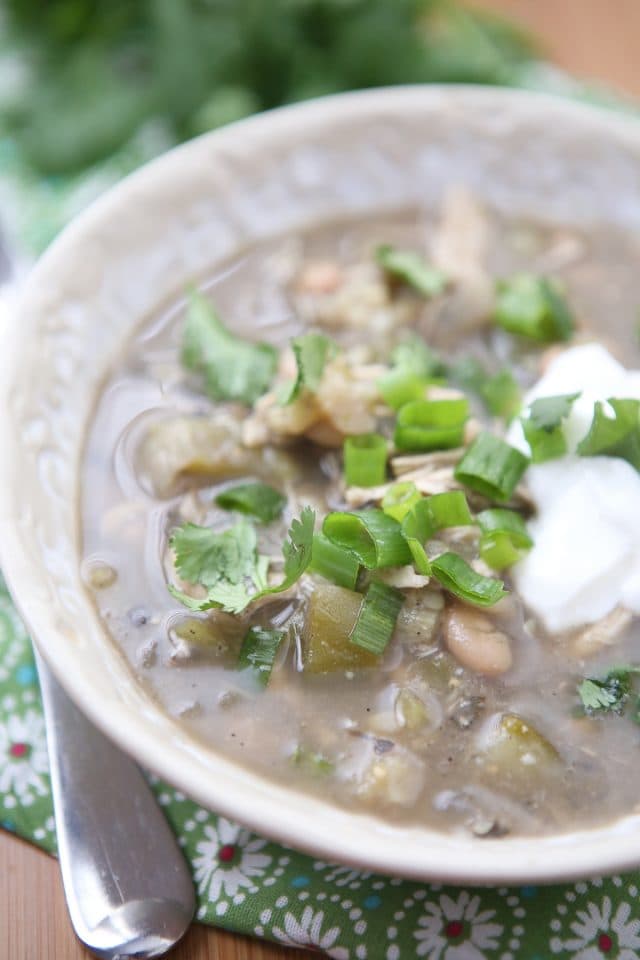 More favorite summer soups from my kitchen:
Summer Vegetable Soup with Pesto
Sausage and Summer Vegetable Soup
Summer soups from my friends:
Zucchini and Yellow Squash Soup with Rosemary and Parmesan | Kalyn's Kitchen
Chilled Cucumber Soup | It's Yummi
Smoky Sweet Corn Soup | Nutmeg Nanny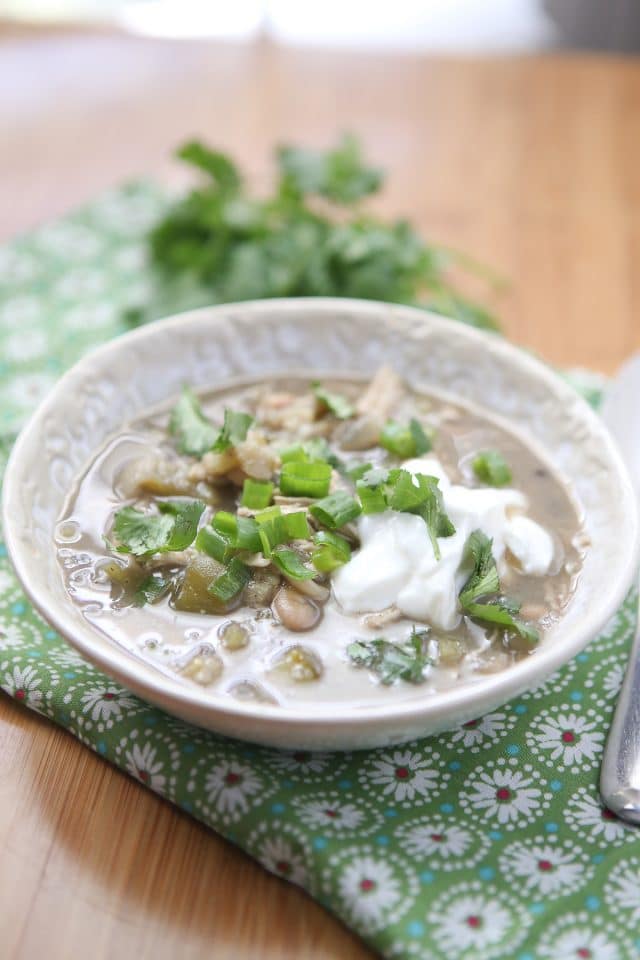 Summer Chicken Chili Verde
Yield: 8 servings, about 1 cup each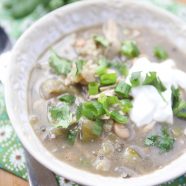 Ingredients:
1 tablespoon olive oil
3 cubabelle peppers, diced
3 zucchini, diced
1 Vidalia onion, diced
3 garlic cloves minced
1.5 lb boneless, skinless chicken breast
2 cans white beans, drained
4 cups low sodium chicken broth
1 cup green salsa
1 cup water
3 teaspoon ground cumin
2 teaspoon oregano
pinch coarse salt and pepper to taste
Directions:
In a large soup pot, heat your olive oil over medium heat. Add your onion and garlic and cook for a couple of minutes. Add your peppers and zucchini and cook for an additional 5 minutes until all the vegetables start to soften and are fragrant. Add cumin, oregano, salt and pepper to vegetable mixture and stir.
At this time add your beans, broth, salsa and whole chicken breasts. Cover pot and bring to a slow boil. Let simmer for 30-45 minutes until chicken is cooked through (take a fork and pull apart to check).
Once chicken is cooked through, pull out onto a plate or cutting board and carefully shred into small pieces using two forks. Add shredded chicken back into the soup pot and cook uncovered for another 10-15 minutes. Taste for salt and pepper and adjust.
Serve with lime, fresh cilantro, cheese or Greek yogurt as toppings.
Slow cooker instructions:  Reduce chicken broth amount to 3 cups and eliminate 1 cup water. Add ingredients to slow cooker and cook on high for 4 hours. Cook uncovered for about 30 minutes to thicken up (optional).
I use this slow cooker and love it.
Nutrition Information from My Fitness Pal: (per cup, does not include toppings) 270 Calories / 4 g Fat / 7g Dietary Fiber / 36g Protein
Don't forget to add the extras – cheese, Greek yogurt, lime and lots of cilantro always work for me!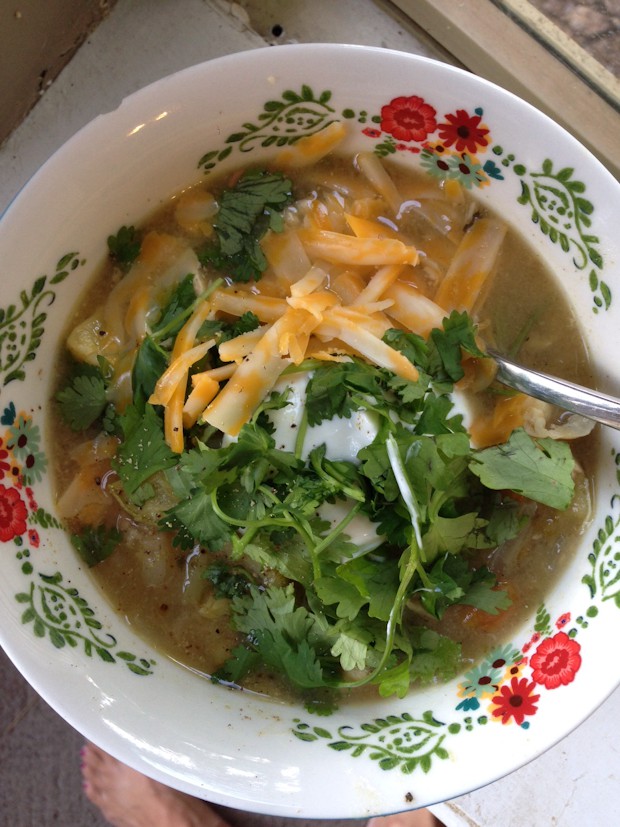 Follow Aggie's Kitchen's board Soup, Stew and Chili Recipes on Pinterest.
Are you following me on Instagram, Twitter, Facebook and Pinterest? If you'd like to subscribe to Aggie's Kitchen and have each post delivered straight to your e-mail box, then please add your email here. Happy cooking!
There are affiliate links in this post. I make small earnings through any purchases made through these links. Thank you for supporting Aggie's Kitchen!
19 Responses to "Summer White Chicken Chili Verde"
Trackbacks/Pingbacks

Pingback: Italian Orzo Soup

Leave a Comment