Summer Chicken Parmesan
If you asked me where my keys, cell phone or sunglasses are…I may not be able to tell you. But if you asked me what we had for dinner at a friend's house 8 years ago…then I just may be able to tell ya. Seriously…some meals are unforgettable right? Well, approximately 8 years ago, before my husband and I were married, we met up with a couple of his high school friends who were house sitting not far from where we lived at the time in Orlando. They invited us over for dinner, and I remember having a really nice evening with them. I also remember what they cooked…grilled chicken, topped with chunky tomato sauce and pasta.
Something about this meal stuck with me…maybe it was the good company, or maybe it was just how good and fresh it tasted. I specifically remember our friend squeezing the canned whole tomatoes with his hands to make the sauce…you would think this would not be new to me…but apparently it's taken me 8 years to actually make sauce this way on my own. Something about using whole tomatoes in your homemade tomato sauce…once those tomatoes get broken up, the smell of freshness is so overwhelmingly delicious. You've got to try it yourself.
We enjoyed this meal with some Summer Vegetable Gratin and of course some good Chianti…
Print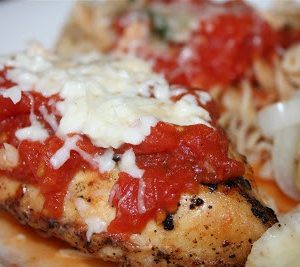 Summer Chicken Parmesan
Author:
Category: Chicken
Method: Grill/Stovetop
Cuisine: Italian
---
Ingredients
3–4 chicken breasts
olive oil
salt and pepper to taste
2 large cans whole peeled tomatoes
2–3 garlic cloves, minced
bunch fresh basil leaves
shredded mozzarella cheese
freshly grated Parmesan cheese
1/2 pound whole wheat pasta
---
Instructions
Cook pasta according to directions on box.
Season both sides chicken with olive oil, salt and fresh ground pepper to taste. Place over hot grill over medium heat. Cook for approximately 4-6 minutes on each side, depending on thickness. You can tell chicken is cooked through when juices run clear when pricked with fork or knife. Or cut through thick portion of chicken to check. After you take chicken off grill, cover with aluminum foil and let rest, chicken will continue to cook on its own for a few more minutes.
Pour canned whole tomatoes and their juices into a large bowl. Using your hands, gently squeeze tomatoes until crushed. Continue to crush until it reaches a thin, but still chunky, consistency.
In medium saucepan, heat olive oil over medium high heat. Add minced garlic and cook for 2-3 minutes till fragrant. Carefully add crushed tomatoes to garlic and olive oil. Bring sauce to a boil, then lower to simmer. Season with salt and pepper to taste. Simmer for 20-25 minutes. Add torn pieces of fresh basil to sauce and cook for an additional 5 minutes.
Serve grilled chicken and whole wheat pasta with chunky tomato sauce, sprinkled with shredded mozzarella and Parmesan cheese.
Are you following me on Instagram, Twitter, Facebook and Pinterest? If you'd like to subscribe to Aggie's Kitchen and have each post delivered straight to your e-mail box, then please add your email here. Happy cooking!
There are affiliate links in this post. I make small earnings through any purchases made through these links. Thank you for supporting Aggie's Kitchen!