Peach Blueberry Crumbles
Well today you are in for a treat. Two awesome recipes from two great ladies, Ina Garten and Ellie Krieger.
A little of this…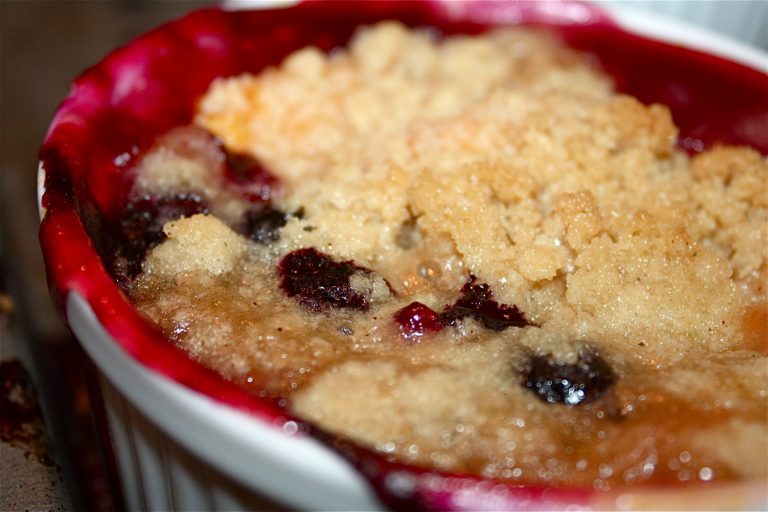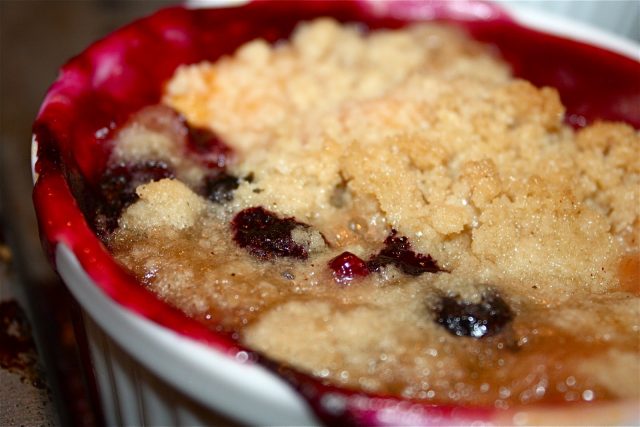 and a little of that…
If you are a reader of this blog, then I'm sure you know by now that I'm a big fan of both ladies and am often cooking up their recipes. Which is why I'm a member of two cooking groups – Barefoot Bloggers and Craving Ellie in my Belly. These groups are dedicated to making their recipes and sharing them with each other. This month was a little extra special for me because it was finally my turn to choose one of July's Barefoot Blogger recipes! It didn't take me too long to pick Peach Blueberry Crumbles, I was in the mood for a summery dessert, and since I'm not a very talented "baker", a fruit crumble was exactly what I had in mind.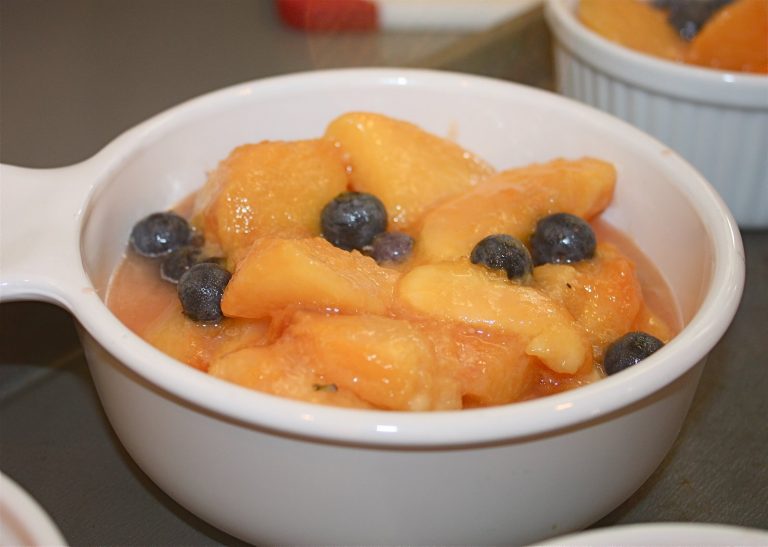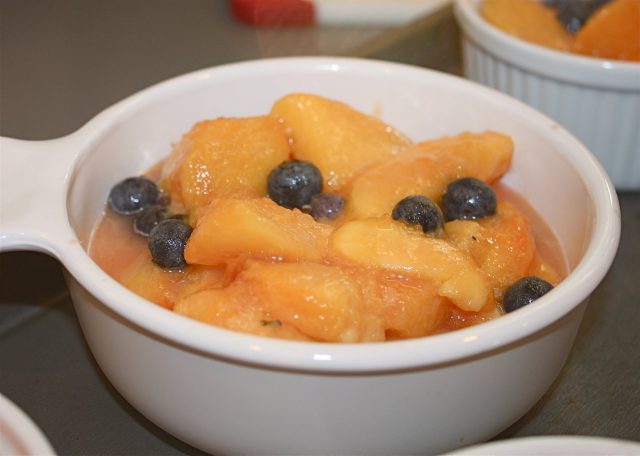 Right now in Florida, peaches and blueberries are everywhere. I love this time of year, there is an abundance of in-season fruit at the farmer's markets and grocery stores. While my sister in law Jamie and I were preparing this dessert we were loving the sweet smell of the peaches cooking. We made these for 4th of July and couldn't wait to get the fireworks going so we could enjoy our dessert while watching them.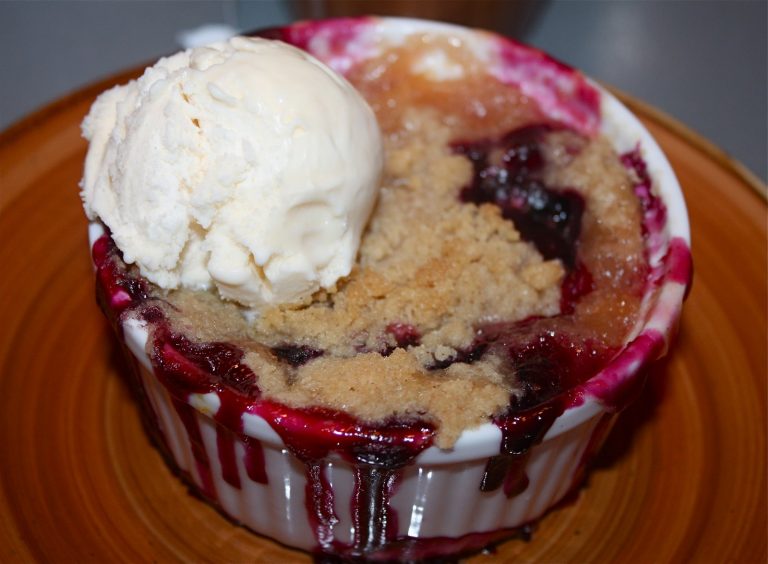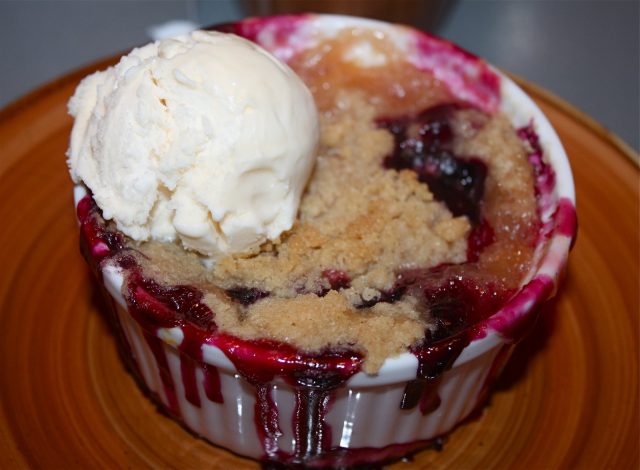 The crumbles were very easy to make and I followed the recipe to a tee. It helped that Jamie was there and did most of the measuring while I handled the fruit part. If you know me, I'm not big on measuring which is why baking is not really my thing. The good thing with making a crumble or a crisp is that you can fudge the measuring up a bit without messing it up to much. 😉
Hope all the Barefoot Bloggers enjoyed this recipe as much as we did!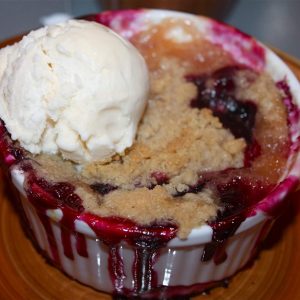 Ingredients:
For the fruit
2 tsp grated lemon zest
2 tbsp freshly squeezed lemon juice
1/2 cup granulated sugar
1/4 cup all-purpose flour
1 cup fresh blueberries (1/2 pint)
For the Crumble
1 cup all-purpose flour
1/2 cup granulated sugar
1/4 cup light brown sugar, lightly packed
1/2 tsp kosher salt
1/4 tsp ground cinnamon
1/4 lb (1 stick) cold unsalted butter, diced

2 lbs firm, ripe peaches (6-8 peaches)
Directions:
Preheat the oven to 350 degrees.
Immerse the peaches in boiling water for 30 seconds to 1 minute, until their skins peel off easily. Place them immediately in cold water. Peel the peaches, slice them into thick wedges, and place them in a large bowl. Add the lemon zest, lemon juice, granulated sugar, and flour. Toss well. Gently mix in the blueberries. Allow the mixture to sit for 5 minutes. Spoon the mixture into ramekins or custard cups.
For the topping, combine the flour, granulated sugar, brown sugar, salt, cinnamon, and the butter in the bowl of an electric mixer fitted with a paddle attachment. Mix on low speed until the butter is the size of peas. Rub the mixture with your fingertips until it's in big crumbles, then sprinkle evenly over the fruit. Place the ramekins on a sheet pan lined with parchment paper and back for 40 to 45 minutes, until the tops are browned and crisp and the juices are bubbly. Serve warm or at room temperature. If you want to make these early, store the unbaked crumbles int he refrigerator and bake before dinner.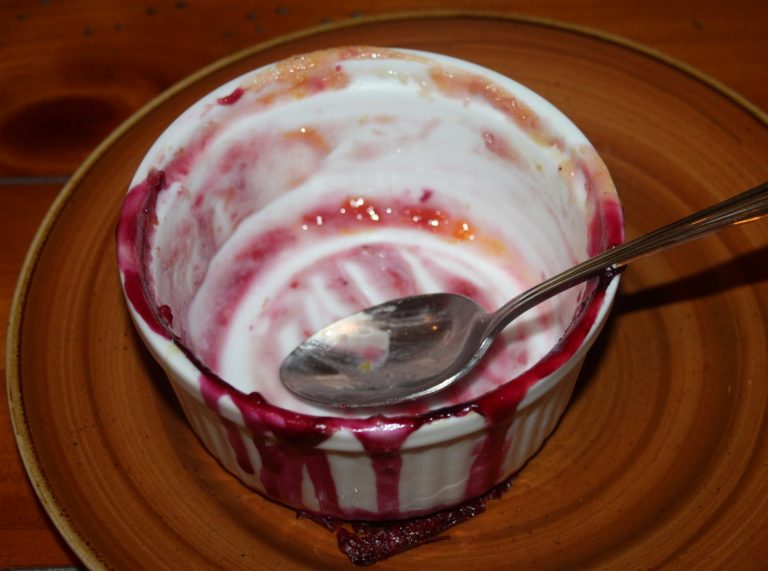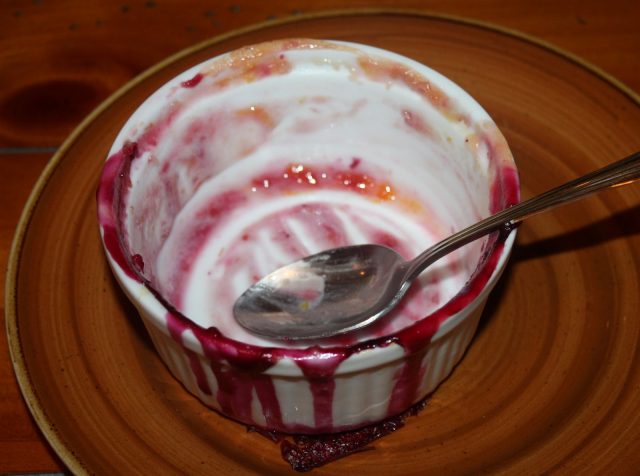 This week's Craving Ellie in my Belly recipe is Oven Baked Onion Rings chosen by one of my very favorite food bloggers Mary Ann from Meet Me in the Kitchen! I have been following Mary Ann's blog since the beginning of my life as a blogger and she amazes me with her constant cooking and baking, everything she makes looks so delicious and you will leave her blog hungry for sure.
(We had our onion rings with awesome Honey-Teriyaki Chicken)
We loved these onion rings!! Why haven't I made them before is all I kept thinking while I was eating them. I had to change up the original recipe a bit so that I could use what I had on hand. I subbed panko for the crushed baked potato chips and instead of buttermilk used some Oikos plain Greek yogurt (thanks for the coupons Oikos!!) thinned with some nonfat milk. I loved the kick from the cayenne in the breading and loved even more how crunchy they turned out – I used the air baking method that I use whenever I am baking anything breaded. These onion rings will definitely be making an appearance in my kitchen again!
You can find Ellie Krieger's original recipe for Oven Baked Onion Rings on Food Network. Here is my version of it:
Oven Baked Onion Rings
Recipe adapted from Ellie Krieger
Cooking spray
4 cups panko
1/2 teaspoon cayenne
1/2 cup plain Greek yogurt
1/2 cup non fat milk
1/2 cup plus 2 tablespoons whole wheat flour
salt and fresh ground black pepper to taste
1 to 2 large Vidalia onions, peeled Preheat the oven to 450 degrees F.
Place a cooking rack in large rimmed baking sheet and set aside. Place panko in a shallow bowl, add cayenne, salt and pepper to taste, and set aside. In another bowl, combine Greek yogurt, nonfat milk, 2 tablespoons of flour, salt and pepper and set aside. Slice onions into 1/2-inch circles and separate into rings, keeping only large, whole rings (reserve rest of onions for other uses).
Place the remaining flour in a sealable plastic bag, then add onions, and shake to coat. Dip onions 1 at a time into the yogurt mixture, then dip into panko and place on rack in baking sheet. Spray cooking spray evenly over rings and bake for 20 minutes, or until coating is crisp. Season with salt, to taste, and serve immediately.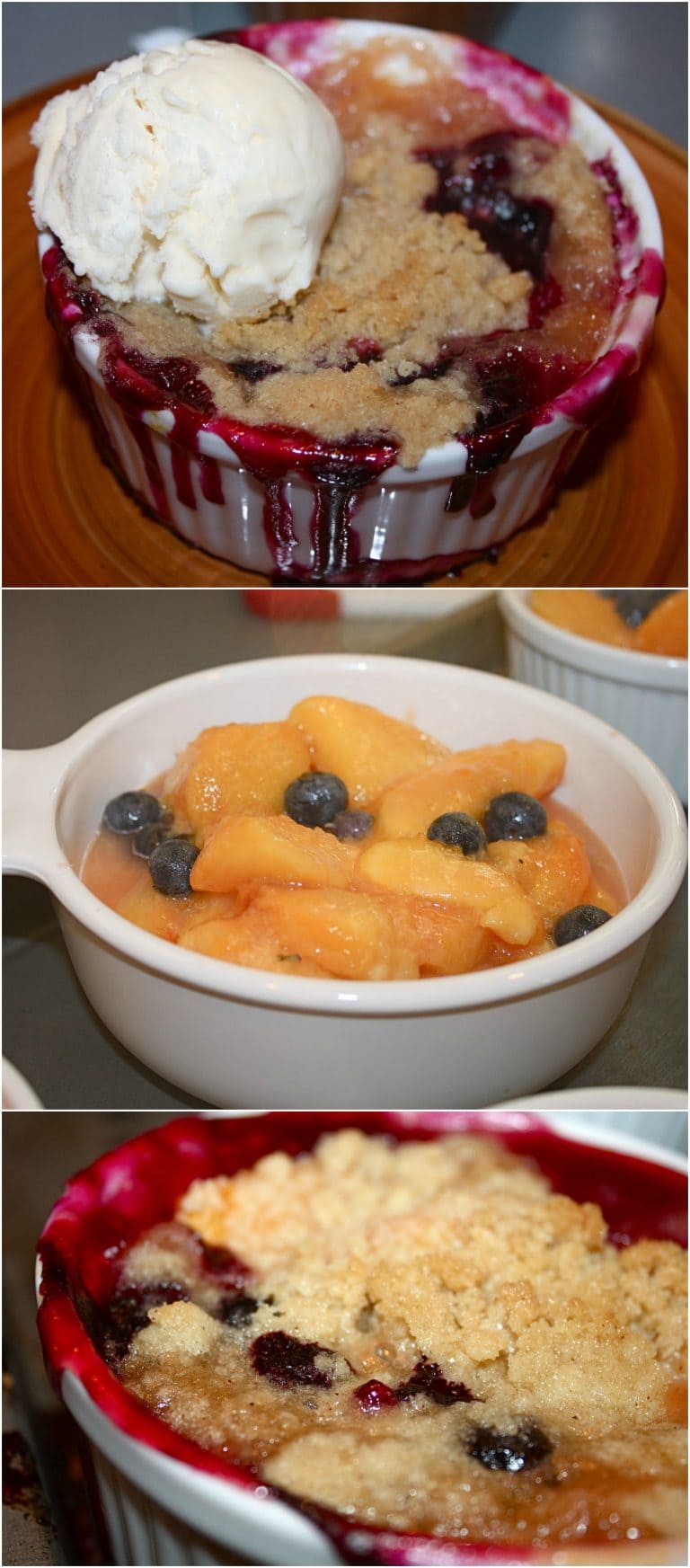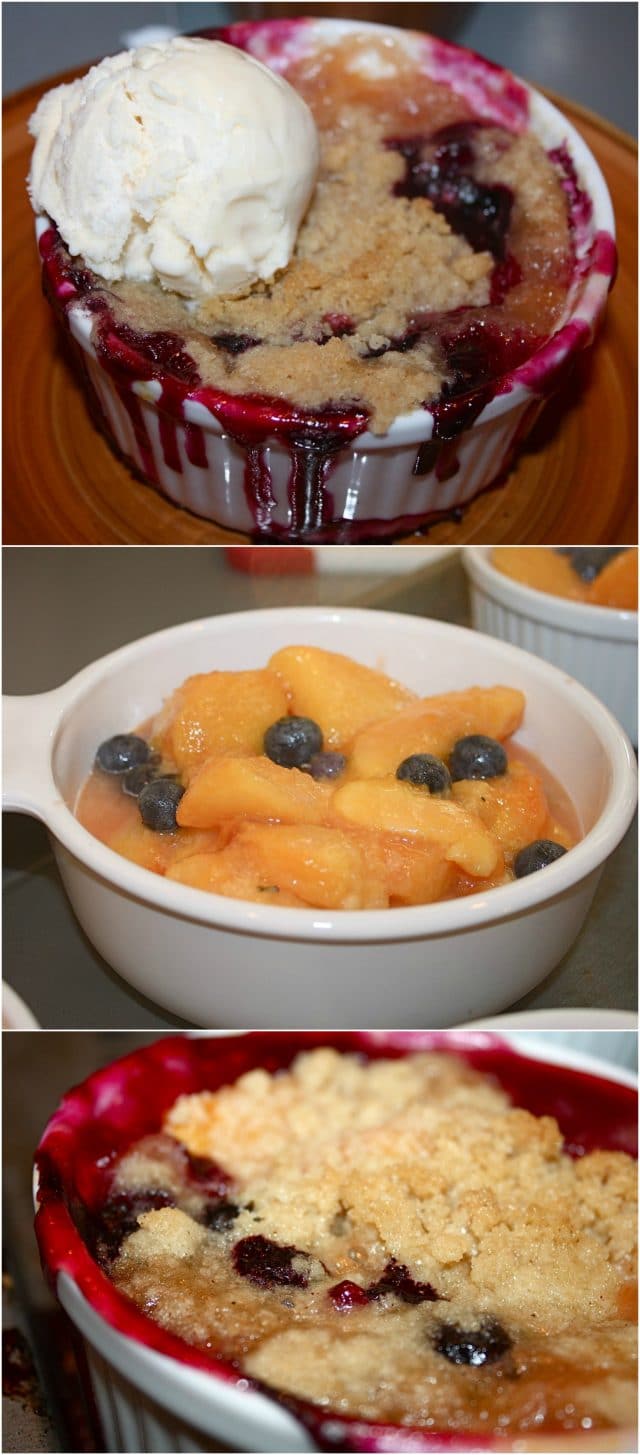 Are you following me on Instagram, Twitter, Facebook and Pinterest? If you'd like to subscribe to Aggie's Kitchen and have each post delivered straight to your e-mail box, then please add your email here. Happy cooking!
There are affiliate links in this post. I make small earnings through any purchases made through these links. Thank you for supporting Aggie's Kitchen!