Sea Salted Caramel Corn (…and a humble request)
Are you all as big of fans of sweet and salty as I am?  I don't have the biggest sweet tooth…but something about combining flavors that have just a little touch of sweet, spicy and salty that I just can't resist.  It's all about balance right?
My kiddies had their school Fall Festival last week and I was panicking at 7am that morning when I realized I didn't make any treats for the party like I had planned.  I'll admit, I've been in this situation many times before…so the panic didn't phase me all that much.  I had to figure something out quick…or I would be stopping at the grocery store to pick up some cookies on the way to the festival.  Thank goodness for my overflowing overstocked pantry…I was able to pull this together.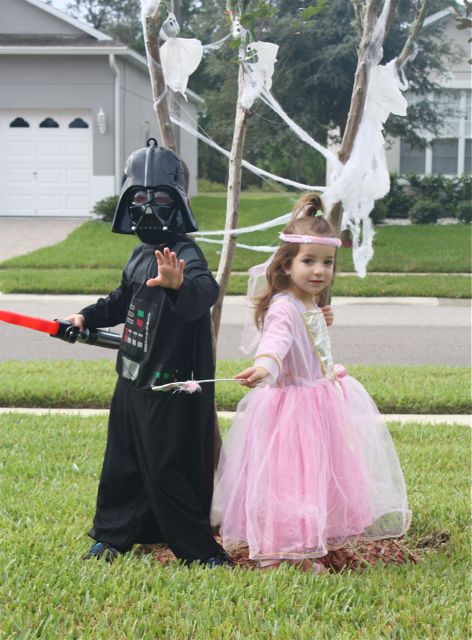 Last year, after reading this post, I was convinced I had to buy a hot air popcorn maker.  I am so glad I did.  You have no idea how many afternoons that popper has made an appearance on my kitchen counter…my kids love watching the popcorn pop and of course eating big bowls of it while watching afternoon cartoons.  You can say it's almost becoming a tradition.  🙂
In addition to providing an afternoon snack  (as well as entertainment) for my kids…hot air popcorn is basically like a blank palate.  You can turn it into so many sweet or savory creations…depending on  your mood.  In this case, it turned itself into a last minute party snack.
Check out these other popcorn ideas found around the web:
Cinnamon Sugar Caramel Popcorn
Popcorn with Parmesan and Pecorino
Popcorn with Rosemary Infused Oil
Sea Salted Caramel Corn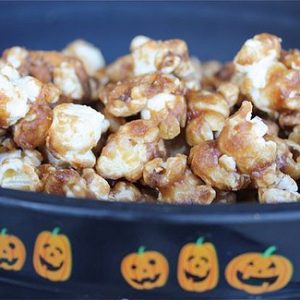 Ingredients:
4-5 quarts popped popcorn, unsalted, unbuttered
2 cups firmly packed brown sugar
1 cup (2 sticks) unsalted butter
1/2 cup dark corn syrup
1 TB maple syrup
1 tsp salt
1/2 tsp baking soda
1 tsp ground cinnamon
1 cup butterscotch chips
1-2 cups salted peanuts
a few good pinches of sea salt
Directions:
Preheat oven to 225 degrees. Place popcorn in large cookie sheet (or sheets), set aside.
Combine brown sugar, butter, corn syrup, maple syrup and salt in a thick-bottomed, 2-quart saucepan. Cook over medium heat, stirring occasionally, until mixture comes to a full boil. Continue cooking, stirring occasionally, until candy thermometer reaches 250°F (I used my regular digital cooking thermometer) or small amount of mixture dropped in ice water forms a hard ball (about 12 to 14 minutes). Remove from heat; stir in baking soda. The caramel will foam up a little and turn a lighter color when you add the baking soda
Carefully pour caramel mixture over popcorn. Top with cinnamon, butterscotch chips and peanuts and carefully stir with wooden spoon until all popcorn is evenly coated. Sprinkle sea salt generously over popcorn. Place in oven for about 15-20 minutes. Remove from oven and gently stir, place back in oven for another 15-20 minutes. Remove from oven and immediately spread on wax paper. Let cool completely. Break into bite sized pieces. Store in air tight container.
Some housekeeping…
I'm still working on updating my Recipe Index.  I've also started going back through my recipes and adding a Printable Recipe link so that it's easier for you print recipes without pictures and the extra stuff.  Hope this helps! 😉
And also…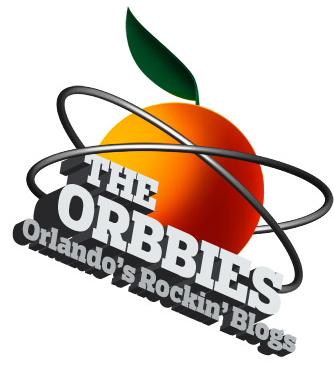 If you enjoy reading my blog please visit OrlandoSentinel.com and vote for Aggie's Kitchen! I appreciate all of your support!   You can find me in the Foodies Category as well as the Best Overall Blogs category…here are the details :
Contest begins Monday, November 2 and ends Friday, November 20 at 5pm
You may vote once per category per day.  You may also vote once per day in the Best Overall Blog category.  You must log in to your OrlandoSentinel.com account in order to vote. (You don't have to be a FL resident to set this up…it's by email.)
Winners in each category and for "best overall" will be notified by e-mail before 5 p.m. on Wednesday, Nov. 25. The winner in each category will receive an ad campaign of 20,000 impressions on OrlandoSentinel.com and a rockin' certificate. If a blog wins in more than one category (it can win in up to three), the runner-up will receive the ad campaign. If there are not enough nominations within a category like categories may be merged or a prize may not be issued for that category.
Are you following me on Instagram, Twitter, Facebook and Pinterest? If you'd like to subscribe to Aggie's Kitchen and have each post delivered straight to your e-mail box, then please add your email here. Happy cooking!
There are affiliate links in this post. I make small earnings through any purchases made through these links. Thank you for supporting Aggie's Kitchen!