Baked Asian 5 Spice Mahi Mahi
I have been staring at a jar of Five Spice Powder in my pantry for quite some time now.  Something inspired me to use it the other day when I was thinking of how I wanted to cook our fish for dinner.  I was totally caught off guard when I opened up and smelled the jar…this spice mixture is so fragrant, which is I guess what you could expect from a combination of cinnamon, cloves, fennel seed, star anise and ginger.  I'm not sure what I was expecting…but regardless, I was pleasantly surprised.
Lately my weekly meal planning has consisted of at least 1 or 2 nights of eating fish or seafood.  What I love about cooking with fish is how easily and quickly it cooks up.  You can really play around with seasonings and sides and make something different every time.  This dish was ready in no time and would work well for any family on a busy weeknight.  To serve with this fish I put together a healthy stir fry of vegetables that cooked up in under 10 minutes.  Take shortcuts and buy pre-cut broccoli and carrots at the grocery store to save yourself some prep time.  If you've got a few extra minutes, slice up an onion and some red peppers and you've got yourself a colorful side dish for your fish that is nothing but good for you!
Both of my kids really enjoyed this so I will be sure to make it again!
Baked Asian 5 Spice Mahi Mahi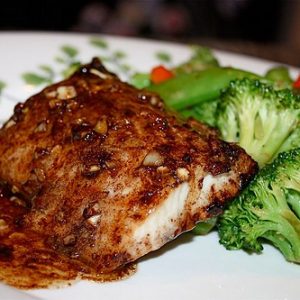 Ingredients:
4 Mahi Mahi fillets (though I do prefer fresh, I use frozen, defrosted mahi mahi from Costco for convenience!)
2-3 tsp canola oil (or your preference, I used grapeseed oil)
1/2 tsp sesame oil
1 1/2 tsp 5 spice powder (you can find this in the Asian section)
1 tsp minced ginger (fresh or jarred)
3 cloves garlic, minced
Directions:
Preheat oven to 375.
In a small bowl combine both oils, 5 spice powder, ginger, and garlic. Place the fish fillets in a glass baking dish coated in nonstick spray. Coat both sides of fish with spice mixture. Pour remainder of mixture evenly over fish. Bake in the oven for approximately 15 minutes, (depending on thickness - refer to 10 minute per inch rule) until fish is flaky.
Serve with stir fried vegetables.
Are you following me on Instagram, Twitter, Facebook and Pinterest? If you'd like to subscribe to Aggie's Kitchen and have each post delivered straight to your e-mail box, then please add your email here. Happy cooking!
There are affiliate links in this post. I make small earnings through any purchases made through these links. Thank you for supporting Aggie's Kitchen!