Refrigerator Oats with Berries and Banana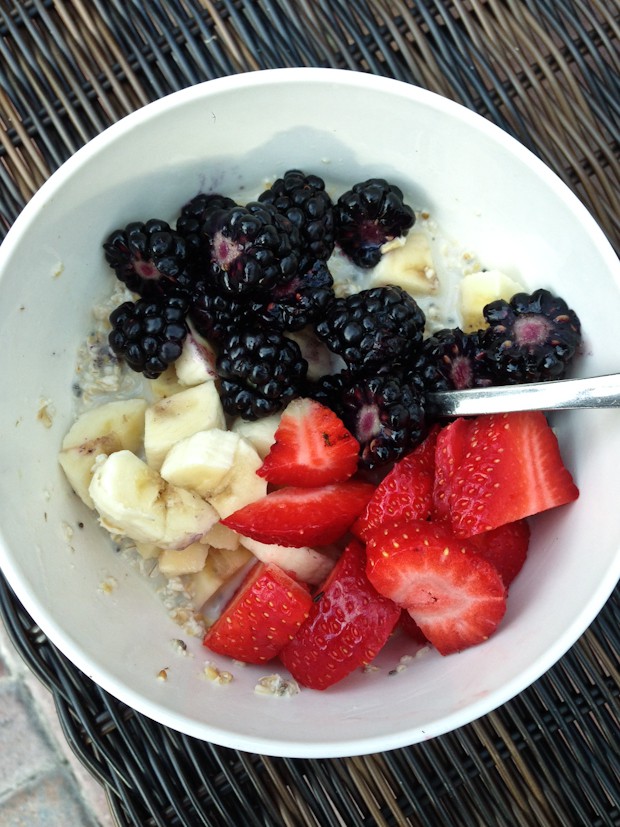 Let's talk about breakfast. I have always been in the "breakfast is the most important meal of the day" club and I can honestly say that if I miss my breakfast it really impacts the rest of my day in so many ways. Lately I'm noticing that I am not getting around to eating my morning meal until way later in the morning (closer to lunchtime sometimes!) and it's becoming a bit of a bad habit for me. I'm making a huge effort to change that.
On the days that my kids ask for oatmeal, I am starting to make myself these refrigerator oats. What I love about refrigerator oats is that they can be ready to eat whenever you are (well, for the most part – they do need to sit in the fridge for about an hour). When I'm prepping my kids' hot oatmeal I scoop out some oatmeal in a bowl for myself. While they are eating, I finish preparing mine with almond milk and stick in in the fridge for later. As long as it sits in the fridge for about an hour the oats will absorb most of the milk and have a slightly firm, nutty texture that I really love. Once it gets to this point it's ready for all the fixins' which for me is a spoonful of peanut butter, chopped banana and fresh or frozen berries (if using frozen I prefer blueberries). You can sprinkle some cinnamon on there too! A dollop of your favorite yogurt would be a nice topper too. With all the fruit and peanut butter I don't feel the need to add any sweetener but if you do go ahead and drizzle a little agave, honey or pure maple syrup (or whatever sweetener you like).
I've been pretty excited about my refrigerator oats lately. It's a nice change from eggs, it's easy to prep (you just need to remember) and they are forgiving, meaning you can forget about them and come back later or take them with you if you have to run out the door. Since I never know when baby boy is going to let me have breakfast this has definitely become a breakfast I'm enjoying. Not to mention it's not such a shabby way to kick start the day!
Refrigerator oats for the win! 🙂
Refrigerator Oats with Berries and Banana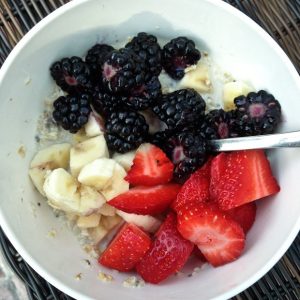 Ingredients:
1/4 heaping cup old fashioned oats or Coach's Oats (see note in post on Coach's Oats)
1 cup unsweetened vanilla almond milk
1 tablespoon chia seeds
1 tablespoon natural peanut butter
chopped banana
fresh berries (or frozen blueberries)
sprinkle of cinnamon or sweetener of your choice, optional
dollop of your favorite yogurt, optional
Directions:
In a cereal bowl, combine oats, chia seeds and almond milk. Place in refrigerator and let sit for one hour. Most of the milk will be absorbed.
When oats are ready, stir in your peanut butter and top with banana and berries (or fruit of choice!) Drizzle with sweetener and add yogurt if using.
Note: My all time favorite oats are Coach's Oats. The best way to describe them is a cross between steel cut and old fashioned oats. They cook up quick and have more of a grainier texture than regular oatmeal, which I love. I discovered them a few years ago when I came across a sample of them and also started seeing them mentioned on other blogs. I have only found them at Costco, but I'm sure that Whole Foods or other natural foods stores carry them as well. My Costco doesn't have them anymore so I've been ordering them from Amazon.
There are Amazon affiliate links in this post.
Follow Aggie's Kitchen's board Healthy Breakfasts on Pinterest.
Are you following me on Instagram, Twitter, Facebook and Pinterest? If you'd like to subscribe to Aggie's Kitchen and have each post delivered straight to your e-mail box, then please add your email here. Happy cooking!
There are affiliate links in this post. I make small earnings through any purchases made through these links. Thank you for supporting Aggie's Kitchen!