Kicked Up Cucumber Salad
I love attending parties where guests are asked to bring a dish. It's always fun to see what everyone brings and even more fun to taste everything. A few summers ago, my friend Allison got a bunch of friends together at her house where we all brought something to share (I remember bringing this rice salad) and I remember tasting this simple cucumber salad and being blown away by it.
I'm not kidding when I say that this salad is simple. It's so so simple that it's become a staple salad in my household, especially during this time of year when we are cooking up our meals on the grill a lot more often.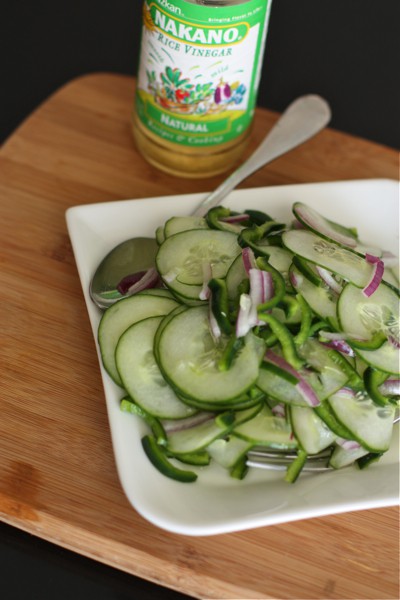 It's a perfect salad for spring/summer because it's cold and crisp and complements so many dishes, from grilled chicken to grilled fish to burgers. And with just a few ingredients.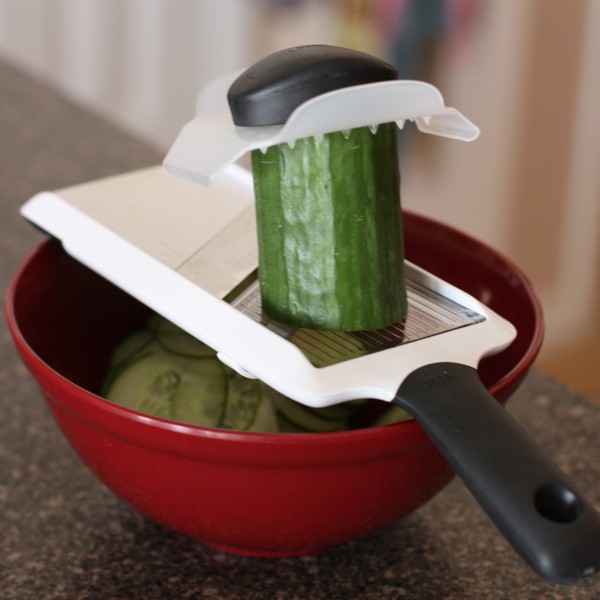 I had fun playing with my new OXO hand-held mandoline that I received in my FBF swag bag last month. Mandolines have always scared me, and I have to say, this one was not that scary! If you don't have a mandoline, no worries – just slice up your cuke as thin as possible with a sharp knife.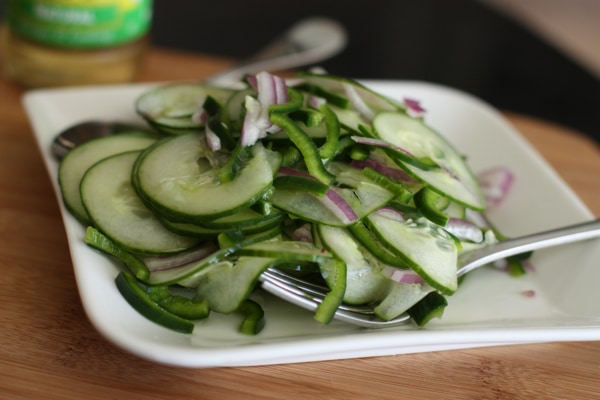 I used a poblano pepper in this salad because I just love them, but fresh jalapenos or even a sweet cubanelle would be nice in this salad as well.
Kicked Up Cucumber Salad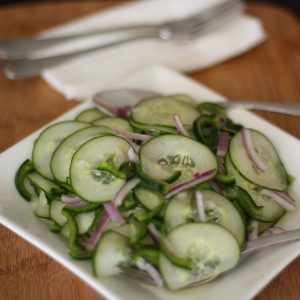 Ingredients:
1 English (seedless) cucumber, sliced thin
1 poblano, sliced thin into small pieces
1/2 red onion, sliced thin into small pieces
3 tablespoons Nakano rice vinegar
1 tablespoon sugar (if you'd like it a little sweeter, add an extra tablespoon)
salt and pepper to taste
Directions:
In a small bowl, whisk together rice vinegar, sugar, salt and pepper until sugar is dissolved. Set aside.
To prepare your salad, add sliced cucumber, pepper and onion in a medium sized salad bowl. Pour vinegar mixture over your salad and gently toss. Serve immediately.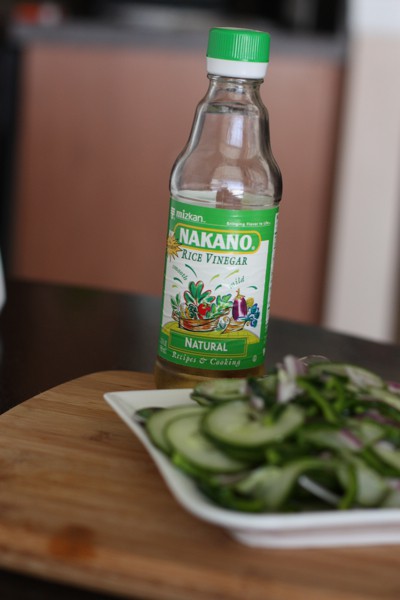 For more ideas on how to use Nakano rice vinegars to splash on flavor (without the calories) to your veggies and salads visit Nakano on Facebook.
More recipes using rice vinegar:
Chinese 5-Spice Turkey Lettuce Wraps
Grilled Baby Bok Choy with Asian Sesame Vinaigrette
Slow-Cooker Sweet-and-Sour Pork from The Merry Gourmet
Spicy Corn Fritters from Perry's Plate
Spicy Peanut Noodle Stir-Fry from Bake Your Day
(Disclosure: I have a working relationship with and received products and compensation from Nakano, but my opinions are always my own. I developed this recipe using their product, but Nakano is a product you would already find in my home. Also, some links in this post are affiliate links.)
Are you following me on Instagram, Twitter, Facebook and Pinterest? If you'd like to subscribe to Aggie's Kitchen and have each post delivered straight to your e-mail box, then please add your email here. Happy cooking!
There are affiliate links in this post. I make small earnings through any purchases made through these links. Thank you for supporting Aggie's Kitchen!